The CRB commodity price index (39% fossil fuels and 41% agriculture) has leapt 25% since Russia invaded Ukraine on February 24th and is up 38% year-to-date. If that pace of increase were to continue over the balance of 2022, it would amount to an unprecedented 142% year-over-year annualized appreciation; by far, the most of the last century (as shown below).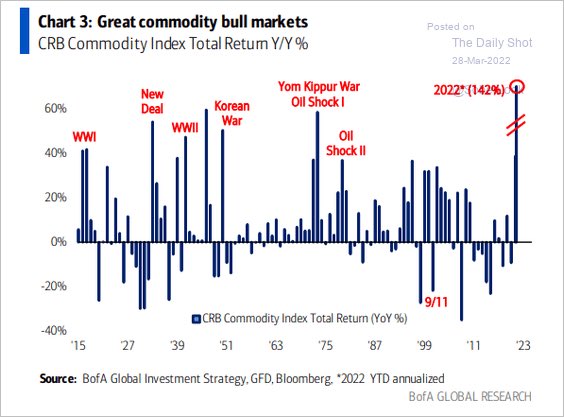 The cost of living shock is big amid negative real wage gains and a freakish jump in shelter expense over the past two years. It's no wonder consumer confidence (lower panel below since 2003 courtesy of MAC10) has fallen near the depths of past recessions even with the S&P 500 stock index and home prices near all-time highs. The consumer-dependent economy is not well supported.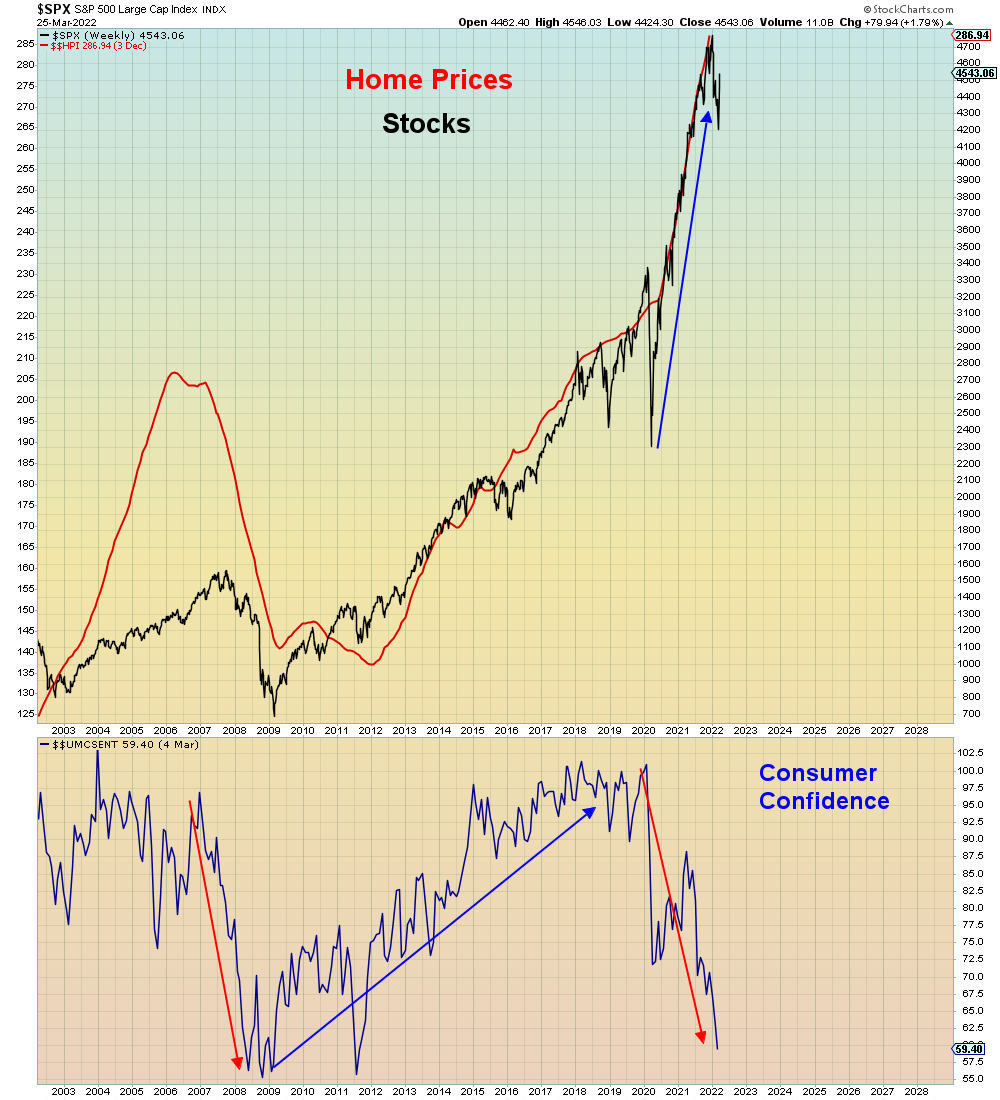 As social strife spreads, pressure on central banks to do something about inflation intensifies. Missing their opportunity to tighten when consumption was far above trend last year (policy mistake), central banks are now racing to outdo one another with hyperbolic hiking plans.
Bonds have preempted policymakers, as usual, selling off sharply in March to price in aspirations for a funds rate above 2% even as the yield curve sees the escalating downturn. Debt markets are the bedrock of the global financial system, and the total return of the Bloomberg Global Aggregate Bond Index has just staged its steepest drop since the 2008 financial crisis–the worst start to any year since 1949.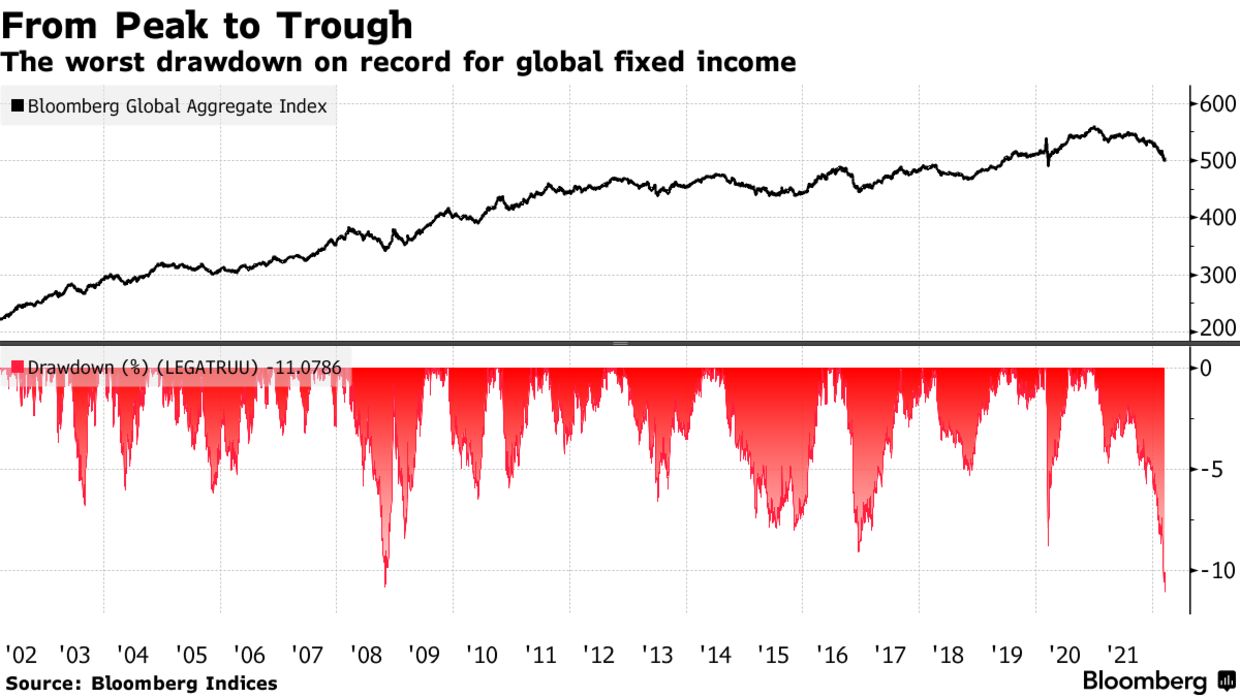 The rate shock is now compounding strife for a highly levered global economy stumbling out of a pandemic and two years of unprecedented fiscal and monetary largesse that enabled a 2-year S&P 500 appreciation–the largest since at least 1950 (as shown below).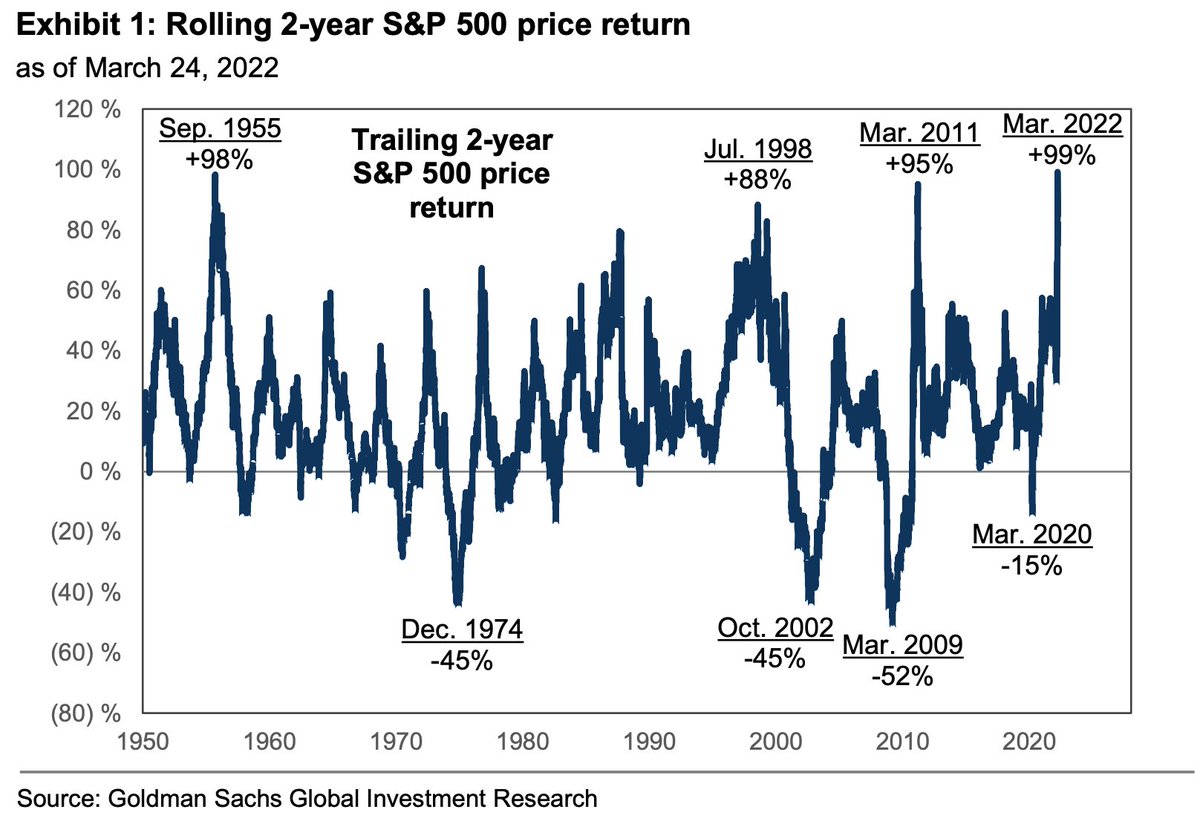 It's typical to extrapolate past price moves and conditions indefinitely regardless of how extraordinary they have been.  Yet, reason and history suggest there are compelling reasons to fade inflationary bets from here.
Viktor Shivets offers a useful macro overview in this recent podcast.
In times of uncertainty, people often reach for historical analogies. In recent weeks and months, as inflation has continued to climb and commodity prices spike, there's been a lot of talk of a return to the 1970s. But is that the right parallel? On this episode of Odd Lots, Tracy Alloway and Joe Weisenthal speak to Macquarie Capital Strategist Viktor Shvets about why we should instead be looking at a different historical era. He argues that central banks are at risk of raising rates too quickly and flipping the world into recession. Here is a direct audio link.