December 3, 2021 | Stocks Tank, Gold Jumps: A Glimpse Of The Future?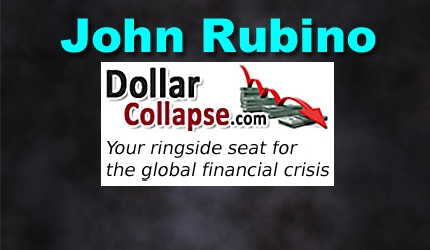 John is author or co-author of five books, including of The Money Bubble, The Collapse of the Dollar and How to Profit From It, Clean Money: Picking Winners in the Green-Tech Boom and How to Profit from the Coming Real Estate Bust. A former Wall Street analyst and featured columnist with TheStreet.com, he currently writes for CFA Magazine.
Conventional wisdom holds that stocks and gold are inversely correlated, which is to say they move in opposite (or at least unrelated) directions because they serve different purposes in a typical portfolio. Stocks are for capital gains in good times, gold is for protection in bad times.
It doesn't always work out that way, largely because of the distortions created by corrupt/incompetent governments and central banks mucking around in places that used to be none of their business. As the saying goes: there are no markets anymore, there are only manipulations.
But manipulations only work for a while. Eventually, fundamentals and common sense win out, even in the face of unlimited printing presses and trillion-dollar deficits. And when that time comes, it will look a lot like today, with stocks — especially Big Tech — plunging …
… and precious metals rising.
So is this the beginning of a return to financial sanity? There's no way to know, since the world's central banks still have a lot of ways to fool the credulous. But even if today's action is short-lived, it's nice to see a rational portfolio (i.e., long precious metals, short tech stocks) get up and stretch its legs.
STAY INFORMED! Receive our Weekly Recap of thought provoking articles, podcasts, and radio delivered to your inbox for FREE! Sign up here for the HoweStreet.com Weekly Recap.