December 9, 2021 | SPACs Promise Investors Fast Money, But Little Else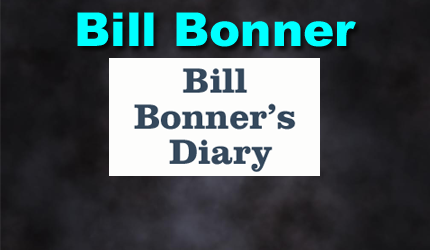 Is an American author of books and articles on economic and financial subjects. He is the founder and president of Agora Publishing, and author of the daily financial column, Diary of a Rogue Economist.
YOUGHAL, IRELAND – In the news yesterday came a report from FantasyLand that a nonexistent social media company had chosen a non-tech, non-media executive to head up its nonexistent operations.
CNET reports:
GOP Rep. Devin Nunes to leave Congress to run Trump's media company

The California Republican has been one of the former president's most ardent supporters.
Our premise here at the Diary is that it is real money that keeps our shoulders to the wheel and our feet on the ground. We want it. And we get it by providing goods and services to others.
That is why a "capitalist" economy is so much more productive, prosperous, and polite than a "socialist" economy. The "hidden hand," as 18th-century economist Adam Smith called it, guides people to increase the wealth of others as well as themselves.
But substitute fake money for real money… and even a capitalist system soon goes giddy with corruption, malinvestment, and waste.
And substitute an "ardent supporter" for a real entrepreneur or businessman… and… well… investors are probably better off keeping their money in their pockets.
Midas Touch
Axiomatic in a fake-money economy is that real capital is squandered on projects that never produce a profit (an increase to the world's wealth). This is the story of one of them.
Behind it is a remarkable story of a remarkable man with a remarkable career… and a remarkable new plan for separating investors from their money.
Yes, we speak of Donald J. Trump, impresario, former president, entertainer, developer… and who knows what else.
Mr. Trump (and a few Wall Street whizzes in cahoots with him) set up a SPAC (special-purpose acquisition company), Digital World Acquisition Company (DWAC). The sole aim of this company was to purchase a media company, Trump Media and Technology Group, that they also set up.
There is nothing particularly notable about a SPAC. People with name recognition set them up. Other people invest in them.
Then, the SPAC is supposed to go out into the real world and buy a real company… thus putting the acquired company on the public stock market – without all the usual IPO rigamarole – and making SPAC investors a lot of money.
At least, that's how investors think it works.
In this case, the DWAC stock soared when the deal to purchase Trump Media and Technology Group was announced – leading to a nearly 850% gain for investors in a couple of days.
And this is not the first time money has been made and lost by attaching the Trump name to a long-shot deal.
Set up by Trump himself, there was Trump Shuttle… and Trump University. And now, others have gotten in on the act, with a Trump crypto… and a Baby Trump crypto… and another token with the same initials as Trump's new "media and technology" company, TMTG (interestingly named The Midas Touch Gold).
Clear and Present Danger
Your editor admits to some first-hand knowledge of the SPAC world. One of the companies with which he is associated recently completed a SPAC deal.
In our experience… and by our cynical reckoning of the way the world works… it is unlikely that most SPAC deals will lead to any real-world business success.
Businesses are complex. SPAC promoters generally lack the experience or the determination to fully grasp them.
What SPAC organizers have is a pot of money from investors… and a keen motivation to spend it.
If they buy nothing, they have to return the money. But if they buy something, they get a part of the deal and come out ahead – whether it works for investors, or not.
From the investors' standpoint, this is not a good setup; it is a FantasyLand innovation, encouraging the SPAC organizers to pay too much for businesses they don't really understand.
And in the case of DWAC, there was nothing they could understand. The business didn't exist.
Yes, Dear Reader, the odds that the Trump SPAC would lead to a successful business fell dramatically when the SPAC targeted Trump Media and Technology Group (TMTG), another Trump company that is more wishful thinking than reality.
It's hard enough to find a good business at a good price, especially with so many SPACs looking for them. A nonexistent business (one that has no sales, no managers, no patents, no offices, no profits, no coffee machine, no market niche, no brand, etc.) may be easy to propose… but it is much less likely to ever be profitable.
Buying a nonexistent business founded by the same people who started up the SPAC in the first place is also a clear and present danger. Typically, at least the seller knows his business. In this case, neither buyer nor seller has any idea how to build a successful social media company.
And then, yesterday's announcement – turning to a political hack with no experience either in technology or media, nor anything other than dairy farming (perhaps) and political chicanery (surely) – dooms the project altogether.
Fast Money
We might add, too, that "Truth Social," Trump's proposed social media platform, invites ridicule as well as losses.
We humans only get a faint whiff of truth, rarely, when the wind is blowing in the right direction, and we have just suffered some crushing and humiliating loss. Truth 24/7 is much more than we can handle.
And now… adding to the odds against investors… the pros are circling like vultures, ready to pick the carcass clean.
Over the weekend, the new Trump group announced that it had struck a deal to raise $1 billion from hedge funds and other large players. The deal gives these insiders the right to buy shares for 40% below the retail price.
These are not patient, long-term investors, with faith in the new business or its new CEO. These are the fast-money mavens of FantasyLand, preying on ideologically driven, naive "investors," who think they can make the world a better place… and make money, too.
Apparently, the insiders think the stock is way overpriced. Apparently, too, they expect to make money in the old-fashioned way… buying at wholesale… and selling to the rubes at retail.
This is okay with us. It's fun to watch. And however it goes, we'll claim it proves our Diary maxim – that "investors don't get what they want or what they expect; they get what they deserve."
And in this case, as the new project inevitably heads to the finance morgue, they are likely to get a hint of Truth as a bonus.
Regards,
STAY INFORMED! Receive our Weekly Recap of thought provoking articles, podcasts, and radio delivered to your inbox for FREE! Sign up here for the HoweStreet.com Weekly Recap.