December 10, 2021 | Investors Struggle to Make a Profit in an Economy With High Liquidity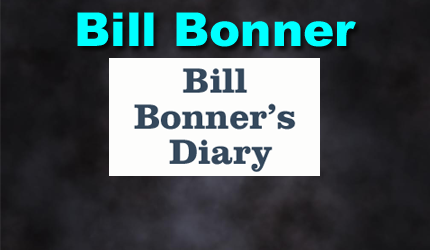 Is an American author of books and articles on economic and financial subjects. He is the founder and president of Agora Publishing, and author of the daily financial column, Diary of a Rogue Economist.
Tell me, friend, when did Saruman The Wise abandon reason for madness?

– Gandalf, Lord of the Rings
YOUGHAL, IRELAND – The Federal Reserve keeps "printing" money – at the rate of about $3 billion per day – and lending it to member banks at a real (inflation-adjusted) rate of MINUS 6%.
Not surprisingly, the hustlers are out in force, figuring out new ways to get their hands on it. Bloomberg reported in November:
[Solar-powered vehicle maker] Sono has racked up about 108.8 million euros ($123 million) in losses since its inception in 2016. When key investors balked at putting in more money roughly two years ago, co-CEOs and co-founders Laurin Hahn and Jona Christians turned to crowdfunding. There was a hitch in that strategy: since March of last year, Sono has been unable to access about 5 million euros from PayPal. The online payment company froze its account, citing risks related to unexpectedly high transaction volume. Sono says it started the process of fighting this as of mid-August.

Without any proceeds from this week's IPO, Sono estimates it would have been insolvent by next month or shortly thereafter. It expects to lose money for the foreseeable future and continue relying on external financing to stay in business.
But the IPO went forward on November 17 at $15 per share and Sono (SEV) briefly got a market value of $1.8 billion…
And it's not the only company in FantasyLand drawing in big bucks.
Last month, Bloomberg reported that companies have taken in a record $600 billion in IPOs so far this year. That's up from $235 billion in 2019 and $370 billion in 2020.
Prior to this, the record stood at about $420 billion… in 2007.
Trump's Non-runner
And yesterday, we showed how the Trump SPAC deal is likely to be a flop.
The general rule is that when someone buys a business he doesn't know from a person who does know it, the buyer exchanges money for wisdom. If he pays a low enough price, and if he has enough capital and tenacity, he may survive long enough for his newfound wisdom to pay off.
Otherwise, he might just as well bet on a racehorse that hasn't even been born yet.
In the Trump deal, investors – with no knowledge of the business – are paying the Trump team, which has no knowledge of the business, either. The new business comes out like a newborn colt, all wet and wobbly.
And when Team Trump put a political hack in charge of his training, the odds of his winning the Kentucky Derby went to near zero.
The fates looked on and smiled. "This is politics… not business," they said to themselves.
Pie in the Sky
What we figure is that, in this market, the pie in the sky is now much more valuable than the meat and potatoes on the table. Yes, when liquidity flows… even the wise abandon reason for madness…
…and the lightest objects – like empty heads and dead bodies – float to the surface.
Here's LRT Capital Management:
Through December 1, the S&P 500 index is down only -4.07% from it's all-time high, while the small-cap index, Russell 2000, is down -12.08%. However, these numbers do not give the full picture of the market decline that has occurred over the past several weeks. A small group of stocks, primarily mega-cap tech shares, have supported the market, while most stocks have been declining for several weeks now. The disproportionately large impact that mega-cap companies can have on market capitalization-weighted indexes has effectively hidden this fact, so while the S&P500 has only declined by approximately 4%, the average stock in the index is down -15.5% through December 1.
Amazon sells for 68 times earnings. Tesla sells for 328 times earnings. And DWAC (Trump's SPAC) sells for an infinite multiple of earnings… because it has no earnings.
At those prices, it is almost impossible for an investor to come out ahead.
Regards,
Bill
STAY INFORMED! Receive our Weekly Recap of thought provoking articles, podcasts, and radio delivered to your inbox for FREE! Sign up here for the HoweStreet.com Weekly Recap.