November 15, 2021 | The Doom Index and a Week of Big News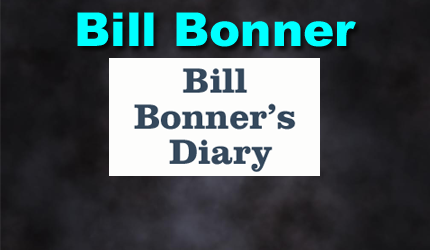 Is an American author of books and articles on economic and financial subjects. He is the founder and president of Agora Publishing, and author of the daily financial column, Diary of a Rogue Economist.
BALTIMORE, MARYLAND – Our Doom Index gauge is now at 8… which is "Crash Alert" territory.
On Friday, we all dutifully assembled for the ceremony…
We pulled the old, tattered, black-and-blue crash flag out of storage, ran it up the pole, and saluted solemnly.
Now, we'll see what happens…
Crash Alert (Again)
Here are the details on the latest Doom Index reading from our research department:
We created the Doom Index to sound the alarm ahead of the next crisis. It tracks 12 key indicators to detect when there's stress in the economy and markets are overheating.

[For more information on how we calculate the Doom Index reading each quarter, have a look at our Introducing the Doom Index report.]

The chart below shows our Doom Index levels by quarter. The red bars indicate a reading of 8 or higher. That's when we raise our "crash alert" flag and tell investors it's time to prepare for a market crash.

Crash Alert

We raised our "crash alert" flag at the end of Q2 2019, when the Doom Index hit 8. We stayed in the "Danger Zone" for the next four quarters.

Economic conditions improved slightly in the second half of 2020, as evidenced by our Doom Index reading dropping to 7 for Q3 2020 and Q4 2020… before shooting back up to 8 – crash alert territory – in Q1 2021… and then dropping back to 7 in Q2 2021.

Our recent Doom Index reading – based on the Q3 2021 data – is 8…

So we're raising our tattered "crash alert" flag once more…
You've been warned, Dear Reader…
[For a full breakdown of the indicators we track for the Doom Index and their Q3 2021 readings, click here.]
Good News
And before plunging ahead into this week's kookiness, let's look back at what a marvelous time we had last week.
When it comes to fraud and fantasy, we can't remember a stretch of seven days so densely packed.
First, stocks hit another new all-time high… with the Dow trading above 36,400 and the Wilshire 5000 over 48,900… And a new record for the stocks-to-GDP ratio, too – over 200%.
Elon Musk ran a Twitter poll and determined to sell $7 billion of his own stock… which caused the company's value to go down by as much as $235 billion… It was as if the entire annual GDP of Portugal had been erased.
Meanwhile, a potential Tesla competitor, Rivian (RIVN), went public. The company has hardly any sales. And it has no profits – in the very-competitive market for pickups, it probably never will.
Still, that didn't stop the gamblers. They acted as if the profits were already in the bag… and drove the share price up to about $130… giving the company a projected market value above $110 billion.
That's billion, with a b… which is a lot of money for a company that lost $2 billion from the beginning of 2020 through June 2021… and that produced fewer than 350 vehicles in September-October. (GM's market cap is $92 billion… with more than 1.7 million vehicles sold so far in 2021.)
Crypto Record
Monday was a very busy day in FantasyLand, with the total value of the crypto market punching through the $3 trillion ceiling.
But unlike Rivian, which might someday make a profit and pay a dividend, crypto is a whole new asset class. It is no industry. There is no product. No sales. No profits. No company picnics or swag.
Like chips in a casino, cryptos provide a service, however. You can gamble with them… cash them in… spend them… share them with your friends.
And who knows… They might become even more valuable.
Bad News
Not all the news was celebratory, however. Last week also brought us two big break-ups – GE and J&J. These are real companies, in the real world, selling real products to real buyers.
We don't know much about Johnson & Johnson… but we recall when GE was riding high. Its CEO then was Jack Welch, feted as perhaps the greatest businessman in America.
Welch took the company from $74 billion in sales in 1980 to $224 billion in sales by the end of the century, and was named "Manager of the Century" in 1999.
Even then, we were suspicious. We've run a business, too. And in the late 1990s, when we learned that GE was buying new businesses at the rate of, on average, one a week, we knew it would not be long before the company started sliding down the slippery slope.
It takes a lifetime to master even a single business. No matter how smart GE's team was… there was no way it could make that work.
And in the event, it didn't. The many acquisitions increased GE's debt and distracted its management. Sales fell. By last year, it was back (inflation adjusted) below where it had been 40 years before.
And on Tuesday, GE announced that it was de-conglomerating itself into three different businesses. Sic transit gloria edisonia.
Really BIG News
But the week's really big news was the inflation rate. The Federal Reserve had said inflation was transitory. But now… there it is… getting worse, month after month.
And so, the Fed admitted that inflation might be with us for a while, but still insisted that the "factors" behind it are transitory:
Inflation is elevated, largely reflecting factors that are expected to be transitory.
As for the rest of the White House, and The Washington Post… they decided to try to divert attention from the real cause (too much government spending… too much money-printing) onto "supply chain disruptions," "price gouging," and market "manipulations."
The White House, and several economists, even suggested that more infrastructure spending would boost output and thereby lower inflation rates.
Remarkable Pledge
And finally, there was the United Nations COP26 Climate Change Conference in Scotland… wherein executives, politicians, apparatchiks, busy bodies, and "green" lobbyists and hustlers – 503 of whom were linked to the oil industry – came together.
Yes, Dear Reader, the greenwash flowed like the Niagara. Old, withered businesses sent out glossy new leaves. Politicians turned the color of unripe bananas. And greasy roughnecks looked as though they had just gotten off the ferry after a rough ride!
Everyone was the planet's best friend… and all pledged to do their utmost to save it from the dreaded CO2.
And yes, they made the most remarkable pledge since Adolf Hitler promised to keep the Reich going for 1,000 years.
They said they were going to change the world's weather. Not "a wee bit," as they might say in Glasgow, where COP26 was held. But precisely… to the fraction of a degree.
The U.N. said it was looking for an upper limit on average temperature increase of 2.2 degrees Celsius. The International Energy Agency said it thought warming could be limited to 1.8 degrees. And they agreed to keep the upper limit of 1.5 degrees above pre-industrial levels "alive."
New Week
And so now… with our Crash Alert flag proudly flying above the headquarters… and so much folderol behind us…
…we put our head down… venture into the new week… and prepare to laugh.
Stay tuned.
Regards,
Bill
STAY INFORMED! Receive our Weekly Recap of thought provoking articles, podcasts, and radio delivered to your inbox for FREE! Sign up here for the HoweStreet.com Weekly Recap.