October 14, 2021 | Inflation Is Here to Stay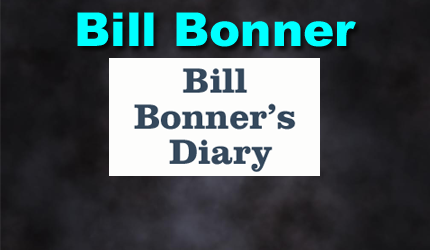 Is an American author of books and articles on economic and financial subjects. He is the founder and president of Agora Publishing, and author of the daily financial column, Diary of a Rogue Economist.
When a government loses its legitimacy, its only recourse is authoritarianism.

– Dear Reader Craig W.
BALTIMORE, MARYLAND – Yes… we're cantering across the broad pampas… looking for tomorrow's headlines.
And what's this? Today's headlines already have a tango beat. Here's The Wall Street Journal:
Accelerating Inflation Spreads Through the Economy

U.S. inflation accelerated last month and remained at its highest rate in over a decade, with price increases from pandemic-related labor and materials shortages rippling through the economy.

The Labor Department said last month's consumer-price index, which measures what consumers pay for goods and services, rose by 5.4% from a year earlier, in unadjusted terms. That is the same rate as in June and July as the economy reopened, and slightly higher than in August. The so-called core price index, which excludes the often-volatile categories of food and energy, in September climbed 4% from a year earlier, the same rate as in August.

On a monthly basis, the CPI rose a seasonally adjusted 0.4% in September from August, also faster than in August, which rose 0.3%.

[…]

"It looks like some of these supply-chain and inventory challenges are going to stick with us for a bit longer – at least through the rest of this year," said Omair Sharif, founder of Inflation Insights LLC.
So much for inflation being "transitory," as the Federal Reserve has claimed. Here's Breitbart:
Federal Reserve Bank of Atlanta President Raphael Bostic said Tuesday that inflation is likely to last longer than expected and should no longer be called "transitory."

Bostic is the first Fed official to so clearly break from the central bank's leadership on inflation. Fed chair Jerome Powell has insisted for months on describing inflation as transitory, although he recently admitted that it could last into next year. The Biden administration has also repeatedly claimed, without evidence, that inflation would only be transitory.

[…]

Bostic argued that the word "episodic" better describes pandemic-induced price swings than "transitory." He said he still believes that the price hikes are tied to the supply chain disruptions stemming from the pandemic and will eventually unwind as the global economy adjusts. But it is becoming increasingly clear that the intense and widespread supply chain disruptions will not be brief, Bostic said.
Buying Votes
Yesterday, we saw what happens when inflation gets worse. Hungry mobs are butchering cattle in the streets of Buenos Aires…
…but the World Bank says Argentine inflation probably won't go beyond 50% per year.
(The World Bank's role is to support the corrupt elites who run the world's nations. It was set up in 1944 by Harry Dexter White, who was later accused of being a Soviet spy. Running the institution has been a sinecure for disgraced scalawags ever since, including Robert McNamara, after making such a success of the Vietnam war, and Paul Wolfowitz, after getting the U.S. into a war with Iraq.)
And here's another recent headline with an eerie "coming soon to theaters near you" feel to it from Bloomberg:
Argentina Accelerates Money Printing Ahead of November Elections

Central bank financing of the government reached 250 billion pesos ($2.5 billion) in the first 22 days of September, the most of any month this year, according to central bank data published Tuesday. With the government cut off from international credit, the central bank helps meet the shortfall by creating pesos and transferring them to the treasury.
No! Really? Thank God U.S. politicians are not so craven… so reckless… or so single-minded in their pursuit of power and money.
At least, we can count on them not to print more money just to try to curry favor with the swing voters.
But wait… According to Bloomberg, Argentina's "primary fiscal deficit" is only 4% of GDP in 2021. In the U.S., it's headed for $3 trillion – over 13% of GDP.
Who's the spendthrift?
Puzzling Questions
Now emerging in this rich Argentine topsoil, like a toxic mushroom behind an antique oak… may be an answer to some puzzling questions:
Why are the U.S. and most European countries – along with much of the rest of the world, including Japan – all following the same trends… the same arc of history… the same policies – even though they appear to be leading to bankruptcy and chaos?
Why is the U.S. elite so eager to control our money… our movements… and even our speech?
Why are growth rates falling in the U.S… when we have more capital, more patents, more new technology, more smart, educated young people… and more stimulus… than ever before?
Tune in tomorrow as we take a bite of the mushroom.
Regards,
Bill
STAY INFORMED! Receive our Weekly Recap of thought provoking articles, podcasts, and radio delivered to your inbox for FREE! Sign up here for the HoweStreet.com Weekly Recap.