October 22, 2021 | Inflation Chronicles: Even Solar Prices Are Soaring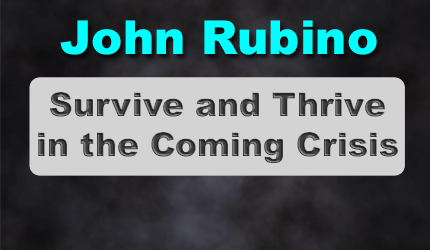 John Rubino is a former Wall Street financial analyst and author or co-author of five books, including The Money Bubble: What To Do Before It Pops and Clean Money: Picking Winners in the Green-Tech Boom. He founded the popular financial website DollarCollapse.com in 2004 and sold it in 2022.
Solar panels are basically microprocessors, so it's not a surprise that they've been following their own version of Moore's Law, declining in price by 5%-10% each year. As a result, solar is now competitive with fossil-fuel-derived electricity in a growing number of markets. Even unlikely places like Saudi Arabia, awash in oil and natural gas, have been slapping solar panels on every available surface.
But that was before the world's supply chains seized up. Now even solar is getting way more expensive.
(PV Tech) – Shortlisted bids in Saudi Arabia's latest solar tender have jumped significantly on the lowest price recorded in the country's previous renewables programme, reflecting the hikes in PV equipment costs in recent months.

Tendering for the development of four solar PV projects with a combined capacity of 1.2GW, round three of Saudi Arabia's renewable energy programme saw Jinko Power post the lowest bid of SAR 0.05563/kWh (US$0.01483/kWh) – a 43% increase on a bid of US$0.0104/kWh recorded in the scheme second's round that the country's ministry of energy said earlier this year was a world record low solar tariff.

The jump in lowest bids comes after global polysilicon prices reached a new annual high earlier this month, while some module prices have risen to above US$0.30c/W – levels not seen since 2019 – on the back of increased raw materials and transportation costs.
In a normal world, a spike in the price of one power source would allow  the others to grab market share. But not this time, because the prices of coal and natural gas are up even more.
That's reassuring news for solar power companies but terrible news for the rest of us energy consumers who face what's looking like a very uncertain winter:
(Wall Street Journal) – Americans got a stark warning from the government this week: Expect higher heating bills this winter.

According to the Energy Information Administration, nearly half of U.S. households that warm their homes with mainly natural gas can expect to spend an average of 30% more on their bills compared with last year. The agency added that bills would be 50% higher if the winter is 10% colder than average and 22% higher if the winter is 10% warmer than average.

The forecast rise in costs, according to the report, will result in an average natural-gas home-heating bill of $746 from Oct. 1 to March 31, compared with about $573 during the same period last year.

The forecast is part of the EIA's winter fuels outlook, which projects that U.S. households will spend more on energy this winter than they have in several years. The agency attributed its forecast to rising energy prices—natural-gas futures have this year reached a seven-year high—and the likelihood of a more frigid winter than what most of the country saw last year.

The looming increase, on top of rising prices for many consumer goods and commodities, is likely to cause stress for Americans at many income levels. Economists warn that the larger utility bills are most likely to affect those households still hobbled by the Covid-19 pandemic.

"We are very concerned about the affordability of heat this winter for all customers, but in particular those who struggle every day to afford their utility services," says Karen Lusson, a staff attorney for the National Consumer Law Center, a nonprofit that advocates on consumer issues for low-income communities.
That last part is crucial. Heating bills going up by a few hundred dollars may not sound like all that much, but added to big increases in food, gasoline, and rent, it's enough to push a growing number of people over the edge.
STAY INFORMED! Receive our Weekly Recap of thought provoking articles, podcasts, and radio delivered to your inbox for FREE! Sign up here for the HoweStreet.com Weekly Recap.