September 29, 2021 | Workers at Risk from New Tactics by Pressure Groups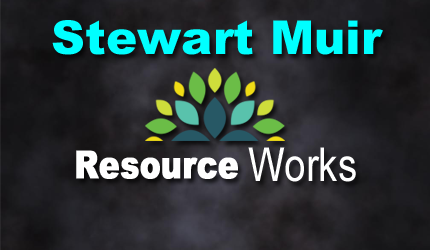 Stewart Muir is founder and executive director of the Resource Works Society, a Vancouver-based group open to participation by British Columbians from all walks of life who are concerned about their future economic opportunities. He is an author, journalist and historian with experience on three continents including a financial editor of The Vancouver Sun responsible for mining and markets coverage. Since Resource Works was established in 2014, the group has gained international recognition for its practical approach to the public challenges of responsible natural resource development and use.
For more than a year, a small band of protesters has tried to force an abrupt change of direction in British Columbia's forest policy. After burning through public resources to stage illegal antics in the forest near Fairy Creek, the blockaders are turning to potentially lethal tactics that place workers, first responders, and themselves in physical danger.
The photo of a streaker running along a log, with police officers in pursuit, at first blush comes across as slightly amusing. It suggests a disproportionate response, perhaps intended to reinforce the "us versus The Man" mythology that blockaders in the area are cultivating for themselves on their Instagram accounts and many GoFundMe's.
This is one perspective. Another view is that the photo shows a breathtakingly dangerous and foolish stunt by a person who cares nothing for the safety of other people on the scene. For the site visible in the photo is an active cutblock where, at the time the image was taken, fallers were going about their lawfully permitted work. By distracting the fallers, the naked protester is causing extreme risk to the loggers and also the police officers – not to mention himself.
Though logging is often described as Canada's most dangerous occupation, fallers are highly trained, well prepared individuals who work collaboratively in teams to minimize risk. Adding distractions to this environment immediately creates potential for personal harm. Yet creating distractions is precisely what protesters have been doing. Along with stunts like pictured here, there are reports of air horns and other distracting noises being used to disrupt worksites.
Meanwhile, another tactic that surfaced earlier this year has returned to Fairy Creek: tree spiking.
A sign posted recently signed "The Monkey Wrenchers" claimed that nails had been hammered into nearby trees, along with ceramic spikes that cannot be spotted by metal detectors. The idea may to deter logging, but in reality there is no way to do this safely. What happens is that a highly dangerous hazard is created that is quite capable of maiming or killing a faller. The risk extends into the forest manufacturing process where past experience has shown the damage that a spike can do when a log is sawn. It's little wonder that United Steelworkers, which represents many forest workers, recently condemned such actions.
This is the sign that appeared in the woods close to Fairy Creek:
It says: "142 lbs of steel nails, 75 lbs of ceramic & 58 lbs of rock are SPIKED into these trees!"
The use of this desperate and criminal tactic should not come as a big surprise. We've already been here.
On April 1 this year, forest product company Teal-Jones won an injunction it had sought allowing it to get back to work on its permitted forestry operation. Supreme Court of B.C. Justice Verhoeven, in issuing his decision, noted that protesters are a "very militant group" who have "expressly threatened a 'protracted civil disobedience struggle'". Verhoeven observed that these protesters refer to a "war" and "battles" and that company actions in seeking an injunction "will be met with resistance".
Wrote Verhoeven: "These are words that may incite violence."
Those words proved to be prescient. Just a day later, on the evening of April 2, Victoria's Camosun College issued a statement responding to concerns that a faculty member had threatened potentially deadly actions against forest workers, consisting of tree spiking.
Blockaders in Fairy Creek like to portray themselves as peace-loving, conscience-driven activists who care, unlike a callous broader society, about forests on southern Vancouver Island. Thus it is surprising to see a cloak of silence around activities that clearly impose dangerous conditions for workers. Pleas to those promoting the blockade to act more responsibly have been met with silence. Whether it's Sonia Furstenau the BC Green MLA and party leader, or the Sierra Club of BC, it's almost as if the threat of violence is something they look upon with approval.
The Pacheedaht First Nation has repeatedly requested that the protesters leave, to no avail.
There is a huge amount of misinformation about forestry in BC at the moment. The old growth review report by Merkel and Gorley devoted recommendation #5 to addressing this deficiency:
1. Build Trust & Reduce Bias: As stated before, very few people we heard from said they trust information regarding the condition of BC's forests. Many feel the information provided to the public around BC's forests is biased, regardless of its source.

2. Reduce Polarization: There are very strongly held views regarding how best to manage BC's forests and those views are largely based on where people are getting their information. Although opposing viewpoints may never be fully reconciled, we can reduce the level of conflict and improve the quality of dialogue with greater access to unbiased science-based information.

3. Foster Engagement & Wisdom: Having an informed public can foster increased public engagement and hopefully bring more wisdom and stability to the forest management process.
Creating an unsafe, even a deadly, workspace for one's fellow citizens is no way to achieve trust, wisdom and engagement. Implementing these recommendations should be a priority for the provincial government.
In mid-September, B.C. Premier John Horgan reiterated for an audience of municipal officials what he has been saying all along: it's time to end the Fairy Creek protest and respect the wishes of local First Nations. Here he is speaking to delegates at the annual conference of the Union of BC Municipalities:
It's a simple enough message. What has been the response? An escalation of dangerous tactics, and that's not acceptable. It's time for some accountability in Fairy Creek.
We need to make sure forest workers make it safely home when the job is done.
STAY INFORMED! Receive our Weekly Recap of thought provoking articles, podcasts, and radio delivered to your inbox for FREE! Sign up here for the HoweStreet.com Weekly Recap.