September 17, 2021 | The Biggest Manipulators in the Nation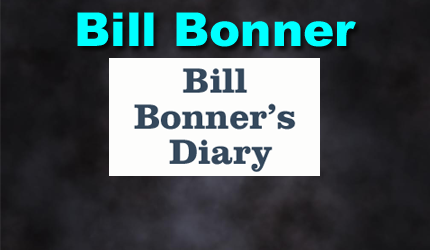 Is an American author of books and articles on economic and financial subjects. He is the founder and president of Agora Publishing, and author of the daily financial column, Diary of a Rogue Economist.
YOUGHAL, IRELAND – This week, we're exploring the idea of "truth."
What about crypto?
What is true about it? What is false?
At first, cryptos were thought to be new forms of money. Then, they were "assets," a whole new "asset class" that was making people rich.
And now the crypto riches are spilling out into the real world of houses, yachts, weddings, and college.
Our advice to the crypto millionaires, to be followed by a more careful look: Get out while the gettin's good.
Always Discovering
If we only had access to GUACT – God's Ultimate, Absolute, and Complete Truth!
Then, we wouldn't have to wonder. And we wouldn't have to wait for free markets, free thinkers, and free people to pass judgment.
Markets never know anything. They just stumble along… discovering… always discovering. And they never "set" prices.
Instead, thousands, millions, of bidders and askers come together… one sells, one buys… together they come to terms at a price that "clears the market."
Will prices go up from there? Will they go down?
No one knows.
National Rip-Off
The SEC apparently believes so strongly in free markets that they've made it illegal to grift them, one way or another. Try to rig prices and you go to jail.
And yet, the biggest manipulators in the nation got away with it for years. And when the cat got out of the bag, the press barely mentioned it.
A small item in the weekend Financial Times:
Two Federal Reserve officials said they would sell their portfolios of shares by the end of the month after coming under scrutiny for investing and trading in a year when the US central bank took extraordinary steps to shore up financial markets.

Robert Kaplan and Eric Rosengren, presidents of the Dallas and Boston Feds respectively, confirmed that they would hold the proceeds from the share sales in cash or invest them in diversified indexed funds…
No institution has more effect on stock prices than the Fed.
Apparently, Fed governors made millions, trading on their insider knowledge. Will they be prosecuted? Investigated? Shamed?
Not likely. The elite look out for their own.
They call out football teams for using "Native American" names… and the University of Texas for a fight song that they think is "insensitive."
But rip-off the whole nation for millions of dollars? Who cares?
Were it not for Fed support, stocks might be selling for only half of today's prices.
But it's cryptos we're looking at today. What has the Fed done for them lately?
More precisely, is the runaway crypto market the sign of a dynamic new industry – like autos in the 1920s – just taking shape? Or is it just another feature of the Fed's bubble?
To the Moon
Cryptocurrency was a new idea in the early 2000s. An off-the-wall idea that few people understood… made popular by a man nobody ever met – Satoshi Nakamoto.
And then… cryptos went "to the moon."
People dropped out of school to buy them, sell them, create them… and get rich on them.
At first, they were just playing with each other. But as more and more players came into the casino, the chips rose in price. Satoshi became famous.
And as the piles of chips grew taller, people began to wonder how they would be cashed in.
The Wall Street Journal answered that question on Monday…
Bitcoin to Bucks: Crypto Fans Borrow to Buy Homes, Cars – and More Crypto

Crypto enthusiasts… are tapping their holdings to buy homes, cars and, often, more crypto. They are getting these loans from upstart nonbank lenders and automated, blockchain-based platforms.

Like banks, these lenders typically take deposits. Unlike banks, their deposits take the form of crypto. The crypto deposits – which earn higher-than-average interest rates – are used to fund loans to borrowers who pledge crypto as collateral.

These loans take many forms. Borrowers can get dollars or other traditional currencies, or stablecoins pegged to them, depending on the lender they are working with.

The business is growing rapidly. One group of crypto lenders has $25 billion in loans outstanding to individual and institutional clients, up from $1.4 billion a year ago, according to the crypto research firm Messari.
One of the lenders advertises a 6% interest rate to anyone who will deposit bitcoin. And yet… normal banks only pay about 1%.
What gives? Is this a whole alternative financial universe, with its own rules and its own rates? Or what?
With cryptos, as with everything else in the world – from a woman's smile to a drone attack – there's always more to the story.
We'll look at more of it, tomorrow.
Regards,
Bill
STAY INFORMED! Receive our Weekly Recap of thought provoking articles, podcasts, and radio delivered to your inbox for FREE! Sign up here for the HoweStreet.com Weekly Recap.