August 1, 2021 | Tick, tock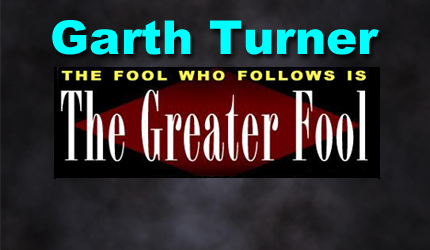 A best-selling Canadian author of 14 books on economic trends, real estate, the financial crisis, personal finance strategies, taxation and politics. Nationally-known speaker and lecturer on macroeconomics, the housing market and investment techniques. He is a licensed Investment Advisor with a fee-based, no-commission Toronto-based practice serving clients across Canada.
If you've bought anything lately you know what's happened to prices. The official inflation rate of 3.1% is, well, quaint. After all, when houses went up 30% and food steadily climbs, it more than offsets declines in GIS plywood and golden retrievers.
What has fed the price pop? Cheap interest rates, for sure, plus the reduced costs of WFH and the $87.1 billion that the Trudeau Libs have paid out in income support subsidies directly to families. Spending was down for 16 months. Personal savings have amped up. Now there is a torrent of consumerism being unleashed as Covid fades.
Inflation puts pressure on interest rates and until around noon on Friday economists were saying stuff like this, from National Bank…
"…inflationary pressures are growing… Some say that this phenomenon is transient and that the end of extraordinary income-support programs will attenuate inflationary pressure. The Emergency Wage Subsidy and the Recovery Benefit will end in September. Will the economy stand on its own once these programs are terminated?"
Well, the spigot of federal cash is not being turned off, after all. Chrystia, our non-financial Finance Minister, announced two days ago that wage and rent subsidies for business will remain for at least another month. It means $300 a week (now for 54 weeks) for those wishing to stay at home for personal reasons. The cost will be an extra $3.3 billion and the direct deposits will continue through the coming election campaign.
Cynical politics or compassionate social spending? And what about thousands of small business who cannot staff up because it's a better deal for employees not to work?
Nothing's normal yet. The central bank is still spending billions a week buying up bonds to control the debt market. Interest rates are still in the ditch. Nobody at any level of government has lifted a finger to address the housing insanity. And the feds refuse to reign in emergency spending that's pushed out debt through the trillion-dollar mark. Yes, and nobody cares. Whadda country.
Well, what does this mean?
For sure an election. I hear it will be called this week. Voting late in September (or before a fourth wave). Unless polls lie, T2 takes it. The Libs are at 35%, the Cons 29% and the Dippers 19%. (The Bloc will suck off 6% and the poor, crumbling Greens maybe 4%). In the last election (2019) it was 33% for Trudeau, 34% for Scheer and 16% for Singh.
Two years ago the average property price in the GTA, for example, was $792,000. Now it's $1,108,500. Yes, that's a 40% increase. And do you earn forty per cent more than in 2019? Does anyone?
Of course since the election we had a global pandemic. The federal deficit went from $19 billion to $354 billion. There are 340,000 fewer jobs than two years ago and households are substantially more in hock. Every economist is forecasting  interest rates will rise over the next two years and it's a sure thing Chrystia will up personal taxation in the Spring, 2022 budget (unless Erin O'Toole finds TikTok and learns to moonwalk).
That brings us to this…
Mortgage debt has bloated right along with real estate prices because people are stretching badly. The proportion of high-ratio mortgages – those with loan-to-income ratios of 450% or more – has exploded. It's also interesting that households with a major income-earner younger than 35 are doing 36% of the borrowing, up from 28% last year. FOMO has struck hard and deep. Also scary for lenders is the fact insured mortgages have shrunk from 50% of outstanding loans five years ago to just 35% now. That's because of the $1 million price cap CMHC imposes – and a million ain't what it used to be.
Bankers know mortgages will cost more in two, four and five years. They realize as the pandemic ends consumer spending will increase and debt-service ratios worsen. "This perfect storm of rising mortgage rates and less predictable post-pandemic consumer spending habits may result in a scenario where some households find it difficult to stay afloat," says a report last week from TD Economics.
Meanwhile most pandemic borrowers taking out monster mortgages have opted (wisely) for five-year terms. So in 2023 a full 20% will be coming up for renewal. Yikes. And TD warns almost 17% could be in trouble then, when rates are substantially fatter.
Of course, nobody is fussed by any of this because of how Ottawa spends. Four billion to bail out Newfoundland from a failed power deal. Another eight billion to FN for better water. Twenty-five billion a year now for people having children. There's not even the faintest of hints as to when revenues will match spending because it's, well, unimportant. They don't care about debt. Why should we?
When the laws of economics are repealed, we'll all be okay. Until then, duck.
STAY INFORMED! Receive our Weekly Recap of thought provoking articles, podcasts, and radio delivered to your inbox for FREE! Sign up here for the HoweStreet.com Weekly Recap.