August 2, 2021 | Inflation Is More Than a Bad Tax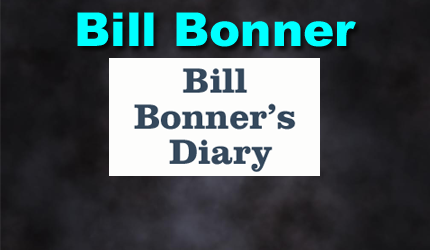 Is an American author of books and articles on economic and financial subjects. He is the founder and president of Agora Publishing, and author of the daily financial column, Diary of a Rogue Economist.
POITOU, FRANCE – Last week, Federal Reserve chairman Jerome Powell admitted that "inflation could be higher and more persistent than we expected."
Also last week, new inflation readings suggested that this time he is right.
The Daily Mail reports:
The Federal Reserve's preferred measure of inflation has registered another jump, hitting its highest level in three decades.

Federal data on Friday showed the core personal consumption expenditures (PCE) price index, excluding volatile food and energy, increased 0.4 percent in June for an annual gain of 3.5 percent, the largest gain since December 1991.

The overall PCE price index, with food and energy included, rose 0.5 percent in May for an annual gain of 4 percent, the fastest rate since the Great Recession in 2008.
Already, over the last 12 months, inflation has cut into wages. According to the National Review, the average loss is 1.9%.
Of course, that's the whole idea. Inflation is a tax. It takes money from wage earners and savers and moves it along to a great assortment of people… through the feds' various boondoggles, pet projects, and transfer schemes.
There is no mystery about what causes inflation… nor what the purpose of it is. But there are plenty of surprises in the inflation story. We never know exactly how it will develop… or how bad it will be.
Inflation on the Pampas
Our own understanding of inflation has been greatly helped by being locked down for nine months last year in Argentina. There, inflation has been "higher and more persistent than expected" since the 1950s. And today, the gauchos know all there is to know about inflation – except the important parts.
In the news last week, was this item in the English-language Buenos Aires Times:
Argentina's government speeds up money printing ahead of election

Argentina's Central Bank is printing money for the Treasury in July at the fastest pace so far this year, potentially fueling even faster inflation as it helps to finance government spending ahead of midterm elections in November.
With 50% inflation already, you'd think the gauchos would lean back in the saddle, stick out their heels, and pull back on the reins. Instead, they're digging in the spurs.
But that's the beauty of the inflation tax. People never seem to catch on. The ruling party will pass out the money to "the people." In thanks, "the people" are supposed to vote for another four-year term, in which they will be ruthlessly robbed by the ruling party.
Not "Just Another Tax"
And Americans? Are they any smarter? Not as far as we can tell.
While we were exploring the idea of a "mission economy" last week, the feds were up to more Argentine-style mischief. The Senate came to terms on an $1.2 trillion "infrastructure" bill. A senate panel added $25 billion to Biden's already-inflated defense budget. And then the Democrats said they were getting close to another $3.5 trillion in spending, focused on "human infrastructure."
It sounds sinister… like using men's and women's bodies for bridge girders and railway sleepers. But of course, it is just another grab bag of giveaways and boondoggles… designed to encourage dependence, helplessness, and gratitude.
But so what, you ask? Government is always going to waste money… it might as well get it from "the inflation tax," right?
But describing inflation as "just another tax" is like saying an intentional famine is "just another diet program." Like other taxes, inflation takes wealth from some and gives it to others. But it is often fatal to the civil society that produces it.
How can you run a business when your costs change almost daily… and you have no idea what your receipts will be worth? How can you plan for retirement? How can you save money or make wealth-creating, long-term investments?
You can't. As it runs its course, inflation staggers and discombobulates an economy. Eventually, though still not understanding how they are being ripped off, people get sick of it… and they welcome scoundrels in uniform who promise stability.
Fatal to Civil Society
That's another thing we've learned from living in Argentina; inflation brings financial, social, and political chaos. That country has had four different currencies since 1970.
The peso ley replaced the gold-backed peso at the rate of 100-to-1.
In 1983, the peso argentina replaced the peso ley at the rate of 10,000-to-1.
In 1985, the austral replaced the peso argentina at the rate of 1,000-to-1.
In 1991, the peso convertible replaced the austral at the rate of 10,000-to-1.
When the peso convertible was introduced, it was meant to be fixed to the U.S. dollar, one to one. Now, it is trading on the black market (the blue U.S. dollar exchange rate) at 180-to-1.
And talk about the way inflation cuts into wages! Bloomberg reports:
Of all the numbers that lay bare the pandemic plight of blue-collar workers, few are as jarring as the pay cut suffered by the millions of Argentines who toil in off-the-book jobs.

The decline for people like waiters, construction workers and candy-vendors was 36% on average last year, considering inflation. That staggering number is almost four times the average pay cut that Argentines in the formal economy had to absorb.
Is it any wonder? Argentina has also had two military dictatorships since the 1950s.
We don't know what surprises lie ahead for the U.S. But get ready to salute.
Regards,
Bill
STAY INFORMED! Receive our Weekly Recap of thought provoking articles, podcasts, and radio delivered to your inbox for FREE! Sign up here for the HoweStreet.com Weekly Recap.