August 13, 2021 | Brave Experiment Powers BC Resource Community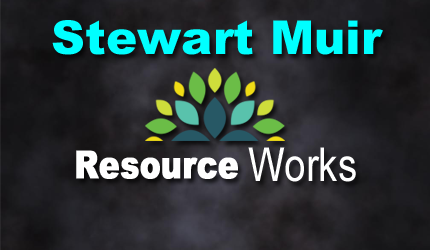 Stewart Muir is founder and executive director of the Resource Works Society, a Vancouver-based group open to participation by British Columbians from all walks of life who are concerned about their future economic opportunities. He is an author, journalist and historian with experience on three continents including a financial editor of The Vancouver Sun responsible for mining and markets coverage. Since Resource Works was established in 2014, the group has gained international recognition for its practical approach to the public challenges of responsible natural resource development and use.
BC businessman teams up with Bitcoin miner, Iris Energy, to revive the fortunes of resource-based communities in Western Canada with renewable energy. Fabian Dawson, with Mata Press Service, reports.
BC businessman Brian Fehr receiving the gift of an otter from Yaqan Nukiy Nasukin Jason Louie after Iris Energy recently pledged $500,000 annually to four local indigenous communities. The contribution will be made every year an Iris data centre remains operating.
Located at the headwaters of the Columbia River in the Rocky Mountain Trench, lies Canal Flats, a village standing defiantly against the passage of time that has turned many natural resource-based communities in British Columbia into ghost towns.
Here, many predicted the village's demise when a 100-year-old sawmill – the village's main economic lifeline – shut down in 2015.
But a group of visionary local leaders and entrepreneurs working with the Ktunaxa people, who have occupied these lands for more than 10,000 years, had other ideas.
They saw, planned and built a new future for Canal Flats fundamentally hinged on the green power produced by the 2,000 kilometre-long Columbia River.
Flowing through the majestic mountains of BC, the Columbia River system, which empties into the Pacific Ocean at Astoria, Oregon, produces more hydroelectric power than any other North American river.
BC Hydro's facilities in the Columbia basin include 11 hydroelectric dams, two water storage dams, and a system of reservoirs.
After the sawmill closed in 2015, Brian Fehr, a BC entrepreneur, with deep ties to the local community and the forestry industry bought about 1,000 acres in the area to co-found the Columbia Lake Technology Center (CLTC).
The innovation hub in a rural area, described as a "brave experiment", aimed to attract technology and manufacturing businesses for a new chapter for Canal Flats.
Housed within the structures of the shuttered sawmill operation, CLTC opened on June 12, 2018. The site was the perfect location – with plentiful access to clean power, fibre optic connection and a ready workforce.
"When the mill closed, we were devastated," said then Canal Flats Mayor Ute Juras.
"Some of us cried a little and I was one of them," Juras told the crowd that had assembled to witness the official opening.
Among them was BC Premier John Horgan, a former mill worker himself.
"What we're experiencing right here, taking what was a crisis in 2015 and turning it into an extraordinary opportunity just three years later because of the work of the community, because of the [Columbia Basin] Trust, because of investors that had a vision—it's just inspiring," he told the crowd.
CLTC today houses and offers opportunities for companies involved with digital currency, video rendering/CGI, artificial intelligence, edge computing, virtual reality, smart factories, automated mines and mills, un-manned aerial vehicles and large scale green housing.
Among those who call CLTC home is Iris Energy – an Australian-headquartered sustainable Bitcoin miner that owns and operates real assets, including data centre infrastructure powered by renewable energy.
Further enterprise activity is envisioned as CLTC develops synergies between enterprises in key sectors including: metal fabrication, agriculture production, agricultural processing, technology and agricultural technology.
According to the BC Government, CLTC member companies employ over 70 workers from the community and surrounding area.
"These companies have more than replaced the jobs lost with the closure of the mill and provide a huge boost to the local economy," the government data report said.
Iris Energy has a vision of working with rural communities and First Nations to create data centres using clean power that support the communities both socially and economically.
An important first step in fulfilling that vision, Iris Energy recently pledged $500,000 annually to the four local Ktunaxa Nation Council communities – the Akisqnuk, Yaq̓it ʔa·knuqⱡi 'it, ?Aq'am, and Yaqan Nukiy. The contribution will be made every year the data centre remains operating.
In addition, Iris Energy said it will work with these communities to identify training and job opportunities.
Iris Energy is now in the final stages of expanding its Canal Flats operation to 30 megawatts by marrying their Bitcoin mining to green hydroelectric power sourced from BC Hydro's grid.
Fehr remains a strategic investor in Iris Energy and helped the company engage with the local First Nations.
"Iris Energy has helped to facilitate Brian Fehr's vision of retooling shuttered rural BC mills and other dormant industrial sites into new operations – creating jobs and economic stimulus in local communities." said Jason Conroy, CEO of Iris Energy.
"Our bitcoin mining operation in Canal Flats is just the start. Together with Brian, we are working to identify more sites, and support more rural BC communities which are adapting to new energy uses and industries."
In a recent ceremony at Canal Flats, Yaqan Nukiy chief Jason Louie presented Fehr with an otter pelt as a sign of the new relationship.
"We hope this is just the start of our relationship with the Ktunaxa First Nations, and that over time we will form a deeper relationship of mutual respect and cooperation, providing opportunities to create further employment and other programs together," Conroy said.
"That is our vision. By creating long-term jobs at both our existing and new sites, we hope to be part of the solution to the challenges facing rural communities and First Nations, as well as our environment."
For BC, the 'brave experiment' in Canal Flats is showing that big data and Bitcoin can create a bright green future for natural resource-dependent communities on Canada's west coast.
A multiple-award winning journalist, Fabian Dawson is an internationally acclaimed author, filmmaker and media expert. Born and raised in Malaysia, Dawson is of Indian origin. He migrated to Vancouver in 1988. As a journalist, Dawson's work has taken him all over Asia, Europe, North and Central America. He has been cited for excellence in journalism multiple times since 2002 by the Jack Webster Foundation while many of the stories he has directed have won national and international journalism awards. Dawson was named the 2019 recipient of the Bruce Hutchison Lifetime Achievement Award at Jack Webster Awards.
STAY INFORMED! Receive our Weekly Recap of thought provoking articles, podcasts, and radio delivered to your inbox for FREE! Sign up here for the HoweStreet.com Weekly Recap.