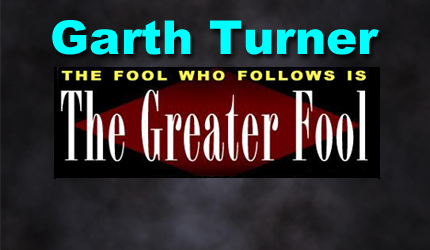 A best-selling Canadian author of 14 books on economic trends, real estate, the financial crisis, personal finance strategies, taxation and politics. Nationally-known speaker and lecturer on macroeconomics, the housing market and investment techniques. He is a licensed Investment Advisor with a fee-based, no-commission Toronto-based practice serving clients across Canada.
News worth knowing in our Summer of Recovery:
The central bank (as forecast) squeezed off some stimulus yesterday. Weekly bond-buying will drop by a third. While nobody at your local double-double Timmie's will know, or care, it's a big deal. We're now well on the road to the Bank of Canada pulling in its horns, retreating from the pandemic mode it's been in since last April.
Buying bonds not only finances T2's wildly excessive, quixotic and historic levels of spending, it also heaps more on the national debt and keeps interest rates suppressed (more demand for bonds = higher debt prices = lower yields). This third reduction in the program (known as QE, or quantitative easing) sharply reduces the CB's role and paves the way for the next big move. That will be an increase in the benchmark rate next year. As mentioned here a few days ago, Mr. Market is pricing in four BoC jumps over the next 24 months. Hope your kid who just bought a house is doing the same.
Meanwhile, real estate continues to chill a little. Yesterday we told you CREA would today announce home prices increased 25% year/year in June. That happened. And here's the significance – this is down 5% from March, for a decline of $37,000 (to an average of $679,000). Moreover sales have fallen every month since the late winter, when a certain pathetic blog told you we'd reached Peak House.
Even CREA admits it: "There isn't the same level of competition among buyers we were seeing a few months ago," says boss Cliff Stevenson. It's also interesting Toronto and Vancouver are frostier than the hinterland, and that prices have been coming off even as listings run thin. Huh? So what's going on??
Two overriding reasons. First, we're all getting dosed. Three-quarters of the herd's had one shot and half is fully juiced. That means the economy is reopening fast. Instead of nesting, cocooning, decorating, sheltering and obsessing over property people are shopping, travelling, socializing and (gasp) going back to work. We always knew the pandemic would be temporary. And it will soon become very clear the greatest effect it had on our financial lives – a real estate bubble of generational proportion – was the same.
Second, of course, is price. The average cost of a house nationally at $679,000 is outrageous. It's unaffordable. The median after-tax household income in Canada is $62,900. So at ten times income, real estate's a stretch. As RBC told us a week ago, never in the last four decades – even with mortgage rates under 2% – has a home been this unaffordable. In short, we've hit a wall. Most of the people who can afford one have bought. The folks crazy enough to take on debt equal to 500% of their incomes have done so. More surprises will be coming.
Finally, have you checked out lumber lately?
A few months ago two-by-fours were emblematic of a busted supply chain and pandemic-caused inflationary spiral that not only jacked new house prices but posed a big economic threat. Well, no more.
Lumber prices are crashing epically. Down five to seven per cent a week. In fact, we're now off 50% from just a month ago. Way below the peak, set in May. The excess of 2021 has been peeled back. Looks like we're quickly on our way to pre-pandemic prices, tough news for people who just gave their builder another cheque for twenty or thirty grand for sticks and plywood.
What happened?
The pandemic is over. Mills are in production again. Workers are back in the forests, harvesting. The transportation grid is functioning. The real estate-nesting-backyard-DIY-deck-building thing is fizzing, restaurant partitions and hasty patios are done and mass inoculation means (as mentioned above) we're back doing normal things.
Once again, the crescendo of craziness came in late winter. That's when the price of lumber was 120% higher than a year earlier, construction projects halted for lack of supply and the Third Wave was building. The real estate bubble caused a massive surge in demand and the system buckled.
That was then. This is now. Urban flight has ended. The property mania is subsiding. Pfizer and Moderna changed everything. The reopening trade is here. Mr. Market saw that coming. And so did we.
STAY INFORMED! Receive our Weekly Recap of thought provoking articles, podcasts, and radio delivered to your inbox for FREE! Sign up here for the HoweStreet.com Weekly Recap.