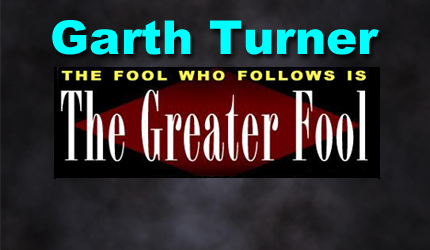 A best-selling Canadian author of 14 books on economic trends, real estate, the financial crisis, personal finance strategies, taxation and politics. Nationally-known speaker and lecturer on macroeconomics, the housing market and investment techniques. He is a licensed Investment Advisor with a fee-based, no-commission Toronto-based practice serving clients across Canada.
Downstairs they're building be a long line of EV charging stalls. Plus hundreds of secure bicycle parking spots. Up above – cascaded over rooftop terraces leading 19 stories into the iclouds – will be 18,000 square feet of outside space. Patios. Trees. Grass.
The hulking glass-sided structure thrusts above four heritage properties fronting King Street in DT Toronto whose two-storey facades have been supported during three years of construction by an elaborate frame of steel girders. So just another new office edifice in a city eternally punctuated with cranes?
Kinda. But this one is symbolic. All of the 400,000 square feet of space has now been leased by Google. When finished, the first of its 5,000 Canadian employees will be moving into the 'collaborative, innovative' space one block north of the iconic dog fountain in Berczy Park.
This week came some news out of Alphabet – the Google parent – that three-quarters of the company's 135,000 workees have indicated on a survey they want to go back to the office. They crave connections. Physical proximity. The stuff that helps sparks happen. "There's something about innovative work — when you need that spark," says the company's head HR dude. "Our employees feel like those moments happen better when they're together."
This is all interesting as we move into the re-entry phase. Some companies are so ready for it. Many people are not. Society seems to be at an inflection point.
Sunday morning I walked through St. James park, a block from the rising Google tower. A woman sat on a bench reading her phone, mask down around her neck, a purebred Samoyed lying at her feet. "May I pet your dog?" I asked. She looked at me through wary eyes. "He's afraid of people," she said. I knelt down and the Sammy licked my nose. I looked up and the woman was now standing, mask raised over her face, at the end of the extended six-foot lease, as far away from me as possible without lurching her pet. It was not the dog that felt fear.
Reintegration won't be easy. Or quick. But it's inevitable. Google has been saving a billion a year worldwide by not having to host employees in physical spaces, and yet wants people back. Sixty per cent will be returning part-time in September. A fifth will be remote. The rest can reapply to work in a different office. Google, like a few other high-tech outfits, has a policy of reducing the salaries of people who decide to move to cheaper digs, or stay in their home offices.
Meanwhile a few blocks away CIBC Square is half-built. It will be a Canadian landmark, clad in glass diamonds and with three million feet of space sitting atop the city's rail transit hub and spilling into an acres-big elevated urban park. Bank employees will be recalled in September to their old offices at King & Bay. When the Square opens in 2024 expectation is it will be fully-occupied. Until the next pandemic hits. In 2120.
Urban real estate is reflective of these weird times. Q2 condo sales in Toronto were close to nine thousand units, up 155% from the disaster of a year earlier. The average price in Toronto is now $710,100, 9% more year/year and way less than the price inflation of detached homes. In an interview last week bank economist Benny Tal forecast a big pop in DT condo sales and prices, and he's not alone. The reasons are simple. Detacheds, rowhouses and semis near the core are totally unaffordable. Two million is hardly an entry point now. Condos are the logical first rung on the property ladder. Plus, the uni and college students are coming back. And immigrants, whose numbers were cut deep by Covid. Mostly, however, it's the reopening trade. The bank towers will not stand empty. Professional sports, theatre and concerts are returning. And Google presses on with its new creation.
Big cities are not for everyone. The virus pushed away many who will never return. The pandemic distorted property values in the burbs and beyond while wounding urbanity. That pendulum's likely to swing back more quickly that most people thought possible. Human nature has not changed. We're social animals.
The dogs get it.
STAY INFORMED! Receive our Weekly Recap of thought provoking articles, podcasts, and radio delivered to your inbox for FREE! Sign up here for the HoweStreet.com Weekly Recap.