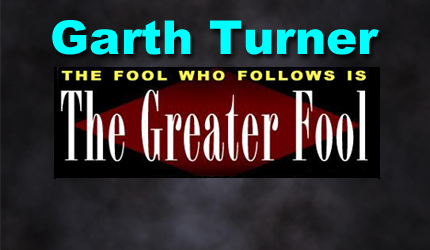 A best-selling Canadian author of 14 books on economic trends, real estate, the financial crisis, personal finance strategies, taxation and politics. Nationally-known speaker and lecturer on macroeconomics, the housing market and investment techniques. He is a licensed Investment Advisor with a fee-based, no-commission Toronto-based practice serving clients across Canada.
My flinty-eyed, iron-spined portfolio-manager colleague told you on the weekend not to wimp out and try to time a market exit. Doug was right. We see it all. The. Time.
When Covid crashed into our world, equities dropped over a third in the space of a few weeks. The fastest bear market ever. Day traders, DIY investors, hedgies, over-leveraged players and people ruled by headlines and emotions headed for the exits. Those without balanced portfolios learned fast why it makes sense to have fixed income assets as well as the cowboy ones. Guts splattered everywhere.
The bottom came in the third week of March, 2020. In the days following, our lead market trader-wizard Ross was busy doing what made sense. Trimming bonds and buying equities. Meanwhile this pathetic blog was making the point that every pandemic in the history of man (can I still say that?) has been temporary. They peter out or they get fixed. But they always end. So why on earth would anyone sell at the bottom?
Sigh. Human nature. It's not always our friend. It's why we buy high (like real estate now) and sell low (like stocks last March).
But wait. Aren't the financial markers also sitting at a record peak?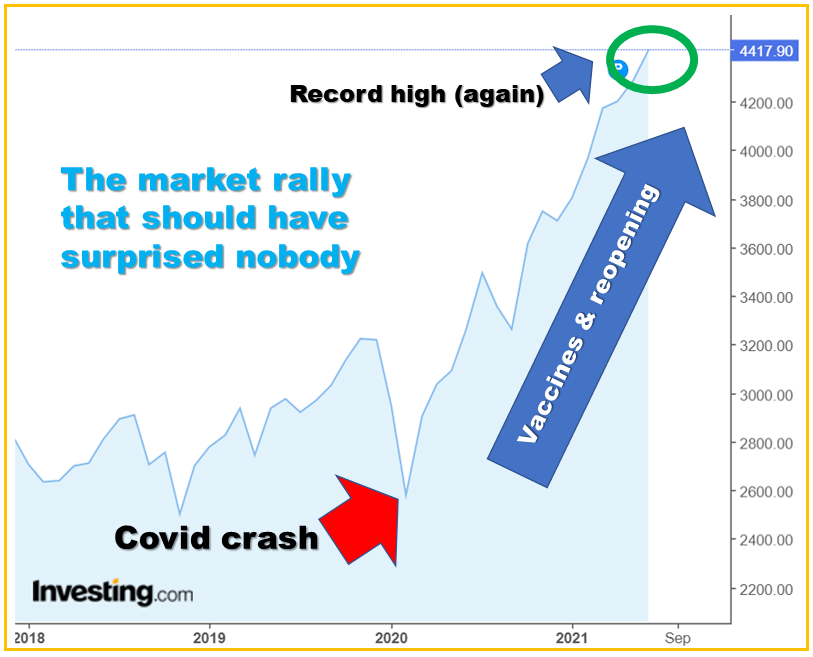 You bet. Another record, in a string so far during 2021. The S&P 500 is a broad index which is more reflective of the US economy than the Dow. So far this year it's gained 17.5%. The advance over the last 12 months has been just a hair under 40%. From the low point in March of '20, the index has gained 92%.
So surely it has to crash, right?
Not so fast. Contractions, crashes and recessions are always short – measured in months. Recoveries and expansions are always long – measured in years. The average one is five to seven years in duration. This one's a baby – just a year old, and history would suggest there's a lot yet to come.
Look at some recent data.
US employment rose by 850,000 in June – a huge number following May's print of 583,000 and far better than the market expectation of 700,000. Corporate earnings, meanwhile, are soaring. A quarter of the S&P companies have reported in this period with earnings-per-share ahead of analysts' forecasts almost 90% of the time. The rate of revenue growth (over 74%) is the best on record after the surge following the credit crisis in 2009. This week big guys like Apple, Alphabet, Microsoft, Tesla, Shopify, Pfizer and a host of others report.
But, I hear you moan, what about the Delta virus, the masses of unvaxed Americans and the potential of a Fourth Wave? Yup, that's a threat. If there are more quarantines or widespread lockdowns Mr. Market will not be a happy dude. But, sheesh, this would be the fourth episode, and we've already survived three. Vast numbers of people have been inoculated, suggesting hospitalizations and deaths will be contained. So if we got through waves one through three without such protection, Number 4 will come and go. No reason to panic.
But, the naysayers gasp further, what about those bond yields? They're stuck at low levels meaning investors think the economy will slow and we'll all perish.
True, bond prices have gone up and yields dropped. But this is due more to bond-buying than anything else – not only by CBs but also large pension funds and other portfolio managers who have become overweighted in stocks thanks to the surge of the last year. Sixty-forty. That saved a lot of butts in 2020. The appetite for fixed income is reasonably high right now since prudent people are restoring the weightings that make a balanced portfolio work.
And so should you.
When markets crashed in despair – as I told you – we shed some bonds and nibbled on equities. When markets erupt in euphoria, it's probably time to trim the sails and take on some ballast.
As Doug said, you just never know what you don't know.
STAY INFORMED! Receive our Weekly Recap of thought provoking articles, podcasts, and radio delivered to your inbox for FREE! Sign up here for the HoweStreet.com Weekly Recap.