July 22, 2021 | Inflation: It's Worse Than You Think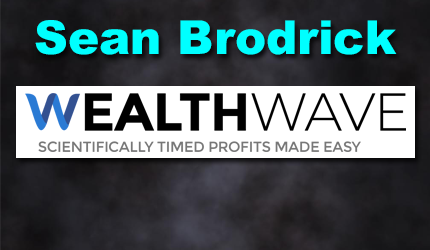 Sean is the natural resource analyst for Weiss Ratings. You can read his thoughts on gold, oil, cannabis, uranium and other natural resources at Wealth-Wave.com
Everyone from Fed Chair Jerome Powell to President Joe Biden is lining up to say inflation is "transitory" and under control. Today, I'm going to show you why they're wrong and how you should be playing it.
I firmly believe the Fed will NOT be able to ignore inflation forever. I've warned about inflation over and over and over and over again, and I started long before it became the popular thing to do. That is cold comfort.
The latest inflation numbers are truly terrible. There are many ways to measure inflation, and none of them look good. Consumer Price Index (CPI) inflation, as measured by the Bureau of Labor Statistics (BLS), is now running at more than 4.4% annualized.
That's the hottest inflation in more than 13 years! So, how would you feel if I told you that inflation is worse than the government lets on?
How do we know? The cost of homes AND rent are going through the roof. But the BLS only collects "shelter" data every six months. According to the BLS, the cost of shelter is only rising a little after previously falling! As this chart from HOYA Capital shows, if you added real, current shelter costs to the mix, inflation would be running at nearly 7%.
Mind you, the U.S. government bond market is behaving as if the Fed has inflation under control. How will that change if the market decides the Fed no longer holds the inflation reins?
Are You Going to Believe the Fed or Your Lying Eyes?
Meanwhile, last week, we saw that Powell is NOT willing to acknowledge inflation risks. Instead, he insisted it's all due to "temporary factors that will abate over time."
I'm not telepathic, but I believe the Fed's maniacal cheerfulness is due to the fact that at 130% debt/gross domestic product (GDP), the Fed can't afford higher rates because it must finance the national debt and deficit.
Some other scary numbers:
•  The Fed is buying assets at a pace of about $120 billion each month, split between Treasury debt and agency mortgage-backed securities.

•  Recently, the Fed held about $5.2 trillion of Treasury securities and $2.3 trillion in agency mortgage debt.

•  The Fed owned about 22% of all Treasury securities outstanding at the end of 2020, compared with 14% at the end of 2019.

•  Heck, the Fed's balance sheet alone hit $8 TRILLION this summer. That's up from $900 billion in mid-2008. It's probably on its way to $9 trillion.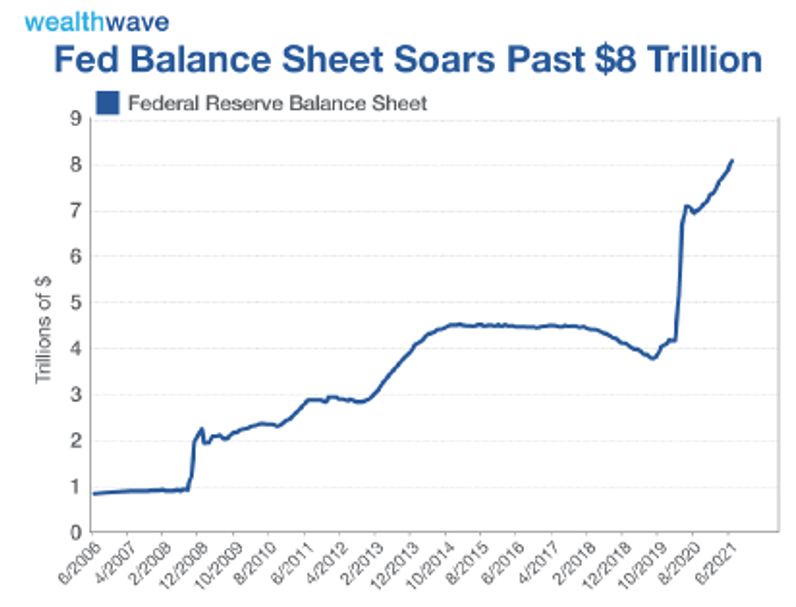 Source: BLS/Marketwatch
As a result, hotter inflation just means the Fed will jawbone rate hikes more aggressively to keep everyone in the bond market pool.
What does that mean for investors? I believe we should position ourselves in stocks that can ride out inflation while not shying away from stocks that will suffer if the Fed hikes rates, for the simple reason that the Fed is going to put off hiking rates as long as possible. When the barn is burning, the Fed will blame the heat on summer weather.
Inflation hurts some stocks and helps others. To be sure, there're other risks to the market. The Fed is talking about tapering its "free money for Wall Street" program. Stocks floated higher on that money. They'd surely sink if the Fed takes away the punch bowl too early.
And then there's the resurgent coronavirus. Infection rates and hospitalizations are rising. So, a little caution going forward is warranted.
One inflationary pick that is working out for my Wealth Megatrends is the SPDR Portfolio TIPS ETF (NYSE: SPIP). This basket of Treasury inflation-protected securities (TIPS) is rising. And it pays monthly dividends to boot.
That's just one of the inflation-beating ideas I've given Wealth Megatrends subscribers. If you're doing this on your own, do plenty of research before buying anything.
All the best,
Sean
STAY INFORMED! Receive our Weekly Recap of thought provoking articles, podcasts, and radio delivered to your inbox for FREE! Sign up here for the HoweStreet.com Weekly Recap.