July 30, 2021 | Bubble, Meet Prick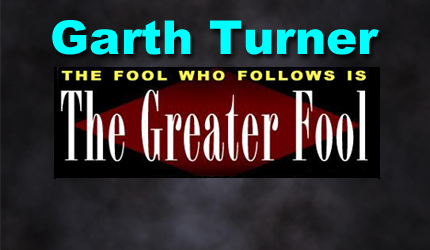 A best-selling Canadian author of 14 books on economic trends, real estate, the financial crisis, personal finance strategies, taxation and politics. Nationally-known speaker and lecturer on macroeconomics, the housing market and investment techniques. He is a licensed Investment Advisor with a fee-based, no-commission Toronto-based practice serving clients across Canada.
The sleepy little university city is a hundred clicks from the Big Smoke. Not exactly an easy commute.
But WFH and Covid changed all that. So far in 2021 home sales in Guelph jumped 62% above 2020 levels. Prices increased 32% in a year. Nobody – not a single agent or broker – had ever seen this kind of exodus from east down the highway as GTA virus refugees arrived to Hoover up every listing.
But wait. What just happened?
A classic heritage stone bungalow on one of the best streets – a trophy property – came up for 'offer night' a week ago after seven days of showings. The listing agent braced for a bidding war. But total buyers: zero.
Well, the price reductions have started there and, in fact, much of the hinterland hunkered around the metropolis. Meanwhile in the urban core, condo sales have spiked. City rents have started to escalate. And it sure looks like peak house came, and went.
Four months ago a certain pathetic blog told you we were there. Sales levels cannot last, it said. Hold your powder. The pandemic will end. Restrictions will go. WFH will dissipate. And faced with a commute plus the horrible reality of having to find clean underwear and pants on a daily basis, many ex-urbanite Millennials will realize they lived DT for a reason. Cows are nice. But the 401 isn't.
This week economists at the big green bank admitted to the same conclusion. "March seems to have been the absolute peak of the mountain in terms of activity, a couple of months ahead of what we had anticipated in our outlook released last winter," says TD.
No kidding. Sales are down 25%. Listings are edging higher. It's abundantly clear that – as with lumber and puppy prices – the pandemic housing market was unsustainable. It was emotional. Quixotic. Kneejerk. Dripping with recency bias, buyers made unconditional, no-inspection offers in blind auctions, showering speculators in hotbeds like Milton and Niagara with windfall gains while pickling themselves in epic debt.
So why is it ending?
The tougher stress test kicked in, punting another one in ten buyers to the curb. Mortgage rates have stiffened a little, but everyone knows more increases are coming. Covid is retreating and September/October will see the reopening of the downtown bank towers and a myriad of other workplaces. Meanwhile as restrictions and curbs are lifted people are far less consumed with where they live and are returning to normal life. That involves travel, vacations, dining out, sports events, concerts, shopping and pure socialization.
In short, the pandemic real estate fling was just that. Hormonal. Briefly compelling. Obsessive. Enthralling. Vaguely dangerous. Exciting. But ultimately short. And costly.
"Now that sales have begun their correction in earnest," says the bank, "the interesting question becomes how steep the decline will be."
You bet. And in some places valuations over time will plunge. Not just in the near-Toronto hick cities, but also in Atlantic Canada, northern BC or southern Saskatchewan. TD forecasts weakness "in Ontario, Quebec, PEI and Nova Scotia," for example.
"Relatively steep year-to-date sales declines have occurred in places where affordability is more stretched, including Nova Scotia (-32% ytd), Quebec (-20%) and Ontario (-17%). This trend should hold moving forward, leading sales to underperform where affordability is poor by historical standards. Accordingly, relatively steep sales declines are anticipated for 2021 and 2022 (on a Q4/Q4 basis) in Ontario, Quebec and most of the Atlantic Region."
Hmmm. Tough news for people who just bought properties at peak prices in places where your whole income might depend on a WiFi signal and the benevolence of a remote boss. In fact, look at what's already starting to happen to prices across the country.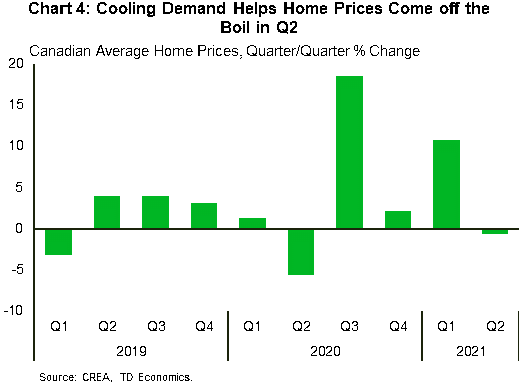 One reason prices are edging into decline is the sales mix. In a word, condos. Not only are cities rustling back to life and urban apartments and townhomes offer exceptional convenience (and no commute) but pandemic housing lust made SFHs completely unaffordable. Suddenly middle-class folks are staring at a $2 million price tag in southern Ontario or the Lower Mainland for what used to be an achievable home. It's insanity. And unsustainable.
So the condo bargains this blog underscored in November are history now. Prices are up. Rents are up. In Toronto, Vancouver and even Calgary – where the downtown commercial vacancy rate is nearing 30% (but residential vacancies are at a two-year low). In fact sales of Cowtown condos and urban towns doubled in the past year. The demand is coming from students returning to uni, families pushed out of the detached market, smart downsizers and employees sensing the end of remote work.
It will be everywhere soon. And you were foretold.
STAY INFORMED! Receive our Weekly Recap of thought provoking articles, podcasts, and radio delivered to your inbox for FREE! Sign up here for the HoweStreet.com Weekly Recap.