July 22, 2021 | Are Canadians Ready to Transition to a Lower Standard of Living?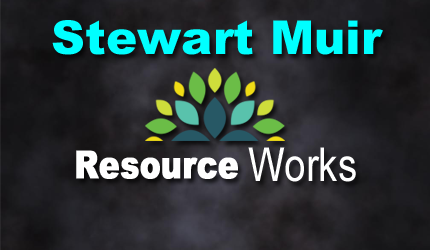 Stewart Muir is founder and executive director of the Resource Works Society, a Vancouver-based group open to participation by British Columbians from all walks of life who are concerned about their future economic opportunities. He is an author, journalist and historian with experience on three continents including a financial editor of The Vancouver Sun responsible for mining and markets coverage. Since Resource Works was established in 2014, the group has gained international recognition for its practical approach to the public challenges of responsible natural resource development and use.
If we're serious about both climate change and having a functioning economy, great care will be needed in crafting "just transition" imperatives. Stewart Muir explains why.
With the federal government now talking about "just transition" as a legislative and policy framework for re-doing the Canadian economy, anyone with a point of view on this topic should make sure they secure an invitation to an upcoming advisory process on net-zero implementation.
Although the term just transition in itself isn't particularly alarming, personally I think it makes more sense to talk about transforming our energy systems. Transition seems to imply that we must jettison the "old" economy. Since doing so also means discarding the basis of Canadian prosperity, that might not be such a good idea. Moreover, since the term just transition itself originated from the Green New Deal movement that regards capitalism as a cancer, it's not too hard to guess at the political considerations present in the minds of those who cook this stuff up.
The fact is that Canada is a small trading economy that relies for its prosperity on access to world markets for its export goods. If we're talking about transitioning away from this – which is exactly what "just transition" campaigners like Naomi Klein have for years been insisting we do – then we also need to frankly acknowledge what this transition will mean for those who must (unlike Klein and her husband after their recent uncompeted appointments to prestigious UBC sinecures) toil in the marketplace to earn a living.
Economist Don Wright recently noted that Canada is trapped in a low-wage, low-productivity model when instead we require policy that fosters high-wage, high-productivity outcomes. States Wright, in his article Rhetoric vs. Results: Shaping Policy to Benefit Canada's Middle Class for the Public Policy Forum, "Governments need to commit fundamentally to raising the standard of living of the broad middle class as a core, permanent objective."
Wright, until recently the head of British Columbia's civil service, says that Canadians should expect that each generation will have roughly double the standard of living of the preceding generation: "It will be government's responsibility to ensure that the conditions necessary for this are put in place."
The current trajectory is not encouraging. Quips Wright: "Until governments begin to put this at the centre of their thinking, they will continue to offer up Costco samples to the middle class when the middle class desperately needs a full course meal."
With the phrase "just transition", drawn directly from hard left-wing eco-socialist movements, being installed as the centrepiece of Canadian economic policy, should we be concerned?
In the immortal words of Geena Davis in The Fly: "Be afraid, be very afraid."
Canada's standard of living ultimately depends on its ability to sell goods and services to the rest of the world (or replace goods and services that it purchases from the rest of the world, at competitive prices). From iPhones to orange juice, vaccines to industrial robots, there's just no way we can live as we do without trade. It turns out that half of our economy is drawn from natural resources, according to Wright. This pie chart shows the country's composition of goods and services exports in 2019: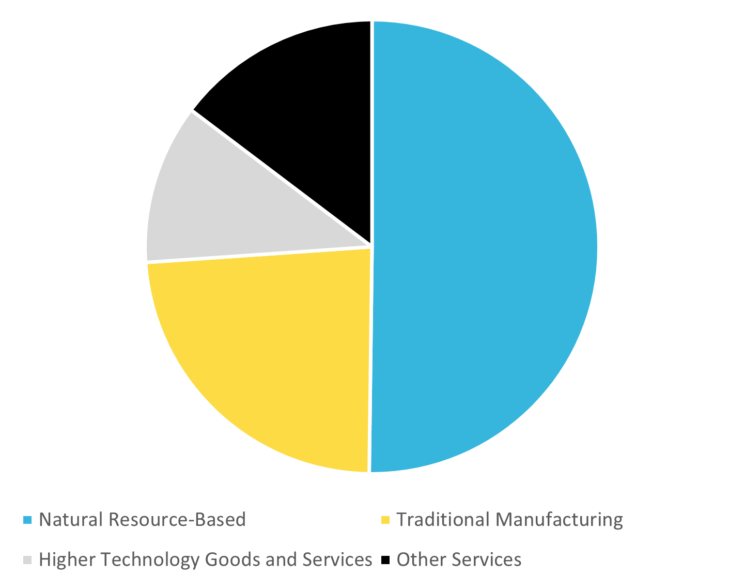 Source: Don Wright's calculations based on StatsCan 36-10-0021-01 and Canadian International Merchandise Trade Database
It's not just that we export a lot of natural resource goods. The impact of the jobs-intensive resource economy is such that natural resources compose 50 per cent of the total base economy in British Columbia, according to a recent economic study.
So influential are natural resource exports, says Wright, that a Statistics Canada study concluded that Canadians were 18 percent richer in 2010 than they would have been in the absence of their natural resource industries.
Since the "just transition" mantra is that all natural resource activities are destructive, irremediable, and must be opposed, where does that leave Canada in economic terms?
With diddly squat, it appears.
Here is what Wright – a most level-headed and temperate of analysts – has to say about this question:
Notwithstanding the undeniable contribution natural resource industries make to a higher standard of living, there is currently considerable discourse about the need to migrate away from this part of Canada's economic base to one based on the new, emerging, green, intangible economy. The underlying model for this transition is explicitly or implicitly a version of the "Silicon Valley Model" — that Canada should invest in creating the technology ecosystems that will allow it to build its own Googles, Amazons and Microsofts.
This raises two important questions, says Wright:
How can this be done in the context of the need to raise the Canadian standard of living?
How does Canada plan to replace those higher-than-average-paying jobs and the significant net government revenue it will forgo if it shrinks the resource sector?
The answer, it seems, is that we don't need to worry about this because the pandemic has taught us that money is free, and Canada no longer has to worry about government deficits and debt levels. As a result, we can, in Wright's words, "just buy (i.e., subsidize) whatever type of economy it wants."
Wright advises us not to fall for this way of thinking. Money is not really free. Eventually, the piper will have to be paid.
Outside of the major concentrations of population in the southwest corner of British Columbia, southern Ontario and Greater Montreal there is relatively little hope for a significant economic base save for what is offered by the natural-resource sector.
Wright is hardly an advocate of brawn over brains, in fact he places innovation at the centre of what Canada must do to solve the riddle of sustainability and economic success. He credits author Dan Breznitz for these three key insights:
Don't be enchanted with the bright, shiny objects of the day;
Build on what you have, and grow, stretch and evolve from it through a clear-headed and rigorous approach to innovation; and
Pay particular attention to whether the benefits of innovation are going to be broadly shared across the population.
To me, this is a description of transformation rather than transition. Wright says that Canada will be making a major mistake, with profoundly negative consequences for its standard of living, "if it prematurely sunsets what has historically been its major comparative advantage — its natural resource-based industries."
In the Canadian context, "natural resource industries and emerging green industries should be viewed as complements to, rather than substitutes for, each other. Developing new technologies to reduce carbon emissions in resource industries can provide the base upon which emerging green technology solutions can be developed and proven out, and then sold to other industries and other countries."
Wright urges that Canada builds on the natural resource sector "through a no-illusions innovation strategy that will stretch and evolve those industries and use them as a platform to support the growth of its 'intangible economy.'"
Coming full circle back to this use of the term "just transition", you should be able to see why I share Wright's concerns. We need to reject the thinking that it's time to trade away our prosperity for the shiny objects offered by the coalition of eco-socialists, contrarians, anarchists, and pitchmen who have so effectively captured the imagination of the federal government.
Stewart Muir is the executive director of the Resource Works Society.
STAY INFORMED! Receive our Weekly Recap of thought provoking articles, podcasts, and radio delivered to your inbox for FREE! Sign up here for the HoweStreet.com Weekly Recap.