July 8, 2021 | 3 Best Reasons to Buy Gold Right Now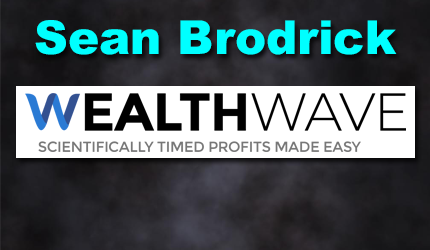 Sean is the natural resource analyst for Weiss Ratings. You can read his thoughts on gold, oil, cannabis, uranium and other natural resources at Wealth-Wave.com
Gold is back over $1,800 an ounce, yet this is getting a shrug from the market. I don't blame investors. Gold has disappointed us for months.
However, underneath the surface, bullish forces are falling into place.
Should you buy gold? Should you buy miners?
Let me show you the enormous potential in precious metals.
Reason 1: It's That Time of Year
Here's a chart from the always-sharp Jeff Clark over at GoldSilver.com.
Jeff and I have been on mining adventures together, and he's the real deal. And this chart his team dishes up is an eye-popper. It calculates the average gain and loss for gold on every day of the year since 1975 …
As you can see, gold snoozes in the first half of the year. In the second half, it wakes up and roars! Those Fourth of July fireworks were the big bang marking the start of gold's second-half bull run, if this year follows the historical precedent.
Reason 2: Central Banks Are Stacking Gold Again!
Central banks are a driving force in gold, for good and bad. When they buy, the price of gold goes up.
When central banks sit on their hands, gold flounders. Well, guess what central banks are doing now? Central banks in Kazakhstan, Thailand, Serbia and Ghana are adding to holdings.
And rumblings from other central banks caused analysts at HSBC Holdings plc (NYSE: HSBC) to make this projection, which I picked up on Bloomberg's website …
You can see that central bank gold buying really dipped during the pandemic. Now, about one in five central banks intend to increase their gold reserves over the next year, according to a recent survey from the World Gold Council.
In fact, HSBC is looking for two years of successively higher gold purchases.
Analysts at Citigroup Inc. (NYSE: C) have one problem with this forecast — it's too low! Citigroup believes purchases by central banks should climb to 500 tons in 2021 and 540 tons next year.
One more bullish force before I get to my picks …
Reason 3: Golden Cross Signals Bullishness
Brien Lundin, publisher of The Gold Newsletter, brought something to my attention a few days ago: We just saw a "golden cross" on the chart of gold.
A "golden cross" occurs when the 50-day moving average, which marks the intermediate trend, crosses or rises above the 200-day moving average, or longer-term trend.
You can barely see it on the chart, but check the numbers on the upper left. The 50-day just squeaked above the 200-day moving average. So why is this significant?
This means gold's intermediate trend is strengthening. It's an important indicator of longer-term technical strength.
I remember a few years back when the legendary chartist John Bollinger said, "The golden cross is a great tool in a big, roaring bull market."
Let me give you an example. We saw a golden cross in gold in February of 2009. By the time it peaked in September 2011, gold rallied more than 110%!
"Whee," indeed!
Sure, no one buys the very bottom or sells the very top. But grabbing just a big chunk of that could have made you rich! While history doesn't repeat, it often rhymes. If gold rallied 110% from current prices, it would soar to over $3,600 an ounce!
How You Can Play It
A potentially great way to play this is miners leveraged to the metal. That's because as the price of gold climbs, the profit margins of those companies widen like the Grand Canyon.
One more chart, with two more examples: You'll remember that gold rallied with everything else when the market bottomed in March of last year — and it rallied right through August.
So, let's look at a performance chart of gold compared to the VanEck Vectors Gold Miners ETF (NYSE: GDX) and the VanEck Vectors Junior Gold Miners ETF (NYSE: GDXJ) over that time frame.
You can see that gold rallied 30.45%. Not bad. But senior gold miners, as tracked by the GDX, rallied more than 122%. And junior gold miners, as tracked by the GDXJ, rallied more than 171%!
This shows how miners are leveraged to the metal. And the smaller the mining company, the more potential leverage.
It's a tough market; you should always own gold and miners anyway, as a cushion against hard times.
Now, we're coming to their time to shine. Make the most of it, and you'll be glad you did.
All the best,
Sean
STAY INFORMED! Receive our Weekly Recap of thought provoking articles, podcasts, and radio delivered to your inbox for FREE! Sign up here for the HoweStreet.com Weekly Recap.