June 20, 2021 | The Next Oil Crisis Is Dead Ahead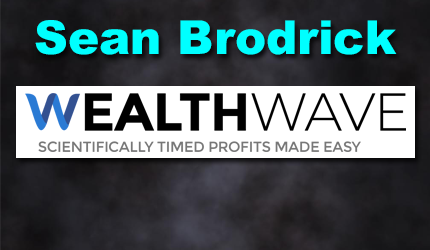 Sean is the natural resource analyst for Weiss Ratings. You can read his thoughts on gold, oil, cannabis, uranium and other natural resources at Wealth-Wave.com
Many on Wall Street and in Washington D.C. breathed a sigh of relief this past week as crude oil prices pulled back from a recent peak.
Don't be fooled! This is a short-term pullback in a bigger trend higher. And last week's price peak is only the harbinger of a massive supply-demand squeeze that will send the world hurtling headlong into the teeth of another energy crisis.
That sounds bad, and it is. But what if I told you that you could make a gusher of profits on this?
I'll get to that. First, though, let's talk about why we're headed for a big ol' mess.
We can start with demand for oil.
You know it's rising fast, right? Everyone is un-cocooning from the pandemic, putting on their fat pants and driving to work. The forecast — for now — is that global oil demand will rise by 6 million barrels per day (bpd) this year from the lows of 2020, led by strong consumption in China and the United States.
As a result, this is what's happening to the demand for U.S. oil:
This chart includes both domestic demand and product we ship overseas to places like Latin America and China. It's up to 18,997,000 bpd and rising fast.
Meanwhile, last year's pandemic wreaked carnage in the oil fields. Wells were shut in. New projects were shelved. Exploration fell off the table. That's why U.S. oil production dropped to the lowest level since 2017!
Well, that's okay, the happy talk crowd in Washington says. We can always buy from overseas. And anyway, we're making the transition to "green energy."
To which I say, yeah, we'll transition to green energy … someday. But it's going to take a long time. You can bet your bottom dollar that we'll be using oil for the next hundred years.
And when it comes to oil production and exploration, spending didn't just fall in the United States. Here's a chart of the amount of money spent on oil extraction GLOBALLY:
As you can see, it's been falling for a long, long time. Spending on oil extraction fell to about $330 billion last year, less than half the 2014 record, according to research firm Wood Mackenzie.
Do you think that's going to change? Think again. Wall Street is spending trillions of dollars on wind, solar and other renewable energy programs. Those ships have sailed, and they aren't going to turn around.
Sure, the oil fields are slowly getting back to work. But not as fast as you might think when oil hits $71 a barrel. Here's a chart …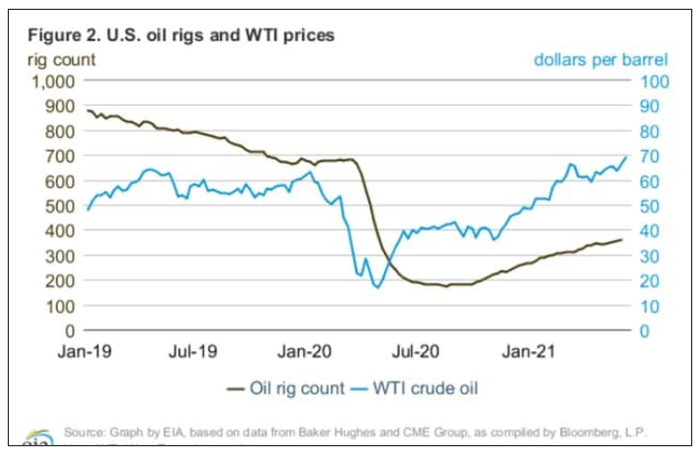 Sources: OilPrice.com/EIA
You can see that the upward trajectory for the U.S. oil rig count is much flatter than the price of oil.
So, supplies are tight now, and they're going to get tighter. How do you profit? I have one more chart for you …
This chart tracks U.S. oil production against the price action in the SPDR S&P Oil & Gas Exploration & Production ETF (NYSE: XOP). That's a basket of companies that do the hard work of drilling and pumping in the oil fields.
Looking at the chart, you can see that U.S. oil production really fell off a cliff when the pandemic hit, and prices plunged. But the XOP's share price plunged long ago, starting when the OPEC price war drove prices so low that these companies couldn't make any money.
More recently, we've seen the XOP rally as oil prices climb. But it's still far, far below its bull market levels.
And THAT, my friends, is your opportunity.
At some point — probably sooner rather than later — Wall Street will wake up and realize the world is sleepwalking into an oil crisis. Then, suddenly, the white-shoe crowd will want to own ALL the oil exploration and production stocks.
Lucky you, you can buy the XOP or its leading components now while they're still cheap. Heck, many of them pulled back hard this past week when oil prices retreated from their high.
A pullback in these stocks is a buying opportunity. Don't waste it. The oil crisis is coming. We can't avoid that, but you CAN make a bloody fortune by owning the right stocks.
All the best,
Sean
STAY INFORMED! Receive our Weekly Recap of thought provoking articles, podcasts, and radio delivered to your inbox for FREE! Sign up here for the HoweStreet.com Weekly Recap.