June 30, 2021 | The Fail Test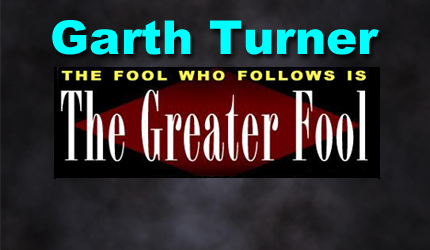 A best-selling Canadian author of 14 books on economic trends, real estate, the financial crisis, personal finance strategies, taxation and politics. Nationally-known speaker and lecturer on macroeconomics, the housing market and investment techniques. He is a licensed Investment Advisor with a fee-based, no-commission Toronto-based practice serving clients across Canada.
Well, the pandemic ends tomorrow. Canada Day marks not only a time for haters to harass me about my flag (an update below), but also the time when provinces like BC, Alberta, Ontario and NS dump most Covid protocols and let you live a kinda-normal life again. No masks in British Columbia, where they need all the oxygen they can get. No more quarantines to enter the Maritimes. And, praise-the-Lord, haircuts again in Toronto. (Have you seen the mayor's head?)
This is a big economic deal. Main Street can revive. The malls are open everywhere. Travel resumes. Restaurants, bars, clubs, conventions, concerts, live performances – it's all coming back. So is commuting to work. Buying new shoes and pants. Upping the car insurance. Calling the dog walker. Child care.
All this return to normal spending comes for many people at a time when their real estate appetite, FOMO and the crazy thought that a temporary pandemic would bring lasting change made them do weird stuff. Like buying a house for $260,000 over asking in a blind auction with 20x leverage. Big regrets coming. We told you a year ago this would be a nutso time to chunk all your net worth into one, inflated asset. This is becoming evident.
Yesterday's RBC housing affordability report was a shocking reminder. (And full marks to a bank – which makes bazillions from mortgages – for being this forthright.) What does it take to buy a property in Canada? Thanks to Covid and fuzzy thinking, it's 52% of median pre-tax household income nationally. In Toronto. 67%. In Van, 75%. For a detached house, even more.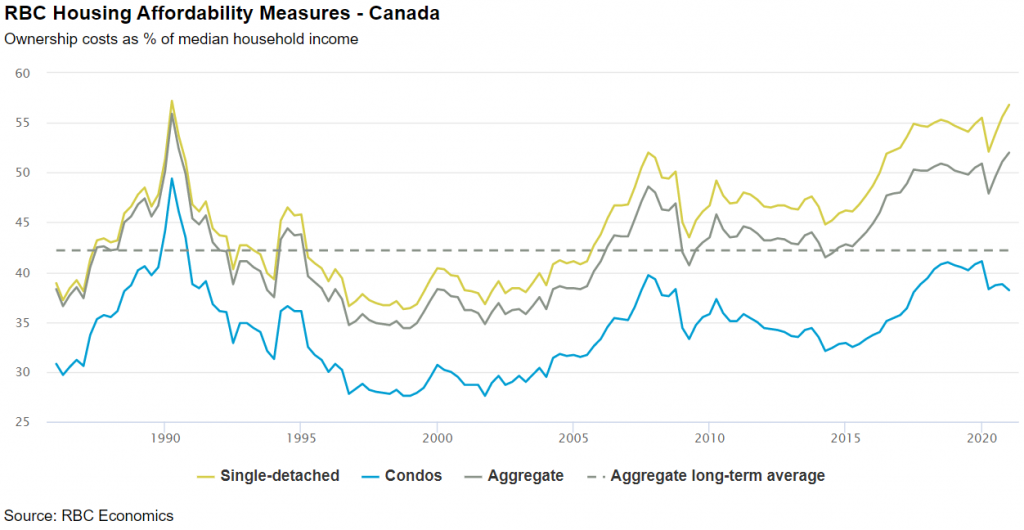 Let's noodle that for a minute.
For example, you live in a slanty semi in east-end Toronto, where the cement plants and incinerator used to be. You luck out and pay only the current average property price of $1,108,453 (Toronto Real Estate Board stats for May). You and your squeeze have an average income for the area (according to CMHC numbers) of $114,153. After tax, this amounts to $89,238.
Being excellent little beavers and having made a withdrawal from the Bank of Mom, you managed to make a 20% downpayment and cover closing costs – a hefty $225,000 – plus avoid CMHC insurance. Yay! Now the mortgage is only $903,500.
Monthly payments are $3,900. Property tax, heat and insurance add an average of just under a thousand. Add in some utilities, no maintenance, and you're spending $5,000 for the place after coughing up a quarter million deposit. Household cash flow from employment is $7,400 a month, which means 67% of your actual income is consumed by the semi. And you are one of the lucky ones – since average incomes are higher than median ones and it's virtually impossible to find a habitable, move-in-ready single-family home in 416 for $1.1 million. Plus, of course, family gave you the money to buy. Letting you avoid extreme leverage and substantially higher monthly payments.
But wait. What about the stress test?
Oops. FAIL.
The stress-test mortgage payment hurdle is $5,244 a month, for a GDS (gross debt service) ratio of 64% – miles higher than the CHMC-recommended limit of 35%. Same story with the TDS ratio (total debt service) which, at 64%, exceeds the limit of 42%. Total monthly expenses therefore would add up to 90% of net (not gross) monthly income. (Here's a stress test calculator to play with.)
Now, add in all the extra expenses a dogawful pandemic hid, and hopefully it becomes clear what we've done to ourselves. Totally pooched. Recent buyers – especially those out in Bunnypatch where the leaves rustle softly and you now face a 90-minute commute – represent extreme poochedness. Guess which way prices will be headed? Even before mortgage rates starts to climb next year?
It starts tomorrow.
The woke folk have decided to jam my corporate email after I sinned against history by erecting a bejesus big maple leaf flag on my building. "It has come to my attention as a member of the community that your place of business may be displaying a distressing symbol in light of an upcoming holiday," one of the young women writes. "Taking down the symbol and issuing an apology to the community is the only course of action."
Well, actually it isn't. As I told one of the protestors who pushed into my office today, Canada just lost 26,000 souls to a pandemic. All hues. All backgrounds. And not a century ago. As this dark chapter ends we have much to be grateful for. Proud, even. Our nation ultimately emerged as a leader in this fight. Thank you, my fellow Canadians.
Blog dog (and media graphics guy) Michael in Vancouver has decided to help me out. "We stand with you shoulder to shoulder Canada is a great country!" he writes. "I found myself inspired by your words in yesterday's blog. "I need more Flags". So, this is our plan…
STAY INFORMED! Receive our Weekly Recap of thought provoking articles, podcasts, and radio delivered to your inbox for FREE! Sign up here for the HoweStreet.com Weekly Recap.