June 10, 2021 | Resilience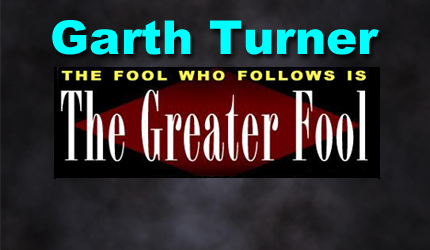 A best-selling Canadian author of 14 books on economic trends, real estate, the financial crisis, personal finance strategies, taxation and politics. Nationally-known speaker and lecturer on macroeconomics, the housing market and investment techniques. He is a licensed Investment Advisor with a fee-based, no-commission Toronto-based practice serving clients across Canada.
In case you missed it, oil's breached the $70-a-barrel mark, which is a big deal. The loonie's been flirting with the 83-cent US mark. Bay Street's main index shot over 20,000, and has held. The Big Six banks just made more money than God has. Portfolio managers are now overweighting Canada. Analysts think corporate profits in the next quarterly reporting period could rise 40% over 2020 levels. Maybe even 50%. And all this is happening despite lousy jobs numbers for the last two months and an over-reliance on real estate in Canada.
Whazzit mean?
Well, just what this pathetic blog has been yammering about for a few months. The reopening trade. And as vaccines defeat the virus global GDP will expand, raising demand (and prices) for commodities, which is good for this Land of Crazed Beavers. Despite our house lust and profligate, spendy, debt-loving ways, it turns out Canada has a decent road ahead.
More than a year ago we said pandemics are temporary. They pass. Always has been the case. Always will be. And so, verily, it happened. The Covid disaster was long, deadly and costly. It sucked large. We grew copious hair, forgot how to drive and smelled a little ripe. Now workplaces will be restored, downtowns slowly repopulated, restaurants and tourism rekindled and normalcy returned. Looking back, last spring was a great time to trim bonds, buy stocks and amp up maple.
As you my also recall, REITs and preferreds were on sale a year ago. As for housing, Covid trashed the market last April for all types of properties and brought a 20% reduction in DT condo prices seven months ago. So over the course of this miserable pandemic there have been substantial opportunities to buy quality stocks, dividend-churning prefs, on-sale real estate investment trusts and also property. All it too was guts. And money. (One is more plentiful than the other.)
What now?
More of the same. Currently we've got a healthy 20% weighting to maple (including 5% in REITs) on the growth side of a model portfolio, with 22% in the US and 18% international. Seems about right. Although Canada accounts for less than 4% of world markets we stand to benefit bigly from the reopening trade because of commodities and our proximity to the US, which is exploding.
What about inflation and rates?
Both will be rising. Inevitably. Emergency rates won't look too wise when the crisis is gone. Too much CB stimulus will just exacerbate a jump in the cost of living, so the cost of money will inevitably, gradually and relentlessly rise. Yesterday the Bank of Canada held the line – to nobody's surprise – but over the next three years it's reasonable to expect mortgage costs will double. Or more.
Oil at seventy bucks underscores this. So do golden retriever pups at $4,500. The expectation of inflation is baked in, especially since Covid messed up the supply chain creating incredible shortages of everything from chips for new cars to bath tubs and windows.
Also inflationary are vaccinations. The more the herd is dosed, the faster economic growth will occur and at a time of shortages and heightened demand, that pushes prices up. Canada has gone from a lame-ass effort, starved of vaccine supply, to a global leader for inoculations. Within a couple of months 75% of the citizenry will be jabbed, twice. By Labour Day it will be 2019 all over again. If you thought the pandemic would make things 'different this time' you were wrong. It was just a honking big opportunity.
STAY INFORMED! Receive our Weekly Recap of thought provoking articles, podcasts, and radio delivered to your inbox for FREE! Sign up here for the HoweStreet.com Weekly Recap.