June 25, 2021 | Now What?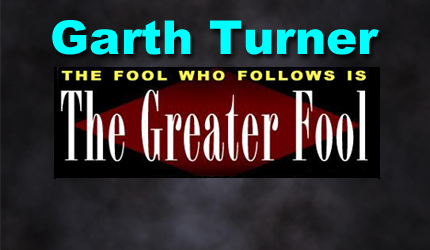 A best-selling Canadian author of 14 books on economic trends, real estate, the financial crisis, personal finance strategies, taxation and politics. Nationally-known speaker and lecturer on macroeconomics, the housing market and investment techniques. He is a licensed Investment Advisor with a fee-based, no-commission Toronto-based practice serving clients across Canada.
Recency bias is when you think what just happened will happen forever. Current events, in other words, will frame the future. It's a big reason people suck at investing. They buy high, believing things will become higher. They sell low, since assets will obviously go to zero. And they move to Tillsonburg because the office shut for a while.
Recency bias explains FOMO. The meme now is that housing costs a pile and becomes more expensive daily. So (despite whatever temporary reasons are causing this) people panic-buy, leverage to the gills and feel smug. Recency bias has also made folks think a pandemic (always a short-term event) will forever alter the nature of work, so they can enjoy a full salary, never have to commute, wear jammies all day, escape workplace supervision and walk the dog at will.
Covid created WFH. It spawned a real estate boom in the burbs, the hinterland and places like Armpit and Bunnypatch. The quest for space, cheap rates and better values coupled with the whimsical belief remote work is forever permanent has transformed the landscape. Now as vaccines defeat the virus, we're in the middle of a steamy debate. Millions never want to hit the office again. Others can't wait. Employers are vexing.
And did you see this news report on Friday?
Companies drop plans to sublease space as more workers want to return to the office. Early in the pandemic, many employees saw a benefit to working from home. But now, they crave a return to the workplace. (Globe)
A good indicator of what Mr. Market thinks will happen comes from a gander at REITs. Real estate investment trusts own a mess of commercial property, from malls to apartment buildings, soaring office towers and industrial complexes. When Covid crashed into the economy and offices emptied, REITs tumbled. But the trip back since vaccines showed up has been impressive. Check this one out…
This REIT exchange-traded fund (I'm not recommending it – just an example) has gained about 15% in 2021 and also pays a dividend of more than 4% to boot, better than most dividend stocks. The strength of an ETF, of course, is that it can hold a diverse collection of REITs within it. This one has residential apartments as a top holding, for example, as well as downtown towers. REITs are also a neat source of income for investors, since they routinely distribute the bulk of profits.
So these assets went on sale when the virus was ripping through society and five million people were in WFH mode. Since the beginning of the year – thanks mostly to the geniuses at Pfizer and Moderna – it's become increasingly obvious remote work is temporary, an aberration and will help destroy corporate culture, mentorship, collaboration, creativity and careers.
Oh yes, lots of people love it. Surveys show especially Millennials, women, Gen Zers, IT types and golden retrievers are totally into WFH. And why not? Personal costs are slashed (no commuting, dressing up, lunches out) while employees get control of their time and can pursue that elusive work-life balance which seems so important to newbies. However, the last year-and-a-half has been hell for the Type A alpha-achievers among us. Like my driven portfolio manager buddy (and part-time blogger) Ryan. I just asked him to rank WFH. He says…
It definitely has its advantages like having a coffee on the back deck in the mornings. But it also comes with a number of drawbacks like decreased efficiencies (before I could I just pop out of my office and ask one of the team members a quick question, which now requires a phone call or long email), technology issues like a slow internet connection or a freezing Zoom call and of course screaming kids in the background as they fight with my wife (now part-time teacher) to get back on the iPad for their virtual school lessons. Given all this I look forward to returning to the office, getting back into old routines and re-connecting with all our team members. Plus we'll soon be able to meet with clients in-person, which I miss probably more than anything. This is a people person business and while Zoom calls are great and efficient, I personally miss that human connection with clients and team members. So I'm counting down the days until I can get back into the office!
He won't be alone there in the big tower. RBC just let its wealth management people know they're coming back to work, five days a week. No jammies and sweats. No hybrid. Go and gas the car.
Human nature being what it is, if you ask people if they'd rather stay at home and make the same money, they'll say yes. Duh. The pandemic has poisoned a lot of minds to the extent that a BDC poll found over half the people searching for a new job say they'd refuse one that required workplace attendance.
Is that rational? A path to career advancement? Is that what many employers are paying for? Part-time attention with full-time comp?
Nah, of course not. And the REITs are telling us markets also don't believe remote work can last. Maybe for some. Perhaps a hybrid for others. But for most, work in 2025 will look just like it did in 2019. And, of course, you can only imagine the impact this will have on real estate values in places that are uncommutable.
Recency bias costs. And yet we never learn.
STAY INFORMED! Receive our Weekly Recap of thought provoking articles, podcasts, and radio delivered to your inbox for FREE! Sign up here for the HoweStreet.com Weekly Recap.