June 18, 2021 | Blame Game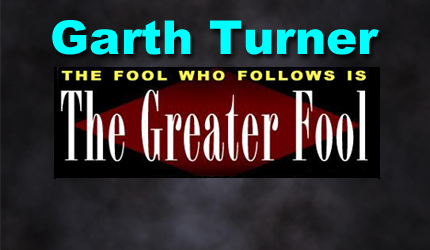 A best-selling Canadian author of 14 books on economic trends, real estate, the financial crisis, personal finance strategies, taxation and politics. Nationally-known speaker and lecturer on macroeconomics, the housing market and investment techniques. He is a licensed Investment Advisor with a fee-based, no-commission Toronto-based practice serving clients across Canada.
Let's play Connect the Dots.
As this pathetic blog has tried to underscore, everything is related. Friday gave a great example.
Dot. First, the stock market freaked out a little. That happened after an important US central bank dude (James Bullard) said romping post-Covid inflation could cause interest rates to start ascending in 2022, earlier than anticipated. That happened after the Fed began talking, earlier in the week, about tapering back its rate-dampening bond-buying program. No date yet but we all know it's coming.
More dots. Bond yields started to rustle and arouse. For example, five-year Government of Canada bonds (which largely determined fixed mortgage rates) which were down at .8% on Monday were close to 1% on Friday (up 2% that day, to .96%). In the bond world, that's positively Kardashian.
More dots. Look at the vax rate. Incredible. My scheduled second dose was moved up a full five weeks. Yesterday Ontario passed 20% fully-dosed and every province is flirting with 70-75% of the population with at least one jab. The supply of Moderna is about to erupt. The reopening will be epic.
More dots. On Friday the government told us about mortgage debt. Up the wazoo. In one month alone (April) we house-horny little beavs added $17 billion to the pile, which now stands at a towering $1.69 trillion. This is the fastest rate of new debt-accumulation in more than a decade and comes with interest rates rate at an historic low. So, yes, financing costs will only go higher, and never lower. Do people get that?
More dots. TD is reporting benchmark prices for DT condos in the Big Smoke have increased at the strongest rate since 2018. In fact, every month recently there have been gains, with the strongest ones coming in the last 90 days. Since 2017 condos have gained 44% in value, compared with 21% for detached. We told you in November a 20% prices drop for these units was an aberration and would be wiped away as Covid faded. And, yup, here we are. Plus it's a safe bet to assume a slew of these have been snapped up by investors. Says TD: "Moving forward, it's forecasted that solid growth in condo sales will continue as pandemic restrictions ease."
And more. Market survey company Urbanation confirms the suburban tsunami has started to swell back into the city. In the first quarter of the year apartment sales were restored to (almost) pre-pandemic levels. In fact, in the city core, they're above that. "The downtown Toronto condo market turned the corner in the first quarter of the year on low borrowing costs and renewed optimism regarding the outlook, but also partly due to chain reaction after suburban home prices soared 30% over the past year and put the spotlight back on urban properties," says the company.
Extra dots. Pandemic-inflated real estate has swelled so much in value that 75% of Canadians who don't own, but want to, say it's hopeless. A new Manulife survey paints a dark picture of home ownership, with one shining light at the end of the tunnel: Mom. "With the housing market pricing many Canadians out of the market, younger generations are forced to turn to their parents to close the gap," says Manulife Bank CEO Rick Lunny. Incredibly, of those younger buyers who have taken the plunge 46% of Millennials and 47% of Gen Z homeowners say they were financed by the Bank of Mom & Dad.
Final dots. Well, as Manulife's Lunny suggests, the above could, "actually be exacerbating the problem" of real estate that most people can no longer afford to buy. And this brings us to Core Developments, the Toronto-based firm which caused national leftie outrage this week by announcing it wants to buy 4,000 detached homes over five years in five provinces to duplex and create 8,000 new rental units.
The media crapstorm has been intense, and even spilled onto this manly blog. Critics somehow think house prices are being forced higher by corporate ownership, depriving Canadians of affordable accommodation, when the opposite is true. For context, about 550,000 properties a year change hands, which is 3.3 million over the next five. So Core's potential purchase of four thousand is .12%. Meaningless to the market. And it's not firms providing clean, renovated rental space to people who cannot buy that are the bad guys, or the investors snorfling up the downtown condos the WFH crowd foolishly abandoned. Maybe we should be blaming Mom, instead. Without parental loans, gifts and freebie downpayments there would be significantly less demand, and diminished price pressure.
Well, you can see how real estate messes people up. These days they think owning some is a right. It's not. Mr. Market is in the process of making that clear.
STAY INFORMED! Receive our Weekly Recap of thought provoking articles, podcasts, and radio delivered to your inbox for FREE! Sign up here for the HoweStreet.com Weekly Recap.