July 15, 2021 | Beware: Extremist Content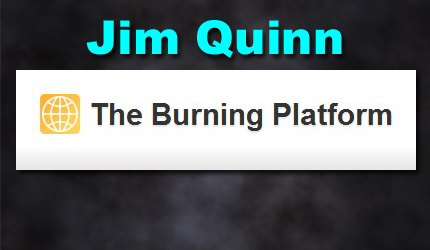 James Quinn has held financial positions with a retailer, homebuilder and university in his 30 year career. Those positions included treasurer, controller, and head of strategic planning. He earned a BS in accounting from Drexel University and an MBA from Villanova University. He is a certified public accountant and a certified cash manager.
"It's time you realized that you have something in you more powerful and miraculous than the things that affect you and make you dance like a puppet." – Marcus Aurelius
This past weekend was a fascinating experience for someone who has spent most of the last fifteen months in his basement. Over the course of three days we experienced the best of America, celebrating the birth of our nation on a picturesque farmstead that could be the backdrop for a Norman Rockwell Americana painting. The seventeen hours of maneuvering through the interstates and back roads from Pennsylvania to New Hampshire, and back, were frustrating, eye opening, depressing and sometimes inspirational.
But, the nine hours spent on the farm with like minded friends, sharing thoughts about the past, present and future, downing a few cold beverages, eating fresh farm fare, watching the youngsters playing on trampolines, teenagers playing games and setting bonfires, and mingling with baby goats made the trek worth it. What I didn't see was anyone tapping away on an iGadget. Just real down to earth folks chatting, joking, and enjoying each other's company. Everyone feels welcome on Hopewell Farm, as Marc has created a paradise on earth over the last fifteen years, building a thriving farm – raising cattle, hogs, chickens, turkeys, and tapping the acres of maple trees to make the best syrup on earth.
The trek to and from the farm was a tedious slog, guided by undependable phone apps, along highways past their prime, where mingling with the masses at rest stops was depressing, and the eight and a half hours did not fly by. In the ancient days, when making a long unfamiliar trip, your wife would have a map and there would be a lot of yelling as wrong turns were made and steps retraced. Then there was the era of mapquest, plotting your route
beforehand
 and printing it out. Now you use Waze and/or Google Maps, where a female or male voice guides you based on current traffic times. Technology should make trips easier, but it doesn't.
At the outset, both Apps said it would take us 6 hours and 15 minutes to reach Newbury, New Hampshire. These technological innovations were only wrong by 2 hours and 15 minutes. As we traveled up the NJ Turnpike toward NY, my wife was running both apps simultaneously to find the fastest route. As we were coming to a junction one lady told me to stay to the right towards the Lincoln Tunnel and the dude on Waze told me to stay left towards the George Washington Bridge. This is not what you want to hear while traveling 75 miles an hour with eighteen wheelers on all sides. I may have loudly stated we needed to pick one app and shut the other off.
Not long after, we needed to make a pit stop and ended up inside the Vince Lombardi Service area, home of Popeyes fine cuisine, disgusting restrooms, a coffee shop, and souvenir store with crap celebrating the shithole state of NJ. I think they named it after Vince Lombardi because most of the patrons look like him. I can honestly say the "beautiful people" do not congregate at the Vince Lombardi rest stop. Spending 20 minutes in a turnpike rest stop tells you everything you need to know about the real pandemic in America – obesity. I think I now understand why so many people want to keep wearing masks – there are a lot of not good looking people roaming the countryside. We departed this place as quickly as possible.
We resumed our trek, following the Waze dude, mostly because he warned us of "police ahead". The government revenue collectors were out in force, serving and protecting the shit out of us by making sure you went 70 mph rather than 80 mph. Waze directed us onto I-84, where we crawled for a couple hours at 5 mph. Eventually we reached I-91, which took us through the Democrat run shithole states of Connecticut and Massachusetts. Connecticut is particularly unimpressive and Democrat controlled Hartford makes the 100 most dangerous cities in America list, along with the other Democrat run urban ghetto hell holes.
Once you reach Vermont and New Hampshire, the scenery becomes rural, with mountains, rivers and lakes dotting the countryside. Coming down the homestretch, you pass through the town of Claremont, founded in the early 1760s. The town has seen better days, as it is dotted with gas stations, fast food outlets, check cashing joints, strip malls with Big Lots as the draw, and a Home Depot at the edge of town.
As with most of New Hampshire it is 95% white, but the population is the same as it was in 1950 and down 11% from its peak in 1980. As with much of small town America, until 1980 manufacturing employed the majority of the residents. Those facilities shuttered in the early 1980s and those jobs were sent on a slow boat to China. Towns like Claremont continue to slowly deteriorate and lose population, which decreases the tax base, which contributes to the deterioration, and so on. It's a sad truth for a wide swath of America and was purposefully executed by the billionaire ruling class, substituting middle class earned income with consumer debt.
After finally arriving at our destination at 6:30, we checked in and headed across the parking lot to the Salt Hill Irish Pub for a sandwich and a couple beers. It was 50 degrees and raining. It was filled with families enjoying a holiday weekend night out on the town. Of course, the night had to end at 9:00 pm, because that is when it closes. Being used to the 3:00 am closing times at bars in Wildwood, we were a little surprised. Another thing you notice in rural New Hampshire is they are not embarrassed by the American flag. It flies proudly on bars, businesses and homes. It is not considered extremist or racist. How refreshing after witnessing the communist media and race baiters demonizing and shitting on those who fought and forged this nation.
After a good night sleep, and a few cups of coffee, we decided to walk down to the Lake Sunapee beach, about a quarter mile from the lodge. It's a beautiful picturesque lake where dozens of families were celebrating the 4th with cookouts, frisbee, horseshoes and kayaking. Here's a useless factoid – Steven Tyler and Joe Perry met as teenagers at Lake Sunapee  – initiating the later formation of Aerosmith.
Eventually we made our way to Hopewell Farms for the 4th of July shindig at about 3:00 pm after a brief Waze snafu. Wifi connection this far away from civilization is sporadic at best. We maneuvered up the long and winding driveway to Marc's "Going Galt" paradise on earth. Marc directed us to a spot among the dozens of vehicles already there. It was a bustling farmstead with teenagers and toddlers playing games and running around. Someone was grilling burgers. A keg of beer had been tapped. And a couple dozen adults were sitting and mingling.
There were two baby goats roaming around free, having the time of their lives. This little guy, who already had a cast on his leg from a previous misadventure, immediately got entangled in the fencing protecting one of the gardens from livestock like himself. Marc extricated him quickly.
Both of these kids acted more like dogs (there were three or four of those roaming around too) than farm animals. They just wanted to be petted and held.
The little children were enthralled to be free among wildlife they never experience in urban or suburban America. The baby chicks were particularly popular among the crowd. The children were unaware of their ultimate fate – the kitchen table.
After settling in, the conversations became lively, engaging, intelligent and thoughtful. I was overwhelmed by the outpouring of thankfulness and appreciation for The Burning Platform. Some of the celebrants (SeeBee) were even reading my stuff on Seeking Alpha back in 2008. In addition to SeeBee, other TBP commenter attendees included ILuvCo2, B. Les White, Known Associate, Archaeopteryx Phoenix, Svarga Loka, RogerP, Avalon (of course), and several others who do not comment, but read every day. If I left anyone out, please let me know. It's difficult keeping aliases and real names straight.
As you might expect the conversations about forced vaccinations, lockdowns, face masks and the general totalitarian nature of our once great country were quite vociferous. They may have even contained extremist content, in the eyes of the government. That's because facts, truth, and critical thinking are now considered extremist by our overlords. Marc had American flags on every fence post, hanging from the barn, and displayed proudly on the day celebrating our independence from an overbearing tyrannical government. How despicable that a vocal fetid few and their loathsome fake news media cohorts would classify the honest hard working Americans at this get together as extremists, white supremacists and nazis.
It seems many readers of TBP were originally hooked by my 30 Blocks of Squalor posts during my time commuting through West Philly. Of course, they would get me cancelled today. Describing reality is no longer allowed in our dystopian woke paradise of drag queen storytime, men pretending to be women at the Olympics, teaching children to hate themselves because they are white, and unarmed selfie insurrections being worse than 9/11 or Pearl Harbor. The people on Marc's farm were real Americans and the backbone of this country, not the freaks on social media, in Hollywood, and parading on the left wing media every day.
It seems TBP is a mutual admiration society, as I've created a safe space for liberty minded free thinkers, and the intelligent dialogue in the comment stream for the last twelve years has sustained me as the country has continued its downward spiral. The contributions from Marc (aka Hardscrabble Farmer) and dozens of other writers has broadened TBP's appeal and depth of thought. Page views have risen from 12,000 per day in 2013 to 30,000 per day in 2021. As other sites have sold out or bowed down to Google, Twitter and Facebook, our site continues to fight the good fight day after day.
It was intellectually stimulating having dialogue with intelligent like-minded people who understand the difference between supporting your country versus supporting a corrupt government controlled by traitorous bastards. As the demographic of TBP skews between old and really old, we often find ourselves lamenting "kids today" and declaring all youth as hopelessly mesmerized by their gadgets and dumbed down by our public school indoctrination centers. The most inspiring part of the day was interacting with some of the young people.
I can honestly say I did not see one adult or teenager tapping away on their phones the entire day. My phone never left my pocket, because the discussions were far more interesting than anything on Twitter. The children on Marc's farm are the hope for our future. Many of them, including Marc's, have been home schooled, so they are avoiding the poison being injected into the brains of most children by low IQ union drone teachers. After speaking with some of these kids, you realize they are awake and aware. Marc's youngest son asked me astute questions about the blog and was really listening to my answers. His intelligence and curiosity shone bright. All of Marc's kids have been raised to think, challenge, work hard, and succeed.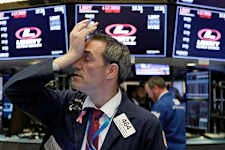 CANADIAN BANKS FRIGHTENED BY THIS FINANCIAL LOOPHOLE – DON'T MISS OUT!
The Street
On the previous trip to the farm we didn't get the full perspective. Marc offered to take us on a tour in his farm utility vehicle. He took us into the lower pasture to see the bulls and cows. I asked him how many would end up on a dinner table. He said all of them. He never names the farm animals because he knows what he has to do eventually.
He drove us down to the pond, where you can fish for bass in the summer and local kids can come and ice skate in the winter. The view from the bottom of the meadow looking up toward the farm is a picture waiting to be painted.
We then ventured to the upper portion of the farmstead, where Marc showed us a large open field, surrounded by a rock wall. He explained it had been a dense forest when they moved there and they cleared it over time, building the rock wall along the way. The impressiveness of this feat cannot be overlooked. Tenacity, strength and fortitude are required to accomplish such a daunting task. Adjacent to the field are the acres of maple trees which are the source for the best damn maple syrup on earth. I asked him when he is able to tap the trees. He said they only have 2 to 4 weeks when it is below freezing at night and above freezing during the day. He learned how to do this after buying the farm. And the maple whiskey goes down real smooth.
Our last stop was to say hello to the 300 pound hog, which had escaped his pen earlier and made an appearance in the middle of the party. It seems unforeseen setbacks are a daily occurrence on a working farm. Drought and flooding rains seem to plague, and sometimes bankrupt, small family farmers, among other challenges.  Recently, a fox had been able to breach some fencing in the middle of the night and slaughtered fifty of Marc's turkeys. This is where the wisdom of the stoics has sustained Marc and his family. He has withstood the burning down of his barn/fish farm and shattering his leg after a fall from a tree. It's not what befalls you that matters. It's how you react to the setbacks and bad breaks that matter. Your attitude and daily actions are all you can control.
You can't help but admire a man who walked away from what our society classifies as a "successful life" of wealth, power and prestige and took on a challenge which would humble most men. When you look around the compound you marvel at what Marc and his family have built. Every building was built and fence post driven by Marc, his children, and the help of good neighbors. He's built relationships in the community based on mutual respect and neighborliness. When hard times befall anyone in the community, the neighbors rally around and make sure they get through to the other side. No one in this close knit community expects or wants the government to step in and save them.
We know technology and the internet have caused many social problems and allowed the government surveillance state to monitor and manipulate the masses, but without the internet, there would be no TBP, and I would have never met Marc or any of the fine people on Marc's farm last week. I consider myself to be a lucky man for having met and befriended Marc. His life story, from the 82nd Airborne, to opening for George Carlin as a stand-up comedian, to successful businessman, to his ultimate destiny as gentleman farmer is the stuff of books.
Many times in the past, and again on the 4th, Marc made it clear that if/when the SHTF (and it will) we are welcome on his homestead. I don't know how useful a 60 year old farmhand will be. I pull a muscle working on an excel spreadsheet or getting out of bed. We are making our first batch of salsa today, using my first dozen tomatoes and a few of our jalapenos.
Until Marc began talking about the stoics, I hadn't thought much about that philosophy – the endurance of pain or hardship without the display of feelings and without complaint. This description embodies Marc and is something I also strive for:
As social beings, the path to happiness is found in accepting the moment as it presents itself, by not allowing oneself to be controlled by the desire for pleasure or by the fear of pain, by using one's mind to understand the world and to do one's part in nature's plan, and by working together and treating others fairly and justly.
When I ponder the fourteen hour days of labor Marc puts in to keep his farm running and the setbacks he has endured, it gives me perspective when I lose enthusiasm for running this blog and realize it isn't about me. It's about providing a place where like minded individuals can share ideas, thoughts and frustrations during these times that are trying men's souls. I consider the TBP community the irate minority of our time. Prevailing against an all-powerful, well funded, well armed, godless foe will not be on a battlefield, but within the minds of citizens who love their country and refuse to bend to the will of billionaire oligarchs and their apparatchiks.
"It does not take a majority to prevail … but rather an irate, tireless minority, keen on setting brushfires of freedom in the minds of men." ― Samuel Adams
After distributing parting gifts to anyone who wanted one (Burning Platform Coffee Mugs) we left around midnight, not looking forward to the 8 hour trek home on Monday. On a positive note, Waze directed us home through a much more scenic and peaceful route through Vermont and past Albany, down I-87. We went through small idyllic Vermont villages, with old churches, antique retailers and quaint houses. You do notice once thriving restaurants closed and dilapidated along the way, as an example of the financial condition of the middle class declining. We didn't expect to see the beauty of the Green Mountains and entrance to the Appalachian Trail.
As we skirted Albany, the state capital of NY, I couldn't help but observe the contrast between the arrogant hubris of tyranny and the freedom loving citizens being subjugated by a narcissistic, murderous, deviant, authoritarian like Andrew Cuomo. Cuomo and his lackeys, after he murdered thousands of senior citizens and sexually assaulted numerous women, while writing a book about what a great leader he is, have the gall to buy advertising on a massive electronic sign declaring New Yorkers stand with Cuomo, except for those he murdered.
STAY INFORMED! Receive our Weekly Recap of thought provoking articles, podcasts, and radio delivered to your inbox for FREE! Sign up here for the HoweStreet.com Weekly Recap.