February 24, 2022 | Will War Change How We Spend Or Invest Our Money?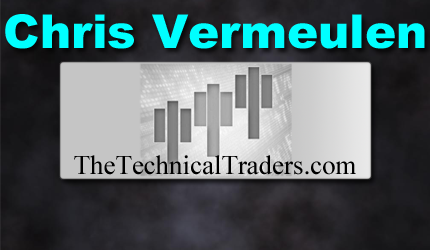 Chris Vermeulen has been involved in the markets since 1997 and is the founder of TheTechnicalTraders.com. He is an internationally recognized technical analyst, trader, and author of the book: Technical Trading Mastery. Chris has developed trading strategies that incorporate technical analysis, position-sizing, and risk management to boost performance while reducing portfolio risk.
I discussed the potential for the invasion into Ukraine with a friend over the past few days and how this new war may change the global economy. We ended up discussing the Invasion of Kuwait that took place in August 1990. At that time, as soon as the Invasion of Kuwait started, consumers almost immediately changed their spending and financial habits.
Suddenly, people stopped going out to dinner after work. They stopped going out for drinks. They also stopped playing computer games and spending money on most outside entertainment (movies and movie rentals – back in the Blockbuster days). In short, consumers became fascinated by the televised war and lost focus on almost everything else.
Sign up for my free trading newsletter so you don't miss the next opportunity!
As the conversation progressed, we started talking about how the US Federal Reserve may suddenly find that consumers have begun pulling away from traditional spending habits and how quickly these consumer trends can alter the economic landscape. For example, nearly 60 days into the Invasion of Kuwait, my friend remembered the US economy shifted into a much slower gear, and consumers continued to stay away from more normal spending habits.
If this happens in today's super-inflated world, we may see a sudden shift in inflation, retail, housing, and general consumer demand very quickly. Recently, I started receiving messages from friends and clients worldwide who are focused on the Invasion of Ukraine – a whole new generation of people who may become entranced in the televised war (again).
Consumer Retail May Suffer A -60% Collapse
This XRT Weekly Chart highlights the pre-COVID support levels that may become future targets if consumer spending habits suddenly shift. XRT has already fallen nearly -32% from the recent highs. If consumers continue to move away from outside economic activities, or more common post-COVID economic activities, we may see the Retail sector continue to move lower.
Housing May Contract Faster Than Expected
Real Estate may contract to near the COVID lows if consumers shy away from chasing speculative price trends in housing. Flipping houses has become a very hot industry over the past 5+ years. Yet, suddenly larger firms like Zillow and OpenDoor started offloading their Real Estate inventory because consumer demand shifted ahead of the US Fed's proposed rate hikes in 2022. The double-whammy of rising rates and war may be similar to what happened in the US between 1993 and 1994 – a very stagnant housing market.
IYR has already fallen -16.5% from the highs and may decline to levels closer to -30% (or more) before finding a bottom. Wars tend to shift economies and spending habits very quickly.
What To Stay Focused On Amid All The Noise
Traders should stay keenly focused on market risks and weaknesses. I expected the conflict in Ukraine to have been priced into the US markets over the past 7+ days. However, I believe the markets were unprepared for this scale or invasion and will attempt to settle fair stock price valuation levels as the conflict continues. This is not the same US/Global market Bullish trend we've become used to trading over the past 5+ years.
The market dynamics and trends are changing from what we have experienced over the past 40 years for stocks and bonds. The 60/40 portfolio is costing you money now. Traders need an edge to stay ahead of these markets trends and to protect and profit from big trends.
The only way to navigate the financial markets safely, no matter the direction, is through technical analysis. By following assets and money flows, we identify trend changes and move our capital into whatever index, sector, industry, bond, commodity, country, and even currency ETF. By following the money, you become part of new emerging trends and can profit during weak stock or bond conditions.
What Trading Strategies Will Help You To Navigate Current Market Trends?
Learn how I use specific tools to help me understand price cycles, set-ups, and price target levels in various sectors to identify strategic entry and exit points for trades. Over the next 12 to 24+ months, I expect very large price swings in the US stock market and other asset classes across the globe. I believe the markets are starting to transition away from the continued central bank support rally phase and may start a revaluation phase as global traders attempt to identify the next big trends. Precious Metals will likely start to act as a proper hedge as caution and concern start to drive traders/investors into Metals.
I invite you to learn more about how my three Technical Trading Strategies can help you protect and grow your wealth in any type of market condition by clicking the following link:   www.TheTechnicalTraders.com
Chris Vermeulen
Chief Market Strategist
Founder of TheTechnicalTraders.com
STAY INFORMED! Receive our Weekly Recap of thought provoking articles, podcasts, and radio delivered to your inbox for FREE! Sign up here for the HoweStreet.com Weekly Recap.