July 28, 2021 | On Cowardice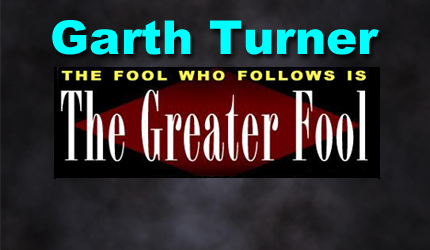 A best-selling Canadian author of 14 books on economic trends, real estate, the financial crisis, personal finance strategies, taxation and politics. Nationally-known speaker and lecturer on macroeconomics, the housing market and investment techniques. He is a licensed Investment Advisor with a fee-based, no-commission Toronto-based practice serving clients across Canada.
If there's one thing Mr. Market does not want, it's another lockdown. That could whack the recovery, halt consumer spending, crash the airlines, crush tourism and further tilt society towards the debt abyss. Ditto for commercial real estate, employers and the housing market. A sudden spike in unemployment at this stage would be tough to endure.
So, is this a credible threat? How nasty a bug is this Delta variant?
Hmm. Serious nasty. In the last two weeks virus infections in the US have tripled. The CDC has told people to mask up again, just moments after saying the opposite. The 7-day rolling average for daily new cases has gone from 13,000 to almost 40,000 in the last 22 days. Hospitalizations have surged.
Yesterday new infections hit 63,247, up 145% over fourteen days. This ain't good. Even Republican leaders are telling their anti-vax flock to get the jab. They know what this could do to an economy emerging from 16 months of angst.
In BC new daily infections have also tripled since early July. In Ontario cases are up slightly, but the real concern is for the young. Over the last three months 96% of those between 19 and 29 who got the bug weren't vaccinated. Among those 12 to 17 who became infected, 99% had not been inoculated. And across the States the current surge is happening in those states where vaccine hesitancy and Qanon conspiracy whackadoodles abound. It's astonishing, but 21% of the population and 51% of the non-jabbed believe there are microchips in the vials which the state wants to inject into them, achieving full control.
The result is simple. A new pandemic of the unvaccinated. As Covid finds a home in their bodies, it gets to mutate, spread and end up closing your neighbourhood pizzeria again. At least, that's what keeps some investors up at night. A Fourth Wave.
Okay, so just more virus porn? Or is this a real threat?
As this blog pointed out months ago, there's only one door out of this Covid world and that is mass vaccination. So where are we now?
In the US, 188.5 million have received one dose (57%) and 163 million are fully inoculated (50%). Good. But there are 330 million Americans, which means 140 million are at high risk. This led the president to say this week the unvaxed, "are not as smart as I thought they were," and the USA may mandate all federal workers get the shot.
In Canada (as of last Friday), 26.4 million (70%) have had one shot and 19 million (50%) are fully dosed. The weekly jab rate is around 340,000, and falling. Over seven million people have had no vaccine at all. Women are more vaxed than men (53% vs 47%), and while the wrinklies are well covered (80%) the kiddos are not. Among the 18 to 29 set the rate is only 38%. Even those in their 30s are only 46% covered, with a 55% fully-dosed rate for people a decade older. By the way, almost a million BC residents are unvaxed. Big risk.
So what?
In Canada we're in w-a-y better shape than the Americans, but far from immune. Millions among us have no protection. Vax rates among the young are wholly inadequate. Meanwhile society is opening fast, the borders are getting porous again, international flights have picked up, normalcy is returning, fear is abating and people are naturally letting their guard, and their masks, down. Most significantly, the pace of vaccinations seems to have crested and is in decline.
What can or should be done?
Simple. Vaccination should be mandatory. As much as it pains an indy-minded, Con-type, Alpha male to say such a thing, it's just common sense. Employers should insist workers get jabbed before returning to the workplace. Restaurants, gyms, concerts, conventions, cruises and airlines need to see proof of stabbing before providing service. Schools and universities are a no-brainer. Maybe even the streetcar, bus and subway.
After all, vaccinations are free, widely available and in many places now being given at walk-in clinics. There is no excuse for not getting jabbed. It is a moral, ethical and social imperative. As this blog has stated often (to wails of outrage) those who refuse – other than for a certified medical reason – are selfish or cowardly. And probably both.
Meanwhile, before he calls the election, T2 should sanction and announce a vaccine passport. Enough buck-passing to the provinces or hiding before the veil of 'personal privacy concerns.' Only by officially shunning those in society who choose to put everyone else at risk will this thing ultimately be defeated.
Days ago Trudeau waffled, weaved and dodged on the issue, hinting such a passport would be for travel only. "The federal government will be involved in the international level of certification, so we have a role to play to make sure that the credentials that Canadians have are going to be able to be accepted around the world but there are lots of active conversations with the provinces on what exact form that will take," he said.
Britain has a vax passport. Europe has one. Australia and NZ, soon.
But none of them share a long border with a country where microchip fantasies abound among Trump's delusionals and millions of conspiracy nuts sit, ready to shed. Time to grow a spine.
STAY INFORMED! Receive our Weekly Recap of thought provoking articles, podcasts, and radio delivered to your inbox for FREE! Sign up here for the HoweStreet.com Weekly Recap.