May 26, 2021 | Money Machines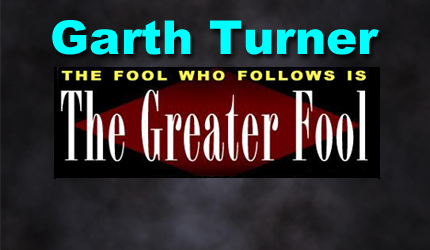 A best-selling Canadian author of 14 books on economic trends, real estate, the financial crisis, personal finance strategies, taxation and politics. Nationally-known speaker and lecturer on macroeconomics, the housing market and investment techniques. He is a licensed Investment Advisor with a fee-based, no-commission Toronto-based practice serving clients across Canada.
Right on cue the first of the Big 6 banks did a triple-bagger. BeeMo announced Tuesday it made over $2 billion in the latest three-month period despite the recession and record low interest rates. Oh yeah, and a pandemic.
Earnings momentum was down a little from earlier, thanks mostly to the Third Wave, but that was expected. The real news was an epic reduction in lousy loans. That tsunami of rotten credit, defaults, bankruptcies, scuzzy payments and non-performing debt just never happened. So a year ago the bank had set aside $1.12 billion to deal with such troubles, but now that's been slashed to just $60 million. The difference falls to the bottom line.
The Street expected profits of $2.75 a share, and BMO delivered $3.13. That's called a beat. And as this pathetic blog spelled out yesterday, the banks themselves are proxies for the entire Canadian economy, since their long, probing fingers are everywhere. Tomorrow the Royal, CIBC and the green guys report. Expect more joy.
By the way, have you been following the story on Bay Street? Check this out…
Bay Street arcs to a new high. More coming?
The S&P/TSX has been hitting new pinnacles lately – six in the last month – and is on its merry way to the 20,000 mark for the first time ever. The banks are helping that happen, along with the railroads, online commerce innovator Shopify and a mess of value stocks. Now that oil has landed with some stability in the mid-$60 range, that's also having a positive impact.
In fact, the end-of-this-damn-pandemic will be good for Canada. We're still a commodity-rich place, with oil remaining our top export. And don't forget about lithium. We have two millions tons of the stuff buried under Quebec and elsewhere, and in an EV world it's a precious resource. In general as Covid fades global GDP will inflate, creating more demand for commodities of all kinds, and that's good for Canada. So, yes, we're more than just banks and condos.
(BTW, about 29% of the Toronto market is made up of financials. Around 13% is oil& gas. And here are the top 10 stocks in Canada: Shopify, RBC, TD, CN, Scotiabank, Enbridge, Brookfield, BMO, CP and Tc Energy.)
Now a reality check. Canada represents just 3% of the world's equity markets. The US, in contrast, accounts for 56% of all stock trading. So why wouldn't a portfolio have at least half its growth assets exposed to the States and only a tiny hunk to the land of house-horny beavers and Tim Hortons addicts?
Taxes are a part of it. There's a big advantage to owning dividend-producing assets which are Canadian, since there's a significant tax credit to be claimed. Then there's currency risk. If you live, save, invest and plan to retire in Canadian dollars you don't want the bulk of your wealth in another currency. Forex fluctuations can be Biblical. (Having said that, a prudent Canuck investor will keep about 20% of a total portfolio in US-denominated assets.) Also remember that the guys who make up almost a third of the Canadian market – banks like BeeMo – do a huge and roaring business outside of Canada. They are North American and (in some cases) global players. So by investing in the TSX you're also going international.
These days my suspender-snapping, supercar-driving, trophy-wife enhanced (can I say that?) preppy portfolio manager buddies and I maintain an overall portfolio weighting of maple at 20%. A quarter of that is in REITs (real estate investment trusts) which the slimy little pathogen has made less expensive lately. The rest are in ETFs which provide broad exposure to the TSX and also specifically to dividend-producers, like the Big 6.
The American weighting is 22% and international is at 18%. As detailed here in a riveting and sexy post lately, the fixed-income portion is 40%, made up of preferreds with their seductive dividends, a little cash and some bonds, mostly short-duration or floating rate. The whole shebang is designed to generate relatively stable, predictable, boring long-term results without scaring the bejesus out of your spouse. The goal is something close to 7% a year, and that's pretty much what's happened – despite all of the volatility of our modern world. We assume people have two goals. Don't lose money. And, make me a decent return. No crypto. No gold. No weed. No single stocks. No Elon. No NFTs.
The moral of this post: don't owe the bank. Own it.
STAY INFORMED! Receive our Weekly Recap of thought provoking articles, podcasts, and radio delivered to your inbox for FREE! Sign up here for the HoweStreet.com Weekly Recap.