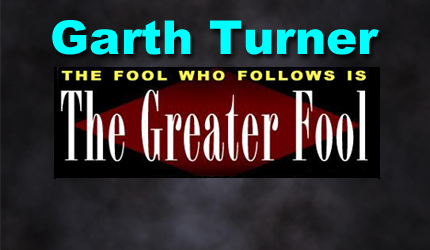 A best-selling Canadian author of 14 books on economic trends, real estate, the financial crisis, personal finance strategies, taxation and politics. Nationally-known speaker and lecturer on macroeconomics, the housing market and investment techniques. He is a licensed Investment Advisor with a fee-based, no-commission Toronto-based practice serving clients across Canada.
The kids are pissed. Rightly so. This may not end well for T2.
A final straw might be this week's announcement that Ottawa will hand over $5,000 to anybody who wants it – and owns a house – for a quick reno. Windows. New furnace. Insulation. New doors. If it looks vaguely 'green', it qualifies. And, no, this is no loan. It's a gift. Five grand. Stick out your hand. And it'll go on for seven years.
Of course, the timing could not be worse. First, there's a reno bubble going on, thanks to the pandemic. Building materials are precious. Prices have exploded and shortages abound. The supply chain broke. Home Depot's shelves have been thinned. Plumbers are driving Mercedes and drywallers show up in Teslas. Lumber futures have been insane. You can't find a panel box or a duct elbow in half the country. So announcing a free-cash-for-reno program at this time is, well, irresponsible. More demand. No more supply. Prices and costs explode further.
But that's just the irritating temporary stuff.
The main dig is this: why is the government rewarding and subsidizing people (700,000 of them) who already own real estate? This 'Greener Home Grants Program' is about to put $2.6 billion more in the hands of the socially elite. Are politicians totally tone deaf? How could Justin be so dumb as to send out this message to his Millennial voting base, many of who are anguished over the property wars?
This pathetic blog has hashed out, parsed, vivisected  and vexed over the Covid-induced house eruption for months now. We all know what happened. The pandemic scared people into seeking more space and personal security. Lockdowns and WFH drove moisters from the cities into the burbs and the sticks and made them think remote careers were suddenly possible. Insane emergency interest rates crashed mortgages as low as 1.5%. Hundreds of billions in government support payments pushed savings higher, created a pool of $100 billion in bank accounts and helped fuel house lust. Meanwhile, in a glorious blaze of self-interest, greed, myopia and opportunism, realtors everywhere embraced the worst trade tactics ever. Under-listing. Offer days. No condition bids. Blind auctions. And market-pumping brags.
The result has been destructive and sad. Real estate costs a third more to purchase than a year ago. Housing values in once-affordable smaller centres have gone urban. Young two-income couples have been shut out of the market, or stretched dangerously to enter it. FOMO and speculation have spiked wildly. Central bankers cluck and caution but do nothing. Ottawa's landmark pandemic budget ignored it all. Meanwhile the wealth divide grows and a generational war smolders. And now, a $2.6 billion subsidy for the landed gentry. Epic.
Romy Bowers spent a dozen years in the bowels of BeeMo, learning risk management and treasury operations. Then she joined CMHC six years ago on the risk side and now is in charge of the federal housing agency. She replaces Evan Siddall, whose departure proved being a cowboy – and an honest man in Ottawa – is career suicide.
This week Romy, just weeks into her new role, apparently gave up. The pandemic, she told a hearing of MPs, has "deepened the divide between the haves and the have-nots" so the goal of Canada providing affordable housing for citizens is "more difficult". As in, 'ain't happening.'
It's not, of course. The government's job isn't to build millions of homes, then turn them over to middle-class people who can afford to buy. That's been a decades-long fiction, promulgated mostly by the Dippers.
What government can do is stop giving money to people who don't need it. Politicians can also reduce demand by eliminating the ability to raid RSPs for down payments, end the silly shared-equity mortgage plus raise minimum down payments for insured home loans. The central bank can stop artificially depressing interest rates with its expensive bond-buying program, then move its benchmark rate up as the pandemic fades. Parents can stop feeding house lust and pushing prices higher by sucking equity out of their homes to give to adult children who then jump into bidding wars. Cities and regions can crash home building costs and increase supply by gutting ridiculous codes and regs and cease hoovering developers and builders. And local politicians can stop pushing real estate costs up with empty-house levies. Maybe it's even time to reconsider the taxless status of unearned real estate gains. That would only be fair, when no other asset is exempt.
By the way, in order to claim your free $5,000 in reno money (apply here) you must have an energy audit done by a certified adviser. There aren't enough now, of course. So Ottawa has announced $10 million in new spending to 'train and mentor' two thousand more.
We are out of control.
STAY INFORMED! Receive our Weekly Recap of thought provoking articles, podcasts, and radio delivered to your inbox for FREE! Sign up here for the HoweStreet.com Weekly Recap.