May 5, 2021 | Bill Gates Having a Very Bad Week on Schedule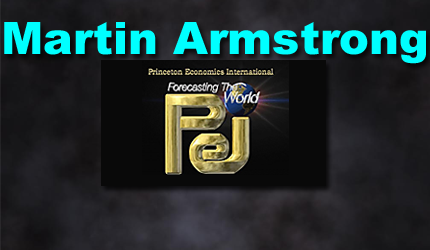 Martin Arthur Armstrong is the former chairman of Princeton Economics International Ltd. He is best known for his economic predictions based on the Economic Confidence Model, which he developed.
Bill Gates is having a very bad week. On top of his divorce where the real scoop is his wife disagrees with his dominating the world ego, his attempt to keep a monopoly with respect to vaccine patents to milk the world for trillions ran into strong head-winds. Gates's worse week may come in mid-June. Gate's position is all about money and not helping the world as he has pretended. This position has seen the tide start to turn and Gates and his greedy monopoly schemes. The SEC went after Elon Musk for simply talking about buying shares back when here we have Gates always talking up his stock opposition which is insider trading. The Biden administration has now been forced to back-removing patent protection for coronavirus vaccines, hitting Pfizer (PFE) while slamming BioNTech (BNTX) and Moderna (MRNA). It is time for the SEC to do its job!
Gates has made a fortune hoarding vaccines for the USA has more than 550 million doses in excess. Britain has 3x the number of people in the country lining the pockets of Gates. The government has paid effective medical welfare to Gates and his vaccine companies. This really warrants a criminal investigation. It has been Gates who has told us we cannot return to normal UNTIL the entire world is vaccinated. All of this for a virus that is no worse than the flu with a death rate of 0.028%.
I have warned that this CABAL will fail. It is starting to come undone for there are some people behind the curtain with whom I have spoken realize now that destroying our economy to Build Back Better is inviting World War III on a grand scale. Thank you, Bill Gates.
Listen to Podcast:
STAY INFORMED! Receive our Weekly Recap of thought provoking articles, podcasts, and radio delivered to your inbox for FREE! Sign up here for the HoweStreet.com Weekly Recap.