April 2, 2021 | Toronto Condo Investors Worry About Cash Flow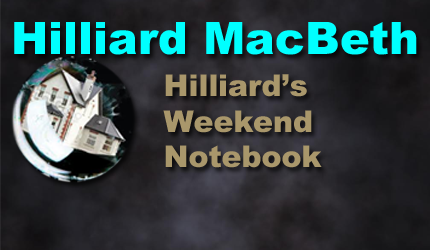 Author of "When the Bubble Bursts: Surviving the Canadian Real Estate Crash"
The Toronto condo market is the centre of the Canadian real estate investor world. The amateur investor-landlord makes up as much as 50-60 percent of all condo ownership.
As rents have been falling steadily for a couple of years, starting even before the 2020 recession, condo owners are wondering if they should hang on or sell.
Will GTA condo investors get rewarded for their patience? Or should they cut and run?
A recent report by Benjamin Tal and Shaun Hildebrand titled "GTA Condo Investment – The Landscape" highlights the situation. For some condo landlords the decline in rents has put them deeper into a negative-carry position. For those who bought years ago at lower prices and therefore have more equity and less debt there could be a slight positive return because of the lower finance costs.
The report can be found here.
The authors claim that the average gain for investors who bought on pre-sale in 2017 and closed on the sale in 2020 is 27 percent, or about 9 percent per year. Those condo investors are cash-flow-positive in 2020. Investors who buy a condo in 2020 at current prices can expect a negative monthly cash flow because of the higher price which leads to higher finance costs.
But rents for condos have been in a slump lately, declining by about $340 on average (or 14 percent) from end-2019 to end-2020 according to Urbanation in the Globe and Mail January 2021.
Shaun Hildebrand, CEO of Urbanation, states that the vacancy rate for purpose-built rentals (PBR) is 5.7 percent, the highest in 50 years. Since PBRs are usually cheaper than condos, those vacancy rates put a lot of pressure on the condo investor, who is not as organized to attract tenants during a period of high vacancies as the corporations who own PBRs. About one-third of GTA rentals are condo apartments while two-thirds are PBRs.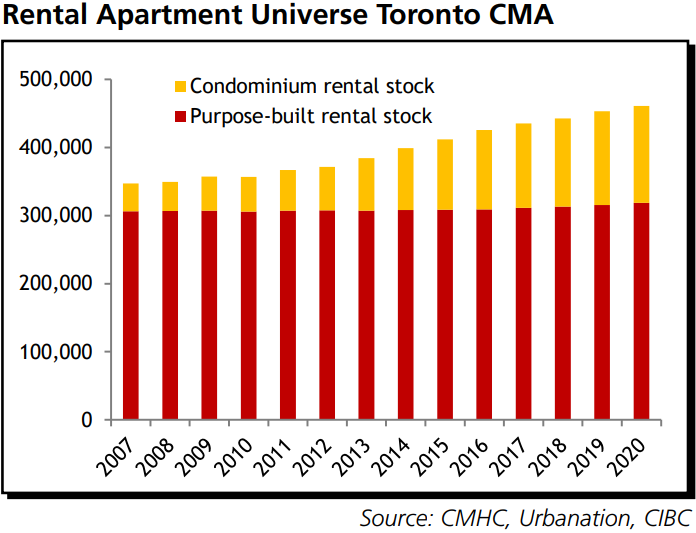 During an interview with Amanda Lang on BNN Bloomberg on March 29, 2021 Benjamin Tal claimed that about 37 percent of condo investors are experiencing negative cash flow.
Why would people want to lose money every month? Tal argues that investors are content to lose money because they expect to make a profit when they sell the unit later for a profit.
I have interviewed many condo owners who said the same thing. When I point out that there are many new condos being built and when they sell their condo it will be old and used and might not attract a great price they give me a blank stare.
According to economist Tal, this approach is not speculation. Tal predicts that Toronto will be even more unaffordable in ten years so condo owners and their children will be protected from higher future costs.
Accepting negative cash flow in order to earn an uncertain profit later is the definition of speculation. Especially when the amount of negative cash flow is understated by omitting costs like insurance, vacancy, maintenance and "special assessments".
In "When the Bubble Bursts," Second Edition 2018 I wrote that condos are a terrible investment for these and other reasons.
If it is true that condos can be sold today for a profit then now is a great time to sell and wait to see if the current slump in rents continues beyond this recession. Investors could be better off with shares in the companies that specialize in rental properties as PBRs.
There is little risk that condo prices will keep rising, as people now have the option of living in a cheaper location while keeping their jobs in Toronto.
Hilliard MacBeth
The opinions expressed in this report are the opinions of the author and readers should not assume they reflect the opinions or recommendations of Richardson Wealth or its affiliates. Assumptions, opinions and estimates constitute the author's judgment as of the date of this material and are subject to change without notice. We do not warrant the completeness or accuracy of this material, and it should not be relied upon as such. Before acting on any recommendation, you should consider whether it is suitable for your particular circumstances and, if necessary, seek professional advice. Past performance is not indicative of future results. The comments contained herein are general in nature and are not intended to be, nor should be construed to be, legal or tax advice to any particular individual. Accordingly, individuals should consult their own legal or tax advisors for advice with respect to the tax consequences to them, having regard to their own particular circumstances.. Richardson Wealth is a member of Canadian Investor Protection Fund. Richardson Wealth is a trademark by its respective owners used under license by Richardson Wealth.
STAY INFORMED! Receive our Weekly Recap of thought provoking articles, podcasts, and radio delivered to your inbox for FREE! Sign up here for the HoweStreet.com Weekly Recap.