April 30, 2021 | The Landing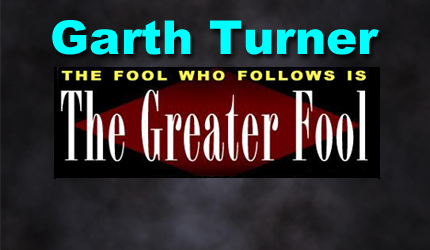 A best-selling Canadian author of 14 books on economic trends, real estate, the financial crisis, personal finance strategies, taxation and politics. Nationally-known speaker and lecturer on macroeconomics, the housing market and investment techniques. He is a licensed Investment Advisor with a fee-based, no-commission Toronto-based practice serving clients across Canada.
As of yesterday 144 million Americans had received at least one hit of vaccine. That's 43% of the population. Of those almost 100 million are fully vaxed with the one-shot J&J stuff or doubled-dosed with an MRA jab.
Biden said he wanted 200 million inoculations within 100 days of being elected. That sounded impossible. But it happened with a week to spare. (Canada, meanwhile, has jabbed 34% of the population. Not bad, and about to get a lot better.)
Every day some 3,000,000 more people here and in the US receive their vaccinations. Herd immunity (70% of so of the population) will be achieved by July. Or August. Lockdowns, restrictions and quarantines will end. You can get your man bun chopped off and safely rejoin society.
This changes everything – at least in our privileged world (as opposed to poor India). Stock markets have been heralding this achievement for months, steadily rising on the expectation of normalcy. Central banks have been consistent in pushing down the cost of money while flooding the system with liquidity. The bankers are also well aware of what they're doing:
"You are seeing things in the capital markets that are a bit frothy," Fed boss Jerome Powell said this week. "That's a fact. I won't say it has nothing to do with monetary policy, but it also has a tremendous amount to do with vaccination and reopening of the economy."
It's working. Look at Q1 profits. Eight-seven per cent of 260 corps reporting thus far have come in with beats. The numbers from big US banks were huge. Apple was a monster. The US economy romped ahead at a 6.4% pace in the first few months of the year. The unemployment rate has gone from 14.8% (one year ago) to 6%. Real consumer spending was up almost 11% in the first quarter. Inflation is rekindling. Personal savings are at the highest level in decades.
So, unlike real estate – where emotion, FOMO, panic buying and rank greed are the drivers in a world of low rates and scant supply – equity markets have powered ahead on the data-driven expectation of reopening. At the heart of that lie vaccines. America is now awash in them. Canada's turn comes in May.
More proof: look at US incomes. Numbers released Friday were historic. Personal incomes surged the most since records were first kept after WW2 – up 21.1% in March. Purchases of goods and services were the greatest in a year. The Covid disaster Donald Trump presided over is now relegated to the heap of history.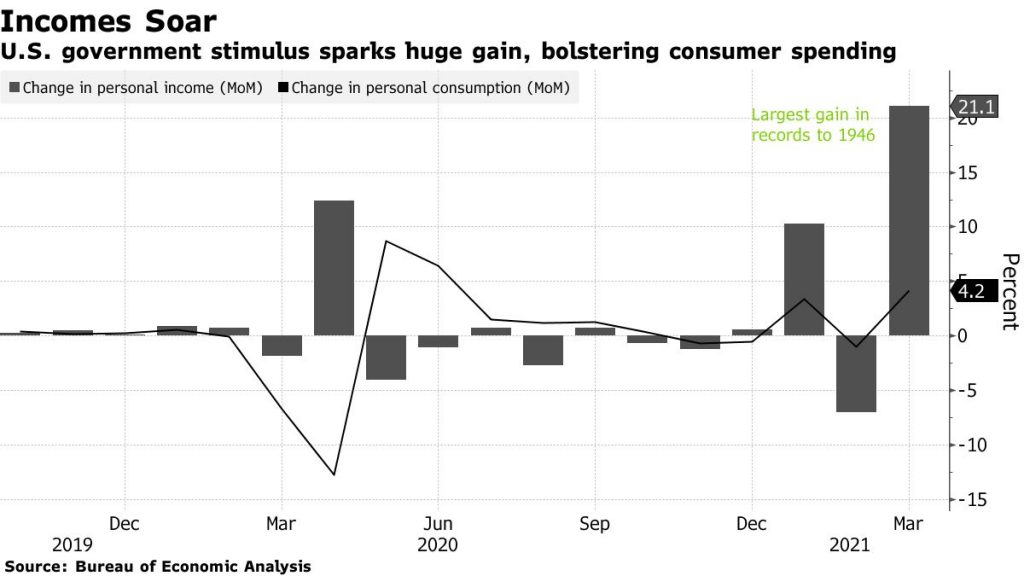 Us, too. The Canadian economy is aflame (despite the devastation among small businesses on Main Street), growing for 11 months running. First-quarter GDP growth was around 7% annualized, and we're on track to achieve pre-pandemic levels by the second half of 2021 – which is why the Bank of Canada has accelerated its timetable for weaning us off emergency interest rates.
As a result of all this, your balanced and diversified portfolio has been on steroids. Or weed edibles. Or vats of Red Bull. Equity markets smelled all this good news coming.
The S&P 500 is up about 12% so far this year – and it's only the end of April. Even Bay Street has added 10%. Most financial assets, in fact, have been plumping. And governments continue to do their part to make investors happy by spending up a storm.
Look at Biden. So far he's the $6 trillion president, with a fat Covid recovery program, followed by an infrastructure bonanza and now a gargantuan family plan. More expenditures, more programs, more government, more tax – this seems to be exactly what the voters wanted after they threw out the last bums. If the slimy little pathogen has done anything irreversible it's to massively increase reliance on politicians. Be worried about that.
What could go wrong?
Lots, as usual. The virus might mutate again and do an end run around the vaccines. It could rage out of control in India, Pakistan, Brazil and elsewhere, leading to a new global infection. China-US-Putin troubles could bubble up fast. The climate could eat us. The Internet could go down. The Canadian housing market could stumble and wound our GDP. Or Mr. Market might decide all this froth is too much based on cheap money and tawdry spending and take a dump.
But the odds today heavily favour an economic renaissance coming out of a crisis nobody thought would be so long or deep. Those with balanced and diversified portfolios (60/40, global exposure) skated through the Covid nightmare, and are likely to remain winners. Stick with the program. Stay away from debt. Don't gamble.  You just dodged the ugliest bullet of a lifetime.
STAY INFORMED! Receive our Weekly Recap of thought provoking articles, podcasts, and radio delivered to your inbox for FREE! Sign up here for the HoweStreet.com Weekly Recap.