April 9, 2021 | Is that it?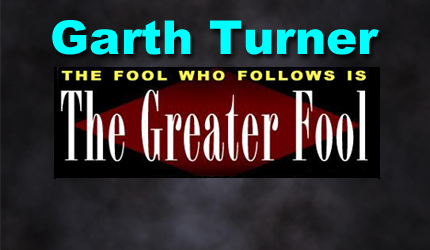 A best-selling Canadian author of 14 books on economic trends, real estate, the financial crisis, personal finance strategies, taxation and politics. Nationally-known speaker and lecturer on macroeconomics, the housing market and investment techniques. He is a licensed Investment Advisor with a fee-based, no-commission Toronto-based practice serving clients across Canada.
Was that just a first warning shot over the realtors' bow? Or the only volley?
Yesterday the federal bank cop upped the stress test rate, effective June 1st. Now anyone seeking an uninsured home loan has to prove the ability to carry payments at (a) the market rate +2%, or (b) at 5.25%, whichever hurts more.
Here's what it means:
About 5% of first-time buyers will have to borrow less or live under a bridge.
Tighter credit limits may mean a harder time getting a HELOC
The crazy almost-two-month-long warning may goose real estate sales and prices between now and the end of May.
The feds smell trouble. "The current Canadian housing market conditions have the potential to put lenders at increased financial risk," says the regulator.
This is protect the banks, not the borrowers. "Lenders can experience losses both through the potential inability of borrowers to meet their debt obligations, as well as through declining values of the real estate properties pledged as collateral in mortgage loans," says Ottawa
The authorities are getting ready for a significant bump in mortgage rates once the pandemic is over (whenever the hell that may be).
So it's something. But not a big thing. The feds are starting to acknowledge way too many people have taken on far too much debt. Mortgages which are not CMHC-insured pose a special risk to banks (of course) and this was the original reason the stress test came into being after the last bubble episode, in 2017-8. But since then things have just become more flaky, squirrely and scary.
These days real estate prices are totally out of control (a property in Renfrew, of all godforsaken places, just sold for $1 million over ask), household mortgage debt increased by $118 billion in the last 12 months and the percentage of people in the danger zone (loans surpassing 450% of income) is almost 25%. "We will continue to monitor housing market conditions across the country," says the finance department. "To inform potential steps the government may take, we will closely examine the results of the consultation announced by the Superintendent of Financial Institutions."
Hmm. That was suitably turgid and thick.
So what does it all mean?
Baby steps. Ottawa is clearly betting (a) house lust will eventually ease and FOMO-addled brains will repair, maybe; (b) mortgages are going to cost a lot more when Covid leaves and interest rates move back into a more normal zone; and (c) the last thing the T2 gang wants is for real estate to deflate, even though this is crashing family budgets and crushing affordability. Now that the slimy little pathogen has killed off tourism, travel and the service sector, housing matters. Nesting Millennials, be damned.
The announcement this week does little to chill the market and may in fact heat it up for the next six weeks. It may also signal the feds would rather see regulatory curbs used instead of policy changes to prick the bubble. And maybe it tells us that, ultimately, they like the gasbag just fine.
So will the first budget in two years be silent on real estate?
Beats me. No hints have been made. No balloons floated. At any time Chrystia could have dropped the market temperature with a warning about speculation and excess. She chose not to. They're letting this thing run hot – following the lead of the Bank of Canada, stoking inflation, feeding expectations and now just easing up a little on the supply of tawdry debt.
It's no surprise then this change was announced just a few days before the big reveal in Ottawa. 'Toughening up' on mortgage lending by the bank cop gives the politicians some cover for doing little or nothing more.
The perfect storm continues. Cheap money. Five million in WFH mode. Lockdowns and quarantines feeding the nesting instinct. Speculation, flipping, FOMO, spring and willing lenders – all fanning the flames around us. The move this week is to shelter the banks. It's not to help your kid leverage a house, or shield her from herself.
That's your job
STAY INFORMED! Receive our Weekly Recap of thought provoking articles, podcasts, and radio delivered to your inbox for FREE! Sign up here for the HoweStreet.com Weekly Recap.