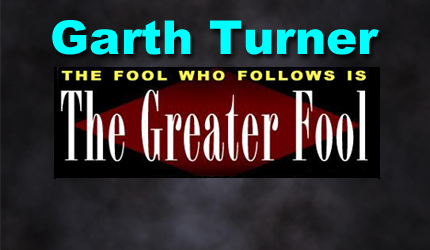 A best-selling Canadian author of 14 books on economic trends, real estate, the financial crisis, personal finance strategies, taxation and politics. Nationally-known speaker and lecturer on macroeconomics, the housing market and investment techniques. He is a licensed Investment Advisor with a fee-based, no-commission Toronto-based practice serving clients across Canada.
We talk much about the real estate bubble. It's real. And dangerous. Fueled by emotional buyers, greed and fear.
What about a financial bubble? Is that real? Also a looming risk?
Lately equity markets have been at record levels. The Dow. The S&P. The tech-heavy Nasdaq, even Bay Street. New York markets are up more than 40% year/year. The TSX has gained 35%. The recovery from the pandemic has been exactly twice as fast as the trip back from the 2008-9 credit crisis, despite being deeper, wider and a lot slimier.
Balanced and diversified portfolios are stable, growing and have gained a year's worth of ground in a couple of months. Bond yields surged, then stabilized. P/E ratios (the relationship between a company's stock price and its earnings) are at an historically high level, leading some worried people to believe things are bubbly and wobbly. They also point to the incredible amount of stimulus that has been thrown at markets and economies since Covid arrived – $20 trillion in fiscal spending by governments around the world, plus crashed interest rates and massive bond-buying by central banks.
This, they say, makes financial assets just as imperiled and gossamer as a $1.8 million suburban particleboard palace.
But wait. P/Es are high for a reason. Mr. Market is expecting big things. In fact, it sees the Roaring Twenties.
Is this rational? Aren't we in the middle of a Third Wave with lockdowns, quarantines and desperate health care workers? Why would investors and markets be so blindly optimistic? And if financial assets are going parabolic, why can't house prices do the same?
First, some of the reasons Mr. M is so aroused these days.
Look at the latest jobs numbers. In the States almost a million new hires (916,000) in March – the most since August. It was 50% higher than anyone expected. The jobless rate is back down to the 6% range. One year ago – April of 2020 – that number stood at 14.8%. This is an unprecedented labour market recovery. Ditto in Canada. We added 303,100 jobs last month, atop the 259,000 regained positions in February. It means of the three million jobs Covid incinerated, all but 296,000 have been recovered – even with the travel, tourism and hospitality sectors still  hobbled. Our unemployment rate has dropped from 13% to 7.5%.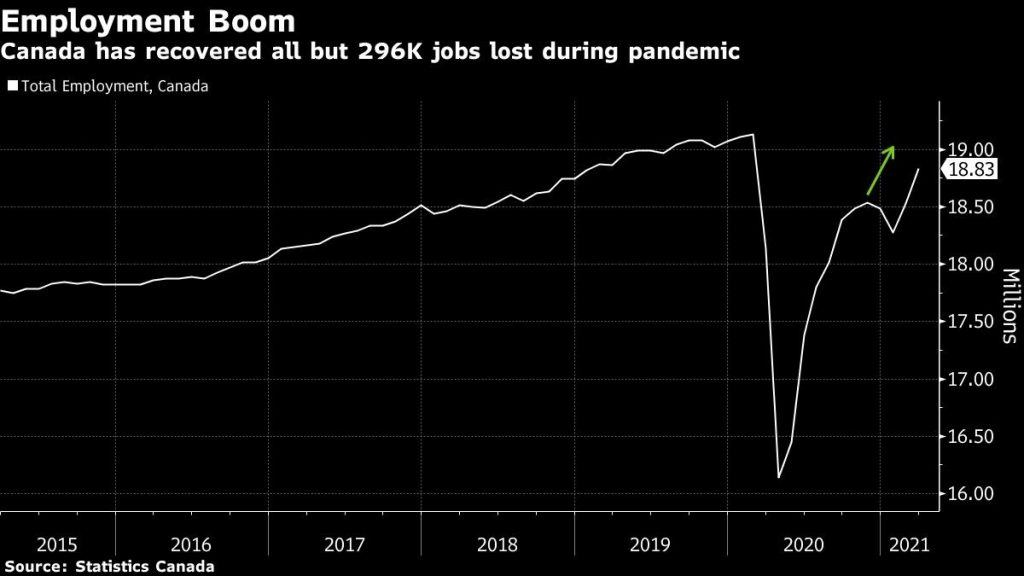 Next, vaccines. They have changed, or will change, everything. The US is jabbing up to four million people a day in an inoculation campaign that has rocketed ahead with the Biden administration. In Canada we 21% of  beavers are now dosed (at least with the first jab) and our supply of vax is ramping up fast. Herd immunity in both countries should be achieved by late summer. Reopening fully will, the market believes, be upon us by autumn.
Next, profits. Expectations for corporate performance in the coming months are blazing. The latest guess is a jump for the first quarter of this year of about 18%, and for Q2 of between 45% and 55%. This comes on the back of surging consumer confidence, a record heap of cash in personal bank accounts and central bankers that will start to ease up on stimulus but promise to keep a lid on rates.
Meanwhile inflation is a threat, but remains low. April is a traditionally strong month for financial assets. The pace of vaccinations will explode higher over the next eight weeks. In the US Biden is spending huge gobs of money – $4.5 trillion more between the Covid bill and the infrastructure program – while in Ottawa we'll learn next Monday how much more spending the T2 gang has planned. Expect a lot.
The Vix (that measure of fear and market volatility) has cratered over the last year, now at the lowest point since February of 2020 – when you never thought about virus. WFH will start to dissipate by the end of 2021, and the reopening trade in urban areas will be a major economic wave next year. Currently almost all of the 11 subsectors of the S&P 500 are flashing green. The latest factory data is awesome. Business activity, new orders and wholesale prices are all increasing. It's the Biden Supercycle. The Roaring Twenties.
In short, invest. Stay invested. Be balanced and diversified. Try not to be a cowboy. Stop reading doomer websites. Wash your hands, keep the mask on, get a shot, focus on your dog and look forward to what's coming.
Now, what about real estate?
Yup, the gasbag isn't done yet. Cheap rates, WFH, nesting, suburban flight, tawdry realtor tricks and now FOMO & speculation have created a sad outcome.
But, wait. Economic reopening will eventually bring higher rates, which always impact housing. Absurd prices will narrow the universe of potential buyers. The enhanced stress test will reduce the amounts newbies can borrow. The winding-down of WFH (it won't disappear, but seriously diminish) will hit suburban and rural values. The recent rapid rise in household debt has used up much future demand. And as markets stabilize, then correct, FOMO will be so gone.
It's always good to remember what a bubble is. It's created by a surge in prices driven by exuberant market behavior. In a bubble, assets sell for a huge premium over intrinsic value. And therefore, it never lasts.
We have one bubble now. It's not stocks.
STAY INFORMED! Receive our Weekly Recap of thought provoking articles, podcasts, and radio delivered to your inbox for FREE! Sign up here for the HoweStreet.com Weekly Recap.