April 23, 2021 | FOMO 3.0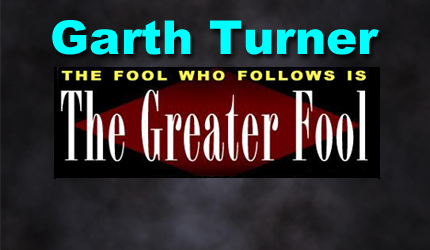 A best-selling Canadian author of 14 books on economic trends, real estate, the financial crisis, personal finance strategies, taxation and politics. Nationally-known speaker and lecturer on macroeconomics, the housing market and investment techniques. He is a licensed Investment Advisor with a fee-based, no-commission Toronto-based practice serving clients across Canada.
The virus news sucked this week. Now what?
Ontario cases are looking worse than Doug Ford's polling numbers. The ICUs are a mess and while the dosing has picked up, the slimy little variants are winning. Will Toronto's five-month-long lockdown end soon? Nah, probably not. It's a death knell for Main Street.
In BC the province is actually musing about RCMP roadblocks to keep people penned in their own health authority regions (the mounties are pushing back). Ferry travel to the Island is restricted. Albertans are lassoed and dragged back across the mountains.
Even clean little NS has been sullied. Word is that a single BBQ event hosted by some jerks just back from T.O. ignited a fire of infections. Now Halifax is sealed off and shuttered for a month. Cases per day in the last week grew 84%.
Flights from India and Pakistan are grounded. That part of the world is a global threat. Not only do we have mutant strains of Covid, but now there are mutated mutant versions. So 13 months into this collective nightmare it, well, sucks.
How will all of this affect social behavior?
Not well. Everybody's fed up. That riot against curfews in Montreal the other clearly showcased public anger. Look at the reaction in Ontario last week after the government said police had the right to stop people at random and demand IDs and addresses. Even the cops were disgusted. Clearly things are starting to fray at the edges.
WFH? The big push to vax everyone a month ago looked like it held promise for workplaces to reopen and employees to shower and find their pants. But not so fast. It's seriously in doubt whether major corps will be repopulating downtown towers at all in 2021.
Now combine these things – a neverendum pandemic, repressive governments, shuttered offices, small business destruction plus anti-social urgings – with a federal budget that did nothing to stop aggressive-nesting real estate mania and a central bank frozen in the Covid headlights and we get… what?
Confusion. As this pathetic blog pointed out earlier in the week, all the logic suggests a housing market about to cool even as financial markets continue to rise. Way more listings will increase supply while insane prices and the higher stress test dampen demand at the same time wide scale inoculation promises a return to normalcy. Rational people would conclude the bubble then starts to leak. Seriously.
But with the Covid comeback comes emotion. Social distancing is more than a health measure – it's a metaphor for what this mutating little bug has done to civilization. The retreat from cities to the burbs and far beyond is a manifestation. A new bank poll reinforces that. BMO just found almost 90% of newbie buyers in BC and Ontario are searching in the suburbs or hick hinterland cities. Only a relative handful are shopping for city properties (so a recent 80% surge in Toronto condo sales tells you who the buyers are – investors).
The bank also found house lust is as strong as ever. Almost two-thirds say purchasing the house they want is more important, "than having money left over each month." The poor kids. They know not what they seek.
Even the dude running the Bank of Canada has a warning. "We are seeing some signs of extrapolative expectations and speculative behaviour," Tiff Macklem said Wednesday. "Our concern … is that against a background of rapid price increases, people will extrapolate. They will expect that those price increases will continue indefinitely and they will overstretch to buy houses. That would be a mistake."
In fact the Tiffer joins most financial observers in knowing how this all may end. This week, for example, the CEO of National Bank warned that regulators must (a) stop allowing blind auctions and (b) encourage buyers not to waive conditions for a home inspection or financing. If the market isn't slowed, he added, it will implode. "The bursting of a speculative bubble in this segment of the economy would have very negative social and economic consequences."
Will Covid 3.0 ignite housing further, inflame prices in the far reaches of suburbia, make it harder for employers to regain offices, destroy the client base of city businesses, discredit governments, ratchet up the debt of an entire gen and set the stage for an inevitable correction?
That's scary.
Or is this the new normal?
That's terrifying.
Have a great weekend.
STAY INFORMED! Receive our Weekly Recap of thought provoking articles, podcasts, and radio delivered to your inbox for FREE! Sign up here for the HoweStreet.com Weekly Recap.