April 5, 2021 | Exit Strategy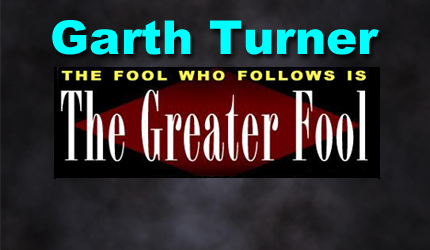 A best-selling Canadian author of 14 books on economic trends, real estate, the financial crisis, personal finance strategies, taxation and politics. Nationally-known speaker and lecturer on macroeconomics, the housing market and investment techniques. He is a licensed Investment Advisor with a fee-based, no-commission Toronto-based practice serving clients across Canada.
Louis, sadly, came here and read Friday's blog post. What a drag
You might recall that the topic was the tsunami of wrinklies currently being unleashed upon our nation. Over the next decade and beyond, this rabble of aging Hippies, disco freaks, deaf former heavy-metal fans and people who actually remember dial-up Internet and cars with 426 cubic inches of displacement will get old and gnarlier. The amount of OAS and health care they'll suck up will be epic. Governments will be cowed. The point of the post was to remind you in a world with shrinking pensions and voracious oldies, happiness is a fat retirement nest egg. So get cracking.
"After reading Friday's post," says Howard, "I thought that I would reach out for a possible opinion from you on the subject of hiring/retaining the services of an agency such as a bank for estate management and executor services."
Whoa. Death. Howard obviously missed the memo about Boomers being eternal. However, this is something worth discussing, since most people utterly blow it when they write wills and name people to carry out their final (often weird) wishes. Maybe it's time for a refresher.
"I ask because my wife and I, although still in our fifties, have tried to plan such issues as far in advance as possible," our prepper blog dog buddy writes.
We have wills, POAs, Medical POAs and all funeral arrangements made and paid. The only thing we haven't yet decided on is an executor for the will of the last of us to pass. Our current executor is an older friend, and I am hesitant to make our daughter executor simply because of the complexities involved in discharging the duties of an executor. My wife and I learned this from personal experience.

I have confirmed with our bank (the Penguin bank) that they offer professional executor services for a flat 4% fee, and this on the surface seems fair and reasonable especially noting that all of our banking & investing accounts are already with them. Any opinions on the subject or other options that you are aware of would be greatly appreciated.
First, everyone reading this should be like H & squeeze. Prepared. You need a will – even a quick holographic one (written by hand). You also need a POA, and typically spouses declare each other as such. Fine. Makes sense. The person granted power of attorney can make responsible and ethical financial or personal care decisions for the grantor if they're sick or incapacitated.
But the executor role is different. It's complex, complicated, technical and duties can go on for months or years. Most people make the wrong decision, which is to give the job to a child or other family member, simply because they know and trust them. Big mistake.
First, your kid or sister is (hopefully) going to be distraught and devastated at your passing. So why give such a massive and byzantine task to an emotional basket case? Second, being an executor  means shouldering the legal responsibility for an estate, including meeting all government and CRA requirements. This personal responsibility can last (depending on your location) for years. There have been many instances when a well-meaning but incompetent or sloppy executor ends up owning tens of thousands in back taxes for the person who croaked. Third, if the family member you choose happens to move to another province or out of the country, there are major issues. You need local. Fourth, what if that person gets old or sick or distracted or, fifth, turns out to be utterly unable to file your terminal tax return, to solve squabbles among beneficiaries, deal with the CRA in disposing business assets or lacks the accounting, tax and financial acumen to preserve the estate?
Can your adult son, the electrician with three kids, a full-time trade, two employees and zero spare time do this job? Is it fair to even ask?
Nope. Bad idea. Stop being emotional, and get rational. Your executor should be professional – institutional and eternal. It's best to appoint an organization (law firm, for example, but better a trust outfit) that understands what 'duty of care' means – acting solely in the interests of your estate. A trust company does not get old and distracted. It has the professional in-house resources to deal with taxes and government filings. It's objective and can carry out your wishes without emotional baggage, favouritism or soggy feelings. A trust company (for example – and all the major banks have a trust division, as do many financial brokerages) can deal with your will regardless of location, and executor duties are not wrapped up with one person – so no need to have a back-up appointed.
Why would you not do this?
Yup. It costs money. Howard is right – it's typically 3% or 4% of the value of your estate, plus some other fees that can be waived or altered depending on the size of your stash. Is this outlandish? Robbing your heirs?
Hardly. For that you get complete peace of mind (always a good idea when you're dead), certainty that your wishes will be carried out in a legal and timely way, assurance there'll be no tax or regulatory nasties for your family, and confidence all the legal, accounting and investment help needed was in place, and paid for.
This is no time to be cheap. What are you saving it for?
STAY INFORMED! Receive our Weekly Recap of thought provoking articles, podcasts, and radio delivered to your inbox for FREE! Sign up here for the HoweStreet.com Weekly Recap.