March 6, 2021 | Ted Butler: A Time to Act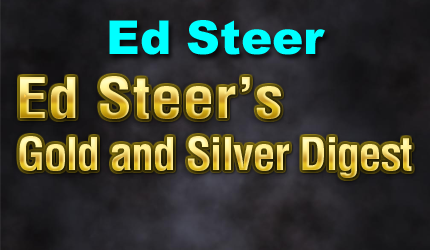 "Ed wrote the daily precious metal commentary for Casey Research starting in 2008. His stand-alone column became their most highly-rated blog [either free or paid] almost from the outset—and remained that way until he started his own subscription-based website in June of 2015."
 06 March 2021 — Saturday
YESTERDAY in GOLD, SILVER, PLATINUM and PALLADIUM
The gold price was sold quietly lower from the 6:00 p.m. open in New York on Thursday evening — and a new low tick for this move down was set a few minutes after 9 a.m. China Standard Time on their Friday morning.  From that juncture the price crept quietly and unevenly higher until the dollar index 'rally' ended about ten minutes before the London open — and the price was sold a bit lower until 9 a.m. GMT.  From that point it began creep/chop quietly higher until a few minutes before the 1:30 p.m. COMEX close in New York — and was then sold down a bit until around 2:10 a.m. in after-hours trading.  I didn't do a whole heck of a lot after that.
The low and high ticks in gold were recorded by the CME Group as $1,683.00 and $1,705.70 in the April contract.  The April/June price spread differential in gold at the close on Friday was $3.10…June/August was $2.20 — and August/October was $2.00.
Gold was closed on Friday afternoon in New York at $1,700.10 spot, up $3.20 from Thursday.  Net HFT gold volume was nothing special at around 204,500 contracts, but roll-over/switch volume out of April and into future months was very enormous at 59,500 contracts…mostly into June.
The silver price action was a much quieter version of what happened in gold, but only up until the 8:30 a.m. jobs report in New York on Friday morning.  It had a sharp down/up move at that point, but the real selling didn't start until the equity markets opened at 9:30 a.m. EST.  At that point the Big 4/8 traders showed up — and engineered its price lower to a new low for this move down — and below $25 spot intraday.  It recovered rather nicely from there until a few minutes after the COMEX close — and then didn't do much of anything after that.
The high and low ticks were reported as $25.505 and $24.845 in the May contract.  The May/July price spread differential in silver at the close yesterday was 3.1 cents… July/September was 3.7 cents — and September/December was 5.1 cents.
Silver was closed in New York on Friday afternoon at $25.125 spot, down 10.5 cents from Thursday, but 35 cents off its Kitco-recorded low tick of the day.  Net volume was fairly decent at 72,500 contracts — and there was around 6,100 contracts worth of roll-over/switch volume on top of that.
The Big 4/8 shorts pulled the same price stunt in platinum as they did in gold…setting its low of the day at a new low for this move down very shortly after 9 a.m. in Shanghai on their Friday morning.  It recovered from there until the Zurich open — and then didn't do much after that.  Platinum was closed at $1,126 spot, up 8 dollars on the day.
The palladium price chopped erratically higher in Far East trading on Friday — and that lasted until around 3:15 p.m. China Standard Time on their Friday afternoon.  It was sold lower from that point — and the low tick was set very shortly after 11 a.m. in Zurich.  The ensuing rally was capped and turned lower around 9:40 a.m. in New York — and that sell-off lasted until Zurich closed at 11 a.m. EST.  It then traded sideways until about 3:15 p.m. in the very thinly-traded after-hours market, before being kicked downstairs a bit more going into the 5:00 p.m. close.  Palladium was closed at $2,248 spot, down a dollar on the day.
With the U.S. equity market and dollar index higher on the day — and what appeared on its face to be a blow-out jobs report, the Big 4/8 traders weren't really a force in the market yesterday, even though they set tiny new intraday lows in all four precious metals during the Friday session.
But as I've stated before, I've always been somewhat concerned about a real or engineered rally in the dollar index that the Big 4/8 shorts could use as a fig leaf to hide behind while they bludgeoned precious metal prices lower.  That's worked fine so far, but it certainly was no factor yesterday.
And I also suspect that if the big shorts weren't stomping around in the COMEX futures market trying to cover their obscene and grotesque short positions they way they are, precious metal prices would be rising regardless of any dollar index rally, no matter how it was caused.
---
Computed manually, the above index closed higher by 1.02 percent.
---
Here are two of the three usual charts that shows up in every Saturday missive.  They show the changes in gold, silver, platinum and palladium in both percent and dollar and cents terms, as of their Friday closes in New York – along with the changes in the HUI and the Silver 7 Index.
And as Ted Butler has pointed out on many occasions, the short positions of the Big 8 traders in general — and the Big 4 shorts in particular, are the sole reason that prices aren't at the moon already, as virtually every other group of traders in the COMEX futures market are net long against them in all four precious metals.
In the COT discussion further down, the Big 8 traders decreased their short positions in both gold and silver by very impressive amounts…far beyond what either Ted or I were expecting.
---
---
Ted would be of the opinion that all that gold withdrawn would now have JPMorgan's name on it — and that virtually all of the silver removed on Friday was a conversion of SLV shares for physical metal.
---
There was big paper activity as well — and all of it from the Registered category and back into Eligible once again, with almost all of that being a transfer of 4,482,528 troy ounces over at Manfra, Tordella & Brookes, Inc.  The remaining 34,239 troy ounces made that trip in the same direction over at JPMorgan.
---
But if one considers the fact that gold and silver prices have been…cough, cough 'consolidating' cough, cough…for the last seven months now, the physical declines in all these ETFs and mutual funds is not all that large.  That's particularly the case in silver when you consider that the conversion of SLV shares for physical metal are not really withdrawals at all.
---
They arrived at that number by reducing their long position by 372 contracts, but they also covered 11,614 short contracts — and it's the difference between those two numbers that represents their change for the reporting week.
Under the hood in the Disaggregated COT Report, all the selling came from the Managed Money and Nonreportable/small traders, as the traders in the Other Reportables category sat on their hands during the reporting week.
The Managed Money traders reduced their net long position by 7,977 contracts — and the Nonreportable/small traders reduced their net long position by 3,215 contracts.  The Other Reportables decreased their net long position by an insignificant 50 contracts.
Doing the math: 7,977 plus 3,215 plus 50 equals 11,242 COMEX contracts, the change in the Commercial net short position.
The Commercial net short position in silver is now down to 296.0 million troy ounces, a big drop from the 352.2 million troy ounces they were short in last week's COT Report.
The Big 8 traders are short 368.2 million troy ounces of silver in this week's report, compared to the 399.9 million troy ounces that they were short in last week's COT Report.  And as Ted pointed out on the phone yesterday, the Big 8 have now covered all the short positions that they put on to cap the silver price explosion during the first week of February…mission accomplished.
As of Tuesday's cut-off, the Big 8 traders were short 124 percent of the Commercial net short position, up 8 percentage points from last week's COT Report.
Ted figures that JPMorgan's short position in silver is now zero, after being short around 1,000 contracts in last week's COT Report.
Of course there's been even further improvement in the Commercial net short position since the Tuesday cut-off — and to say that the set-up in the COMEX futures market is wildly bullish in the extreme, would be an understatement.
---
They arrived at that number by increasing their long position by 2,758 contracts — and also covered 26,768 short contracts.  It's the sum of those two numbers that represents their change for the reporting week.
Under the hood in the Disaggregated COT Report, it was mostly Managed Money traders that did all the selling during the reporting week, as they decreased their net long position by 23,163 COMEX contracts — and although the other two categories contributed, they didn't really do much.  The Other Reportables decreased their net long position by 2,932 contracts — and the Nonreportable/small traders decreased their net long position by 3,431 contracts.
Doing the math: 23,163 plus 2,932 plus 3,431 equals 29,526 COMEX contracts…the change in the commercial net short position, which it must do.
The commercial net short position in gold is now down to 22.22 million troy ounces, compared to the 25.17 million troy ounces they were short in last week's COT Report…that's a big improvement.
The Big 8 traders are short 20.50 million troy ounces in this week's COT Report, compared to the 21.84 million troy ounces they were short this time last week.
The Big 8 are short about 92 percent of the commercial net short position, up 4 percentage points from what they were short in last week's report.
Their situation is now approaching what currently exists in silver — and that is that just about every other trader in the commercial category in gold is now net long against the Big 8…only 8 more percentage points to go!
Ted figures that JPMorgan increased their long position in gold in the COMEX futures market by about another 1,000 contracts — and are now long about 6,000 contracts.
As in silver, the COT Report in gold is equally wildly bullish and, of course, is even more so since the Tuesday cut-off.  So, when the Big 8 run out of sellers in the Non-commercial and small trader categories, the set-up for a huge move to the upside will be in place.  The path of least resistance for both gold and silver is now up — and up a lot.
---
---
This represents a bit over five months of world silver production, or about 369 million troy ounces of paper silver held short by the Big 8.  [In the prior reporting period — they were short 171 days of world silver production.]
As per the first paragraph above, the Big 4 traders in silver are short around 121 days of world silver production in total. That's a bit over 30 days of world silver production each, on average…down a lot from last week's COT Report.   The four big traders in the '5 through 8' category are short 37 days of world silver production in total, which is a bit over 9 days of world silver production each, on average…which is also down a decent amount from last week's report.
The Big '5 through 8' continue to cover their short positions like mad — and have been doing so for well over a month now. But starting last week, the Big 4 have joined them.
Ted says that JPMorgan is now net long about 6,000 COMEX contracts in gold, up about 1,000 contracts from last week's COT Report — and are now market neutral in silver, after being short about a thousand contracts a week ago.  They have been a non-factor in the COMEX futures market for about the last year…leaving the other Big 8 traders to struggle through on their own — and those Big 8 have sure made their presence felt during the last ten days.
---
[The March Bank Participation Report covers the time period from February 3 to March 2 inclusive.]
Citigroup, HSBC USA, Goldman Sachs and Morgan Stanley would most likely be the U.S. banks that are short this amount of gold — and most likely in the in-house/proprietary trading accounts.  I'm also starting to harbour some suspicions about the Exchange Stabilization Fund as well, although they are most likely just backstopping these banks.
Also in gold, 32 non-U.S. banks are net short 63,187 COMEX gold contracts.  In February's BPR, 30 non-U.S. banks were net short 75,092 COMEX contracts…so the month-over-month change shows a decrease of 11,905 COMEX contracts…just about the same improvement as the U.S. banks it total…but spread out over 32 banks, not just 5 U.S. banks.
At the low back in the August 2018 BPR…these same non-U.S. banks held a net short position in gold of only 1,960 contacts — and they've been back on the short side in a big way ever since.
As in gold, the three biggest short holders in silver of the four U.S. banks in total, would be Citigroup, HSBC USA — and Goldman or maybe Morgan Stanley in No. 3 and 4 spots. And, like in gold, I'm starting to have my suspicions about the Exchange Stabilization Fund's role in all this.
Also in silver, 20 non-U.S. banks are net short 20,249 COMEX contracts in the March BPR…which is down 4,299 contracts from the 24,548 contracts that 22 non-U.S. banks were short in the February BPR.
Also in platinum, 19 non-U.S. banks are net short 4,578 COMEX contracts in the March BPR, which is up a bit from the 3,459 COMEX contracts that 17 non-U.S. banks were net short in the February BPR.  Nothing much to see here…for the second month in a row.
[Note: Back at the July 2018 low, these same non-U.S. banks were net short 1,192 COMEX contracts.]
They were short only 1,194 COMEX contract in the July 2020 BPR.
These are not material changes in either group of banks.
And as I've been commenting for almost forever now, the COMEX futures market in palladium is a market in name only, because it's so illiquid and thinly-traded.  Its total open interest at Tuesday's cut-off was only 9,611 contracts…compared to 72,681 contracts of open interest in platinum…158,349 in silver — and 467,0008 contracts in gold.
And because of the small numbers of contracts involved, along with a tiny open interest, these numbers are pretty much meaningless. So, for the last twelve months in a row, the world's banks are no longer involved in the palladium market in a material way.  According to Ted, palladium is mostly a cash market now.
Except for palladium, only a small handful of the world's banks/investment house, eight or so in total…mostly U.S-based…continue to have meaningful short positions in the other three precious metals — and it's a near certainty that they run this price management scheme from within their own in-house/proprietary trading desks.
I have a very decent number of stories, articles and videos for you today.
CRITICAL READS
Hiring surged in February as U.S. economic activity picked up with Covid-19 cases steadily dropping and vaccine roll-outs providing hope for more growth.
An alternative measure of unemployment that includes discouraged workers and those holding part-time jobs for economic reasons was unchanged at 11.1%.
---
The 10-year U.S. Treasury yield jumped Friday after the February jobs report topped expectations, sending the benchmark yield to its highest level this year, before retreating as the day wore on.
The yield on the 10-year Treasury note was trading up at 1.56% at around 4:20 p.m. ET after hitting an intraday high of 1.626%. The yield on the 30-year Treasury bond fell to 2.29%. Yields move inversely to prices.
At 8:30 a.m., the Labor Department reported that the U.S. added 379,000 jobs in February, much stronger than expectations of a 210,000 gain. The unemployment rate fell slightly to 6.2%. The jobs surge comes after the labor market's recovery had turned sluggish in recent months.
The benchmark yield has been climbing quickly in recent months after ending 2020 under the 1% level. It topped 1.5% last week for the first time in over a year, and briefly flashed above 1.6%. Thursday's jump for Treasury yields put the 10-year above that mark.
---
This means that in the past 12 months, U.S. consumers have paid down a record $126.5Bn in credit card debt, a staggering amount for an economy that runs on credit.
The flip side, as usual, is that as revolving credit dropped, non-revolving credit rose like clockwork (if far more subdued than usual), and in November U.S. consumers increased their student and auto loans – the two largest component of this category – by a far lower than expected $8.6 billion, down from $11.6BN in December and bringing the total January consumer credit change to a decline of $1.31 billion, which was not only far below the $12BN increase expected by economists, but was the first decline in total consumer credit since August!
---
We've spent the entire week poking around in the marshes… the tidal flats where inflation flourishes… between the water world and solid ground.
Alas, about that he was wrong. He was too literal. Too numerical. Too confident of his own power of intellectual reductionism.
---
Friday the 13th, Atlanta Hartsfield Airport. I'll soon be home for Christmas. It was a long year, 40+ weeks on the road; several two-week international trips. I was exhausted.
We finally rolled down the runway, headed home. Suddenly the pilot reversed thrust, slamming on the breaks. I felt my seat belt straining. I heard a couple screams in the back.
Since the 2008 bank bailout, pundits have warned us of pending doom. Since the COVID-19 crisis, the drumbeats are getting louder. Our instruments are giving us mixed messages and hints; something just doesn't feel right.
---
The European Central Bank will step up its pace of emergency asset purchases to counter rising bond yields that risk hurting growth prospects in the euro area, according to economists.
---
A spark was provided by the Reserve Bank of Australia. After its previous Friday attempt fell flat, Australia's central bank Monday doubled down on its bond purchases, essentially expending $3.1 billion in its yield control operation. Australian 10-year yields collapsed a remarkable 35 bps to 1.67%, more than reversing the previous Friday's price spike.
De-risking/deleveraging has initiated a tightening of financial conditions out at the global "periphery". Not atypically, incipient tightening at the "periphery" provides transitory favor to the "core." The dollar index's 1.2% gain this week surely lent some support to U.S. Treasuries and securities markets more generally. With massive stimulus as far as the eye can see, the U.S. "periphery" (i.e. junk bonds) has so far remained bulletproof. Indications of vulnerability began to emerge this week.
I fully expect the tightening of financial conditions at the "periphery" to gravitate to the "core." Despite the Fed's ongoing $120 billion monthly liquidity injections, I don't believe the "core" is immune to de-risking/deleveraging dynamics. That U.S. equities are in a full-fledged mania and U.S. corporate Credit still demonstrating a powerful Bubble Dynamic complicate the analysis. Beijing also creates a high degree of uncertainty.
Beijing recognizes it faces acute Bubble risk both at home and from abroad. Unrelenting U.S. fiscal and monetary stimulus – with resulting massive trade deficits – ensures powerful inflows into China. This only further complicates Beijing's already great challenge of reining in Bubble excess without unleashing the forces of risk aversion, panic and collapse. I'll take this week's announcements as indicating that Beijing believes it must sacrifice growth to mitigate escalating risks associated with over-indebtedness and asset Bubbles.
Surging global yields, fragile equities Bubbles, and prospective Chinese tightening measures. That's a confluence of risks that beckon for a more cautious approach to leverage and risk-taking more generally. Indeed, today's backdrop places myriad levered strategies in harm's way. I'll assume the global leveraged speculating community – the marginal source of finance globally – has commenced de-risking/deleveraging. Issues in the "repo" and dollar swaps markets point to mounting stress in derivative hedging markets. In sum, the volatility experienced across markets over the past couple weeks indicates growing risk of a financial accident.
---
A federal judge in Manhattan on Thursday dismissed litigation by traders and trading firms accusing Bank of America Corp and Morgan Stanley of manipulating the precious metals futures market by placing trades and then cancelling them before execution, or "spoofing".
U.S. District Judge Lewis Liman in Manhattan said the June 2019 lawsuit over alleged spoofing in gold, silver, platinum and palladium futures from 2007 to 2014 was filed long after the two-year federal statute of limitations had run out.
The investors said the clock started in January 2018 when the traders Edward Bases and John Pacilio, both from Connecticut and also defendants, were charged with commodities fraud. Six other people were criminally charged at the time.
But in a 32-page decision, the judge said the clock had begun ticking by December 2016, when a lawsuit alleging manipulation of silver futures contracts in the same period was filed by the same lawyers in the same Manhattan courthouse.
Lawyers for the investors did not immediately respond to requests for comment.
---
Conversations with our partners in China's gold jewellery industry mirrored the trend reported by the Ministry of Commerce and the China Gold Association: in value terms, sales of all jewellery categories during the holiday soared by 161% y-o-y and consumption of gold jewellery, bars and coins during the same period rose by more than 80% y-o-y.
Almost all gold jewellery categories realised substantial growth on a y-o-y basis. One of the leading gold retailers in China even reported a 710% surge in its gold product sales during the 2021 CNY week y-o-y. This was partially due to the low base impact amid the COVID-19 outbreak during 2020's CNY holiday.
Even so, leading gold jewellery retailers told us that sales during the 2021 CNY holiday dwarfed their 2019 levels. Main drivers of this sales boom include:
the local gold price adjustment ahead of the holiday, which made gold products more affordable
the tradition of hoarding gold products ahead of and during the holiday
the "stay put" initiative, which spurred gold consumption in major cities.
In addition, gold bars and coins also attracted tremendous attention during the holiday as many retail investors took advantage of the local gold price dip ahead of the festival to enter the market for gifting and long-term saving.
---
A large spike in demand for Perth Mint coins and minted bars pushed sales of physical gold to a new monthly record in February 2021. The Mint shipped 124,104 troy ounces of gold product, up  63% on the previous month and an enormous 441% on February 2020.
Sales of silver bullion coins also jumped sharply to 1,830,707 troy ounces, up more than 57% on the previous month and 202% ahead of February 2020.
Similar efficiencies were achieved in the production of physical silver coins, he said, which saw more Australian Kangaroo 1oz Silver Coins out the door.
---
Interest in silver and concerns about its price being artificially suppressed by excessive short selling are now at levels never seen before. While those concerns are well-founded, in my opinion, too often the remedy for what to do about it is less clear.
Since silver and silver futures trading is regulated by the U.S. Commodity Futures Trading Commission (CFTC), it is the statutory first line of defense against market manipulation. Here's something that will take only a few moments and has always worked in the past in assuring the agency will, at least, address the issue directly.
If you are concerned that the silver price is being artificially influenced by excessive and manipulative short selling, please email or send a copy of the enclosed letter to the CFTC. If you would like, substitute my name with your name, but please send it to the addresses of the Commissioners I've included.
For U.S. citizens, please take an extra few minutes to send a copy to your local representative or senator, asking them to request the CFTC address this matter. I can further assure you that the agency will respond to every inquiry from every elected official who contacts it. Interestingly, this is one of the few completely non-partisan issues of the day, so politics shouldn't determine whether you contact your elected representatives and senators.
The PHOTOS and the FUNNIES
STAY INFORMED! Receive our Weekly Recap of thought provoking articles, podcasts, and radio delivered to your inbox for FREE! Sign up here for the HoweStreet.com Weekly Recap.