March 15, 2021 | Patience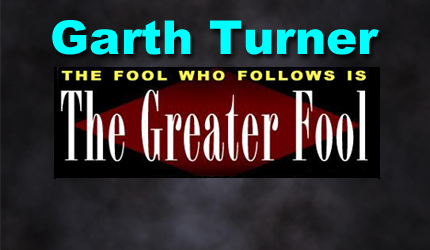 A best-selling Canadian author of 14 books on economic trends, real estate, the financial crisis, personal finance strategies, taxation and politics. Nationally-known speaker and lecturer on macroeconomics, the housing market and investment techniques. He is a licensed Investment Advisor with a fee-based, no-commission Toronto-based practice serving clients across Canada.
In Kitchener-Waterloo last month house sales grew 28%. The price of a detached place was 35.4% greater than in February of 2020, when you'd never heard about Covid and couldn't imagine everyone in the bank looking like they were holding it up. Hundreds of new families trekked 120 km down the killer 401 from the Big Smoke and bought in the middle of winter. In a recession. And a public health crisis.
But this is 2021. We're all insane. As mentioned here yesterday, it's a pan-national weirdness. And with each day that passes the odds grow of an intervention. "If Canadians are taking out permits and buying resales at such a pace during winter then what does that say when the key spring housing market and vaccines arrive?" asks Scotia Derek Holt. "Policy is arguably overly easy and changes may be afoot in a spring budget."
Anti-house measures and rising mortgage rates? Game-changers?
Holt is just one voice posing the same question: how can government ignore this? Cheap mortgages, WFH, aggressive nesting, urban phobia, low inventory, demographics – it's a perfect storm. A few more months of this and real estate prices will well and truly be beyond the means of the middle class. Even the lawyer class.
We have two field reports.
"I am a reader of the blog and a horrified spectator of the current madness in real estate in Toronto (and everywhere else too)," says Alan.
Now nobody will shed many tears for a 33-year old guy, one half of a couple (both lawyers) with a combined income of a bit under $500,000. They save $180,000 a year and have six hundred grand invested in RRSPs, TFSAs and non-registered money. The guys rent a 700-foot condo for $1,300 a month but dream of owning a house.
"Here's the kicker. We are tired of living in our condo. The space is not big enough and it would be nice to have a place of our own. There is no denying there is a hugely irrational element to that desire given where prices are in Toronto. I am the first to acknowledge that it is total madness out there. People are buying so indiscriminately and the kind of shitboxes that are selling over a million or 1.2 or 1.4 is stunning and downright frightening. None of it sits well with me.

"… but there is also that sense we have 1) that we will be priced out of the market; 2) that we have the opportunity to borrow at historically low rates now; and 3) that we want to start the next stage of our lives in a place of our own. (As a gay couple that sees every straight person just treat those milestones casually and nonchalantly, it is also a bit vexing not to be taking that step as well.) There is a strong emotional part of this, no doubt about it.

"All of that said, I want to be smart and thoughtful and responsible. I don't want to do something monumentally stupid. If we were to buy a place, we would plan to put down $300K and cap ourselves at 1.5M. Basically that will get us a small semi in the east or west end, which is a lot more than we have now. But buying at what should, by any logic, be the top of an already inflated market is scary. On the flip side, I would be pissed as hell if we got priced out completely.

"I know our situation is not unique. It is probably the situation of every young professional couple in their 30s looking to get into the housing market. I don't want to get all existential about it, but it does kind of feel that way at times.

So, what do you think? Should we wait six months once things calm down (hope springs eternal) and there's more supply on the market? Should we wait even longer? Should we forgo a home completely and stay where we are?"
Lest you believe only rich, urban, professional Millennials come here to moan, meet Jason. "I live in a $30,000 mobile home illegally on a quarter section somewhere in Alberta," he says.  "We plopped it here a year ago thinking that home prices will be cheaper in the future and we'll buy or build a house then. Boy we're we wrong."
"I'm laying under my trailer right now trying to find the mouse that keeps me awake at night and it's here that I find myself reaching out to you. We can live here for another year but then we have to either build a house on land that I own or move the mobile on said land or buy something. I guess we could rent but not much comes up for rent close by and is usually too much money. We farm so we need to be somewhat close.

"I have for assets $250,000 cash and $40,000 as well a quarter section of land and some bison.

"Here's my question: you and many others forecast inflation in the coming years so wouldn't that just continue to put upward pressure on homes and building materials? Wouldn't buying now be wise if inflation was guaranteed? Alternatively if interest rates rise and home prices come down won't it still be more money to buy later because the cost of borrowing is rising?

"My cash is losing value from Trudeau printing more everyday, the stock market is a bubble. What do I do?"
Yup, everywhere. Everybody. Owners scared to sell because they can't buy again. Buyers feeling helpless and victimized. A sense money's withering in the face of the housing bloat. Meanwhile frustration with politicians distracted by a virus which is ripping up the social fabric.
Jason and Alan pose the same query, from dramatically opposite situations: suck it up and buy, or gamble and wait?
There's no right answer. But it seems like we're getting a lot closer to catharsis.
First, mortgage rates are pushing higher, faster, especially after Friday's killer jobs report showing the Canadian economy is reopening with vaccines and a vengeance. The five-year Canada bond surged over 1% – tripling where it was a few months ago. The bond market sees the Bank of Canada hiking rates at least three times in the next 24 months. "If market expectations are right,"says broker/blogger Rob McLister, "5-year fixed rates could have a 3-handle within 12-24 months. In other words, they should more than double from this year's record lows.  Will those kinds of increases be a wet blanket for home price appreciation? It's possible, if rates climb enough."
Indeed. The bond market smells inflation. The cost of money has only one direction in which to travel. Remember the inverse relationship between houses and rates.
And what about pols? Justin & Chrystia? Or Dougie Ford and Comrade Horgan? Won't they soon be triggered into action by a growing base of voters feeling forever shut out of home ownership?
Yup, seems inevitable. The wrong way would be to bring in a foreign buyers' tax (they have little market impact) or incentives for newbie byers (which just push prices higher). Better solutions include a levy on speckers and flippers, higher downpayments for everyone (especially investors), graduated capital gains taxes on all residential properties and realtor reform to deal fairly with multiple offers, bully bids, blind auctions and market transparency.
The winds of change are gathering. Patience.
STAY INFORMED! Receive our Weekly Recap of thought provoking articles, podcasts, and radio delivered to your inbox for FREE! Sign up here for the HoweStreet.com Weekly Recap.