March 7, 2021 | Marijuana's Swoon Before the Boom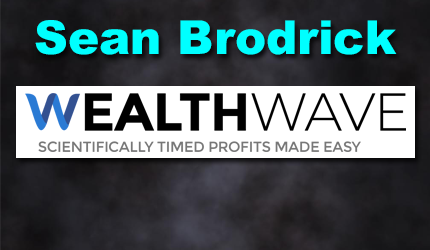 Sean is the natural resource analyst for Weiss Ratings. You can read his thoughts on gold, oil, cannabis, uranium and other natural resources at Wealth-Wave.com
The best thing that could happen to marijuana investors is taking place right now … though many of them won't believe it.
Let's start with the fact that cannabis stocks got fed into a shredder. The ETFMG Alternative Harvest ETF (NYSE: MJ), the biggest marijuana fund, was recently down a whopping 42% from highs it hit on Feb. 9. Just think about that … a 42% drop in less than a month. Wow!
And yet despite that decline, MJ is still up 39% since the start of the year … and 122% since hitting a low about a year ago.
Here's the thing: as long as you took gains along the way, this tumble is great news. Because it might bring pot stocks back down to where they're cheap again.
Are you a cannabis investor? Did you take gains? We've been taking profits hand over fist in my Marijuana Millionaire Portfolio publication. In fact, since the start of this year, we've taken 17 consecutive rounds of gains — with some of them as high as 178.76% … 201.86% … 212.86% … and 224.89%!
How did I know WHEN to take gains? I have two advantages: Years of experience trading a vicious market, and our proprietary Weiss Cannabis Stock Rankings system.
So, we've seen a big sell-off. Am I ready to buy yet?
Not quite yet. Let me show you a chart of a cannabis stock ETF I consider even more important than MJ — the AdvisorShares Pure Cannabis ETF (NYSE: YOLO).
What sets YOLO apart from MJ is YOLO is more balanced toward U.S. cannabis stocks. And that's where the sweet spot of growth will be in 2021.
Here's the chart: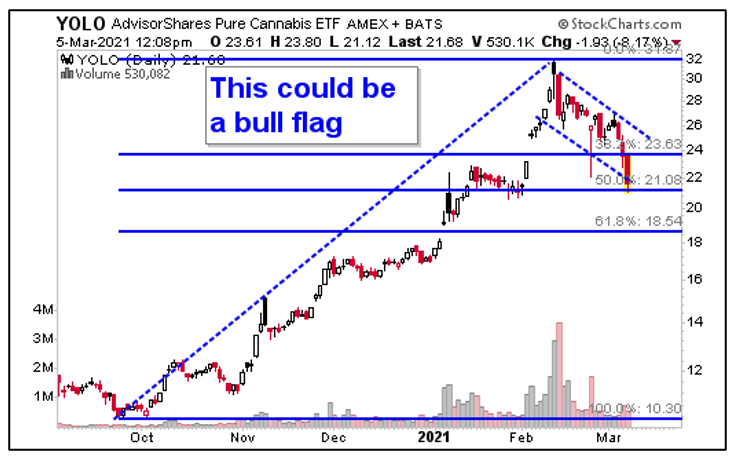 YOLO is in a short-term downtrend. This fund is testing support at $21.08. If that doesn't hold, then $18.54 becomes the next support target.
The good news: This might be a bull flag pattern. If it is, then we're looking at a target of $52.92 in the next big rally. Hoody-hoo!
We just have to get to the next buying opportunity.
Three things will get us there:
1. This correction needs to run its course.
2. Cannabis earnings will surge. Many companies are already reporting booming earnings. And they'll go higher, as the U.S. legal cannabis market is projected to experience a compound annual growth rate of 21%. That will raise it to more than $41 billion by 2025 from $13.2 billion in 2019.
3. More good news for cannabis.
The first two are just a matter of time. As for the third, here's just SOME of the positive news I'm seeing …
1. Think Big on Pot Sales
Those wild-eyed hippies at Forbes report that U.S. cannabis sales hit a record $17.5 billion in 2020.
Most of the sales growth came from adult-use markets, especially mature markets like Colorado, which grew sales by 26% to reach $2.2 billion, and Oregon, which saw sales hit $1.1 billion, a 29% increase over 2019. But Illinois, which just legalized recreational pot last year, saw the largest dollar gain in sales for 2020, a whopping $784 million.
California, the country's largest cannabis economy at $3.5 billion, increased sales by $586 million, while Florida saw a $473 million increase.
2. Think BIGGER on Pot Sales
This year, sales will likely be even bigger. Canaccord Genuity said overall sales in the U.S. could surpass $20 billion. Canaccord analysts write on their monthly report:
"With an aligned House, Senate and White House, pro-cannabis legislation/measures have a seemingly easier political path to navigate, representing a moderate de-risking to the sector as a whole."
3. Worldwide, Pot Sales Are Booming!
Worldwide sales are smokin' hot, too. Last year, sales of cannabis products jumped above $21 billion. That's an increase of nearly 48% year-over-year.
BDS Analytics expects rapid growth to continue into 2021 and beyond, forecasting U.S. sales to reach $41.3 billion in 2026.
4. A Bumper Crop of Tax Revenue
Colorado leads America in cannabis sales. So much so that it should change its motto to "The Rocky Mountain High State."
According to The Boulder Daily Camera:
Colorado pot purchases accounted for roughly one out of every $10 spent globally on cannabis last year, data shows. Colorado saw cannabis revenues of nearly $2.2 billion in 2020, up from less than $1.75 billion the year before, according to the Colorado Department of Revenue.
All that revenue means pot growers are paying a bumper crop of taxes. In 2020, the cannabis industry paid $387,480,110 in taxes to Colorado. Since legalization of recreational cannabis in 2014, the state has raised nearly $1.6 billion in taxes. That's better than a sharp stick in the eye, eh? And it must give states that haven't legalized food for thought.
The bottom line is I strongly believe that the bottom will come sooner than later for a simple reason: U.S. cannabis stocks are quickly turning profitable, and some of them are showing the kind of growth that tech stocks envy. This is going to be a great year for cannabis, and we will make the most of it.
My view is this year isn't just going to be great. I believe it's going to be downright glorious. But you gotta be in it to win it. So, if you aren't already a Marijuana Millionaire Portfolio member, and ringing the cash register over and over again, NOW is a great time to get onboard.
The next leg higher is coming. Be ready to profit!
All the best,
Sean
STAY INFORMED! Receive our Weekly Recap of thought provoking articles, podcasts, and radio delivered to your inbox for FREE! Sign up here for the HoweStreet.com Weekly Recap.