March 5, 2021 | Gold Doom or Gold Boom?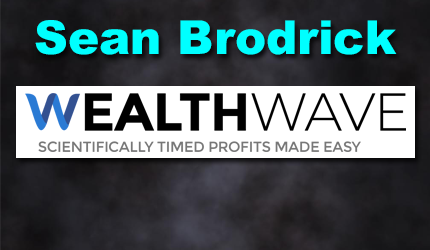 Sean is the natural resource analyst for Weiss Ratings. You can read his thoughts on gold, oil, cannabis, uranium and other natural resources at Wealth-Wave.com
I probably don't have to tell you that gold is having a miserable 2021. Heck, gold actually fell to a nine-month low yesterday. However, I don't think this will be the case for long.
Let me show you a few charts that indicate that bears have overstayed their welcome — and a bull charge may be around the corner.
First, let's deal with the fact that the yellow metal has fallen about 9% this year. The most obvious reasons are:
1. Investors are looking forward to a post-pandemic recovery amid the rollout of vaccines, and …

2. The flood of stimulus money. Speculative cash is flowing into cryptocurrencies, too, and that's sucking some of the energy out of gold.
But if I had to pick one thing, the rising 10-year Treasury yield sure looks like the culprit.
U.S. government bond yields are near a 12-month high. You can see the trend higher in yields — and lower in gold — has been in place for a while. But yields really took off a couple weeks ago. That's when Kansas City Fed President Esther George said that rising yields aren't a concern for the Fed. Bond traders heard that and said, "Hold my beer!"
Why do rising yields hurt gold? Gold is seen as an inflation hedge. But it pays no interest. As yields rise, gold starts to lose its luster for investors.
And you can really see this in what's happening in gold ETFs …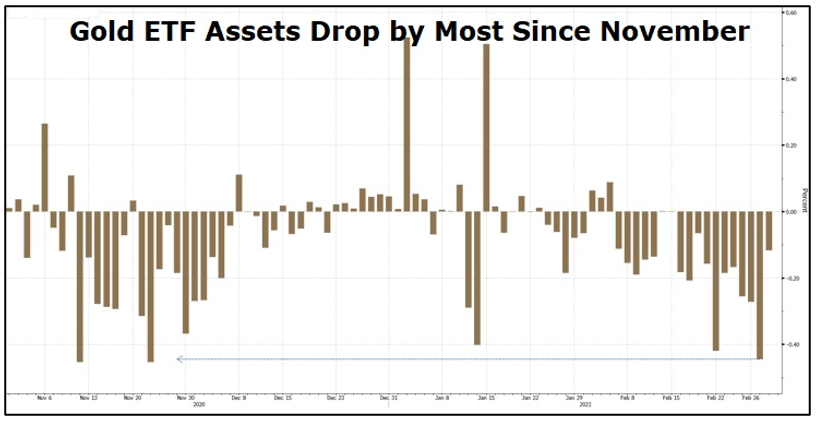 Source: Fundata
Ounces in ETFs that hold physical gold fell by more than 14 metric tons on Monday, the most in three months, according to data compiled by Bloomberg. The amount of metal held by ETFs dropped for 11 straight sessions and is now at its lowest level since July.
So, those two charts look bad. Now, let me tell you the bright side.
The Fed Will Push Rates Lower
Let's start with the first chart. That shows a market where investors have run to one side of the boat. A swing in the other direction is not only likely, but necessary.
What might fuel this? I expect Fed presidents besides George to come out and say the Fed will do whatever it takes to keep rates under control.
Why? Because they have to. The government can't afford higher rates.
Here's a fun fact: According to Louis-Vincent Gave, a founding partner and CEO of GaveKal Research, "A 50-basis-point increase in the cost of funding for the U.S. government is equal to ANNUAL cost of the U.S. Navy. A 30-basis-point increase is equal to the cost of the U.S. Marine Corps."
So, the government has every reason to lean on rates until they fall. Uncle Sam simply can't afford otherwise.
Watch Doctor Copper
Here's another thing: As I have told you a couple times in recent columns, copper is the best way to play economic expansion. It's also a good hedge against inflation. That's because as the economy heats up, and prices with it, copper producers have pricing power.
Now, let me show you two charts you should be watching. First is a chart of the ratio between the price of copper and the 10-year Treasury yield. Why is this important? Because this ratio is an EXCELLENT indicator of what's going to happen with gold.
I've put the performance of the price of gold beneath the copper/10-year yield ratio so you can see they peak and valley at about the same times. Interestingly the copper/10-year yield ratio just bottomed on Feb. 25. This is a strong indicator that gold is about to head higher.
Hitting Bottom
The second chart is a chart of the SPDR Gold Shares (NYSE: GLD), the biggest gold ETF.
You can see that the GLD (and gold) are in a downward channel. GLD just tagged the bottom of that channel. While it's not perfect, this is an obvious place for a bounce, even if only to the top of the channel. That would equate a 7% move in gold. And gold miners — leveraged to the metal — could explode higher.
An easy way to play this would be the VanEck Vectors Junior Gold Miners ETF (NYSE: GDXJ). I believe in this strongly enough that I own the GDXJ in my personal portfolio. But any number of funds or stocks would help you ride the next leg higher in precious metals.
Bottom line: The market is thinking it's gold doom right now. I believe the next gold boom is around the corner. A lot of this is due to Wall Street's one-way bets against the precious metal.
But a lot of it comes back to the fact that gold is the ultimate store of value, and its time to shine is near.
All the best,
Sean
STAY INFORMED! Receive our Weekly Recap of thought provoking articles, podcasts, and radio delivered to your inbox for FREE! Sign up here for the HoweStreet.com Weekly Recap.