February 18, 2021 | Voracious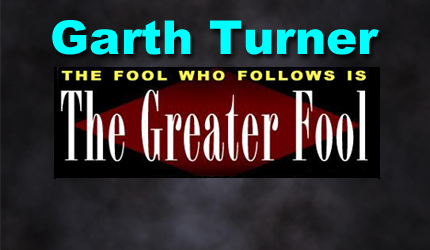 A best-selling Canadian author of 14 books on economic trends, real estate, the financial crisis, personal finance strategies, taxation and politics. Nationally-known speaker and lecturer on macroeconomics, the housing market and investment techniques. He is a licensed Investment Advisor with a fee-based, no-commission Toronto-based practice serving clients across Canada.
It is the best of times. It is the worst of times. It all depends if you're selling or trying to buy a house. That time is now. Everywhere. We are setting our society up for a thumping.
Let's fly into YYC for starters. In Calgary the jobless rate is close to 11%. The commercial vacancy rate is a withering 27%. Last week it was cold enough for the local kids on TikTok to throw hot water in the air and have it land with a thud. Given the Rona, Biden's Keystone bomb and these damn EVs, the future's been flickering in Alberta for a while.
So, damn, where did this come from….?
That's the tally – as of Thursday – of property sales in Cowtown, where realtors have recently been driving Uber and delivering pizzas. Sales last month surged 40%. This month they have literally exploded by 74%. Average prices have jumped more than 8%, and multiple offers are everywhere. One agent told the local TV guys, "the market is like Mad Max."
Not only have Calgary buyers discovered 1.5% mortgages and FOMO, but inventory is thin – down 22% from a year ago – as the virus keeps owners from flinging their doors open to the MLS masses. In short, one of the worst real estate markets in Canada has joined the frenzy. And this is not good news.
Okay, let's pierce the Atlantic bubble now, winging into YHZ and a province where there's virtually no virus with everything open. Halifax has traditionally been a super-affordable place to live, where three hundred grand was enough a year ago to snag a cozy little home within a walk of the historic harbour and Canada's navy (yes, we have one).
No more. It's nuts.
Buyers everywhere. Prices surging. No inventory.
"Things are definitely not looking good for the Spring market should this trend continue," says blogger/agent Jeremiah Wallace, "since it's the busiest time of year for buying and selling in our market.
"We should be seeing an inventory increase week to week at the moment, but it's actually opposite and we need more listings before things get worse. Single family homes continue to take the brunt of reduction, and every new listing is getting swarmed with extreme showing numbers, making it really hard for buyers to gauge where they should place their offers. Obviously, the trend right now is over asking, but as this market carries on, the question become just how high do I have to go to secure bid, and will it be too much should the market turn, It's a terrible balance for would be buyers to consider… the need for a home vs making the wrong financial decision."
Two years ago it was a big deal for a $1 million house to sell in this city. Now heads don't turn unless the sticker is north of $2 million. Even a hour away, along the South Shore, the price escalation has been 40% in twelve months. Most places are selling to GTA refugees, who view and buy over FaceTime to avoid the NS 14-day quarantine.
And speaking of southern Ontario, the storm clouds are gathering. Unbridled house lust, fear of missing out and the YOLO mentality of the moister gen are setting up an inevitable reckoning. Rest assured there will be political consequences.
How could there not be? Check this out…
A dodgy little house in gritty Oshawa that sold for $200,000 less than three years ago just fetched $802,000 in a multi-bid slugfest. Hours in the opposite direction, as a gobsmacked BMO economist just pointed out, the average house in little Woodstock rose $118,200 in the past year, in a community where the average income is $89,000. In fact, houses are making more money than regular people in Toronto, Peterborough, Brantford… everywhere.
Inventory is scare across Canada – in fact, at a 30-year low. Mortgage rates have never (thanks to the virus) been at this level, allowing more debt and higher sale prices. WFH has over four million people wanting space, moving to where real estate is 'more affordable' and totally screwing things up for millions of others who thought they lived in calm places. Juicing everything is human emotion. The higher prices go, the more people want real estate. It's classic. We buy high because we think higher is coming. When it comes, we buy more. We believe this asset will go up forever, even though none has before. And infecting us all is Covid, instilling a fear of the wider world and an innate desire to cocoon.
What a combo.
The problem is that when a house on your street sells for a crazy-stupid pile of money, it automatically makes your worth more. Ceilings become floors. Affordability worsens. More families are shut out. Others are forced to distort their finances in order to buy, draining liquid assets from retirements and kids' school accounts while swallowing huge gobs of debt. Rising rates could be fatal.
Meanwhile the wealth gap grows as society calves into owners and others. The top 20% of families now own 70% of real estate wealth while the bottom two-fifths hold 2% of it. None of this is sustainable. Or permissible. And, no, the government won't 'do anything to keep it going' as people on this pathetic blog seem to believe.
What does this mean? Wat can we expect as this endless pandemic winds down?
RBC's econo guy Bob Hogue says he expects, "some form of policy-induced cooling of demand" in the next few months. Plus, as reviewed here this week, it's a slam-dunk that rates will begin their creep back towards normalcy, whatever the CB does.
Chew on that before you offer 40% over list.
STAY INFORMED! Receive our Weekly Recap of thought provoking articles, podcasts, and radio delivered to your inbox for FREE! Sign up here for the HoweStreet.com Weekly Recap.