February 25, 2021 | The Young & the Pooched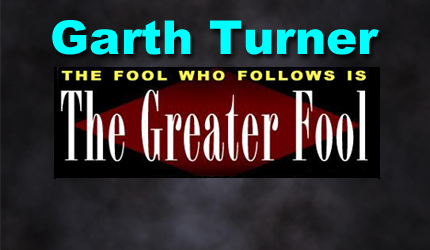 A best-selling Canadian author of 14 books on economic trends, real estate, the financial crisis, personal finance strategies, taxation and politics. Nationally-known speaker and lecturer on macroeconomics, the housing market and investment techniques. He is a licensed Investment Advisor with a fee-based, no-commission Toronto-based practice serving clients across Canada.
In case you've been arousing yourself with MLS temptations lately and missed the big news, here's a recap.
Six out of six big Canadian banks have posted fat profits, beat the Street and slashed their loan-loss provisions. In the middle of a pandemic and recession, what does this mean? Simply that the virus is so done – at least as the main determining macroeconomic factor. We now know where we're going. Only the speed is uncertain. Several implications flow from this. They all support the themes a certain pathetic blog has been proselytizing for a weeks now.
Our reptilian Bank of Canada boss, for example, is admitting that as the herd is dosed (and that will erupt come April) the economy will rebound. The central bank rate will stay low, but sentiment is growing the CB will start ratcheting back its bond buying – also in April.
Put it together: (a) corporate profits jumping, (b) vaccinations ramping up, (c) infections and hospitalizations falling, (d) economy reopening and rebounding, and (e) the slow retreat of monetary stimulus. And this is what you get…
Yes, I know we published a chart of the bond market erection two days ago, but the growth since has been dramatic. The return on 5-year G0C debt has now tripled in three months. The bond market ain't blind. It sees growth, wage pressures, retail therapy, less stimulus and more inflation. By the way, StatsCan says payroll employment rose by 44,200 in December after decreasing by 64,500 in November.
So, you can expect mortgage rates to begin their ascent momentarily. Hope you locked in. As suggested.
Now, some people wonder – if Covid's being crushed, workplaces will reopen, offices repopulated and herd immunity achieved – why this insane nesting real estate boom would continue. Pandemics are temporary, after all, but moving your family to Marmora or Comox is not. How come public officials, like the central bank governor, keep denying the speculative FOMO fever that's embraced the land?
It's wilful blindness. The CB wants growth, no matter from whence it comes. The big banks are entering a critical spring housing market and want to sell a slew of mortgages. And floggers like Royal LePage just want to, well, flog.
Did you see the latest survey that outfit published? What have we done to the children?
LePage says 48% between ages 25 and 35 own real estate with half of those having bought during the pandemic – yes, when prices were at an historic high. Among those who have not purchased, 84% say they will soon. And when asked if real estate (now the most expensive it has ever been because of a unique set of temporary circumstances, already passing) is "a good financial investment", 92% stick up their hands in joyous agreement.
Yes, we know the nation's biggest real estate marketing company creates media interest with these pieces of 'news' routinely fed to journalists now working in their basements and broadcasting over Skype. But this is a scary as it is suspect. We're also being told that the young cohort believes WFH will last forever (because they want it to), which gives carte blanche to go rogue-suburban and borrow their brains out. "The pandemic provided an unexpected prize for young Canadians," says the company's CEO mouthpiece, "a path to home ownership."
Some prize. It also allowed this generation to spend more than any previous one on accommodation, increase household debt by a record amount ($100 billion+) in a single year, restrict mobility, suck up scarce liquid assets, become less diversified or flexible and – in many cases – physically remove them from workplaces where advancement, recognition and career potential are achieved.
Hey, but that's just the Boomer in me talking, right? Houses will go up forever. Mortgage rates won't double in five years. The boss will keep giving you raises and job security even when you don't come to work. And putting 100% of your net worth into a single asset a suicidal commuting distance from the office is a "good financial investment". Coz, of course, everybody wants to live there. With the chickens.
Well, time will tell. But experienced eyes see a generation embracing risk, betting on a one-asset strategy and mistaking a weird little (but intense) chapter in modern history as an inflection point for the future. It's not.
STAY INFORMED! Receive our Weekly Recap of thought provoking articles, podcasts, and radio delivered to your inbox for FREE! Sign up here for the HoweStreet.com Weekly Recap.