February 12, 2021 | Game Changers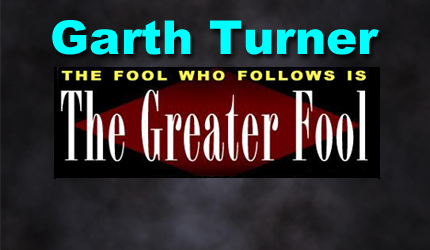 A best-selling Canadian author of 14 books on economic trends, real estate, the financial crisis, personal finance strategies, taxation and politics. Nationally-known speaker and lecturer on macroeconomics, the housing market and investment techniques. He is a licensed Investment Advisor with a fee-based, no-commission Toronto-based practice serving clients across Canada.
Derek Holt's a smart egg. We used to hang out together doing interviews when he was a budding econo rockstar at RBC, with strong views on real estate.
In those days I ran and owned a TV production company from a studio I'd built on Bay Street in the financial canyons of Toronto. The business model was simple: produce network-quality shows with original content, buy blocks of time from Global, CTV and specialty channels, then resell some of that time to advertisers. For a few years, it was a dream gig. An investment show. A real estate program. One for rebellious sk8r kids. And my fav, a dog show. Twenty employees – reporters, editors, writers, sales guys – and good profits. Then online killed television. So I went online. Went on tour. Started a wealth management company. Bought a general store. Then a bank. And came here.
Well, back to Holt. Now he's famous. Vice-president, head of Capital Markets Economics and chief visionary dude for Scotiabank. His voice has emerged as one of the most reasonable and believable – not shilling for his bank. No Pollyannaish musings designed to pimp mortgages and car loans.  Just a realistic appraisal of the world, backed up with copious dollops of thinking and research.
Friday morning he dropped an 8,000-word epistle on the nation. Every person borrowing their butt off to buy real estate inflated by cheap mortgages, a belief that Covid has changed the world forever or pure FOMO, should read it. But they never will. So here are the highlights. Then the reasons why.
His conclusions;
Central bankers were fibbing when they said no rate hikes until at least 2023.
The Bank of Canada will be the first major bank to jack the cost of money and taper back on its bond-buying program.
Interest rates will start rising, officially, in the second half of 2022. The initial jump will take place by October.
The US will see inflation return and full employment restored by the end of next year.
Bond yields will swell. Mortgage rates will, too.
The economy is far stronger than most people realize. Growth in Canada will be well over 5% this year. That's huge. (And a reason to expect an election in June.)
The vaccines, and Biden, will change everything.
Holt points out that over 9 billion vax doses will be turned out this year, enough to jab 5.8 billion people, or close to 75% of the world. Herd immunity (seventy per cent) for the globe could happen by the end of the year. Total game-changer.
But hasn't Canada botched the dosing? Nope, says Holt:
The narrative that is heard in some quarters that vaccine roll-out has been a failure is patently false. Vaccines arrived on the order of at least 6–12 months ahead of common assumptions up to just before positive trial announcements began to roll in during November. Current roll-out plans point toward full inoculation of the Canadian population over 2021H2. Expectations have shifted as the bar got raised and that's understandable given the exigency of the challenges at hand, but progress is meaningfully more impressive than some of the opportunistic coverage suggests. In fact, as vaccine delivery recovers from temporary delays, Canada is in the sweetest spot of all with relatively fewer cases per capita and much higher coverage through production orders while the US has higher cases but is also above average in terms of securing vaccine contracts.
Also adding to the bullishness is a heap of pent-up demand, not only in Canada and the States, but everywhere. Covid cash was showered on Canadians. WFH has reduced costs and improved cash flow for millions. The US savings rate has doubled and household debt payments fallen. "A powerful economic force," says Holt.
And then there's Biden. The Dems. The big government spending spigot turned on full. An estimated $2.4 trillion in stimulus money is about to wash over the American economy, just as the vaccinations ramp up and the slimy little pathogen is offed. "That amounts to 11–13% of present nominal US GDP," says the economist, "with much of that occurring this year while blowing away prior episodes of fiscal stimulus."
Given all this, CBs are not going to keep spending gazillions buying up bonds to suppress yields. That QE (quantitative easing) activity will taper away and the price of bonds will fall as those yields increase. Five-year fixed rate mortgage costs will increase. Says loans broker/blogger Rob McLister: "Five-year forward rates are now over one percentage point above 5-year bond yields. That's the biggest gap since May 2017, and confirmation that rates are likely headed higher, so thinks the market. All that is to say, while this may not be the last hurrah for 5-year fixed rates, there are fewer and fewer hurrahs left."
So, concludes Derek the Seer:
The BoC may well end up hiking ahead of the Fed again in this cycle. Canada's COVID-19 cases have been vastly lower than in the US, it is much more hedged through vaccine commitments than the US and expected to catch up on administered doses, and both fiscal and monetary stimulus responded more aggressively in Canada than the US with an earlier forecast closure of spare capacity. Canada should also benefit vicariously from US fiscal stimulus.
Translation: the future's coming back. Think twice before you sauté in debt and move to Hick City.
STAY INFORMED! Receive our Weekly Recap of thought provoking articles, podcasts, and radio delivered to your inbox for FREE! Sign up here for the HoweStreet.com Weekly Recap.