February 3, 2021 | Better Markets Spells Out How a Lawless Financial Sector Robs Its Customers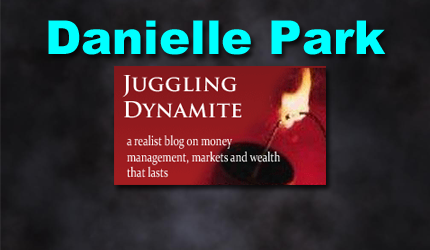 Portfolio Manager and President of Venable Park Investment Counsel (www.venablepark.com) Ms Park is a financial analyst, attorney, finance author and regular guest on North American media. She is also the author of the best-selling myth-busting book "Juggling Dynamite: An insider's wisdom on money management, markets and wealth that lasts," and a popular daily financial blog: www.jugglingdynamite.com
Better Markets is a public interest 501(c)(3) non-profit based in Washington, DC that advocates for greater transparency, accountability, and oversight in the domestic and global capital and commodity markets.
They make it their mission to clearly articulate for the public and legislators the conflicts of interest and trust abusing activities today rampant in a largely lawless financial industry.
Steal-from-the-poor-to give-to-the-rich-addiction-inducing-trading-app Robinhood was paid more than $450 million in 2020 alone for selling its clients' orders to trading venues, known as "payment for order flow" or PFOF, aka "maker-taker" fees and rebates.
But Robinhood is far from alone; trust-abusing self-enrichment is the dominant financial model today.
Better Markets succinctly lays out the should-be-banned architecture behind some of the latest stories in Reddit, Robinhood, GameStop & Rigged Markets:  The Key Issues for Investigation; all screaming for a much-needed return to Glass-Steagall divisions in this sector.  Here's their conclusion:
There is little doubt that today's financial market are littered with multiple layers of legalized bribery, including PFOF and market manipulation that enriches the financial industry's biggest firms and intermediaries at the expense of investors, price discovery, capital formation, and the orderly functioning of markets. There is no reason for the markets today to be so fragmented other than to serve as a wealth extraction mechanism that moves money from buy-side pockets to sell-side firms, intermediaries and their affiliates.

So, the conclusions thus far based on what little is currently known are twofold. To be sure, first, there should be a thorough investigation into the market mayhem precipitated by the so-called Reddit rebellion ignited in the subreddit community of WallStreetBets and apparently implemented by Robinhood's retail army. However, second, that must not be allowed to obscure the need for a much broader and deeper investigation into the fragmented predatory financial ecosystem that enables such mayhem. For example, the biggest Wall Street banks and their subsidiaries and affiliates enable, fund and facilitate many of those trading practices because those banks are also (1) the prime brokers for most of the hedge funds, (2) the biggest derivatives dealers, (3) major market makers, and (4) significant lenders in various capacities including as securities lenders, while also playing numerous other roles in the financial system and, undoubtedly, in the transactions and activities at issue here.

Thus, while the direct and obvious participants in the market chaos like Robinhood, Reddit, Citadel, and the short-sellers must be intensely scrutinized, the many other financial firms, including the marquee Wall Street banks, driving, enabling, funding and incentivizing these activities –and enriching themselves from them –must also be thoroughly reviewed.
Also, see Anyone can manipulate the market. Here's how to fix that, for reform suggestions on how to restore some semblance of free markets.
STAY INFORMED! Receive our Weekly Recap of thought provoking articles, podcasts, and radio delivered to your inbox for FREE! Sign up here for the HoweStreet.com Weekly Recap.