January 22, 2021 | The Frenzy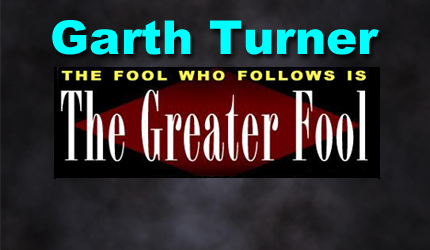 A best-selling Canadian author of 14 books on economic trends, real estate, the financial crisis, personal finance strategies, taxation and politics. Nationally-known speaker and lecturer on macroeconomics, the housing market and investment techniques. He is a licensed Investment Advisor with a fee-based, no-commission Toronto-based practice serving clients across Canada.
The pound poll, results posted here yesterday, had a sample size over 5,000. Rarely do surveys in Canada query that many people. Of course, none of you were randomly selected, since that would be far too frightening. But, still, it's a mess of folks. And the numbers confirm suspicions this blog has held for a number of months…
So, yes, the wealth and income gaps are chasming out of control. No coincidence that the majority of people here are (a) professionals, (b) above-income and (c) work from home. Thus we do not represent all of the nation. Far from it. We stand on one side of the gorge. The virus will have a lasting impact on many things – public health policy, government finances, social mores, workplace cohesion and conservative politics – but the greatest will be on helping to fracture society along financial lines.
It's not good. But it's everywhere.
We're not alone, either. In the last year Canadian house prices rose 17% (to $607,280) and US real estate grew in value 13% (to an average of $309,800). Interestingly, the market for cheap homes in the States slid a little while 'luxury' homes (over $1 million) grew 90%. And now Joe Biden has just thrown gas on the real estate fire. In his first week in office the new prez (a) froze foreclosures, (b) gave first-time homebuyers $15,000 each for downpayments, allowing the purchase of a $500,000 property, amd (c) made ultra-cheap FHA mortgages widely available.
The fifteen grand is a big deal. It can be accessed immediately and serve as a deposit on a home, although it's technically a tax credit. It's available to anyone who hasn't owned in three years, and Washington wants to boost the number of buyers by almost a third. The results? Inevitable. Prices will go up as a shortage of inventory is exaggerated and once again America is on the road to the kind of excessive home ownership and speculation that led to the 2005 crash. But that was 16 years ago. Nobody remembers.
But here's the point: everybody sees what the virus has wrought. WFH salaried professionals have done great. Over 90% of our survey responses showed net worth has increased since Covid arrived. There's no way this wealth divide can be bridged by taxing the rich (although Mr. Socks and Chrystia will try), so the next best thing (policy-makers believe) is to ensure everyone has a house. Because real estate always goes up. Oh boy.
This may explain comments from our central bank boss, Tiff Macklem this week. When presented with the facts – more houses sold last year than ever before; December sales were the highest on record; house prices rose 15x the inflation rate in 2020; homes are being flipped for 50% and 60% annualized gains in wide swaths of the GTA – he shrugged. It's all just because of cheap mortgages and WFH, he says. No speculation.
A speculative, FOMO frenzy that beats 2017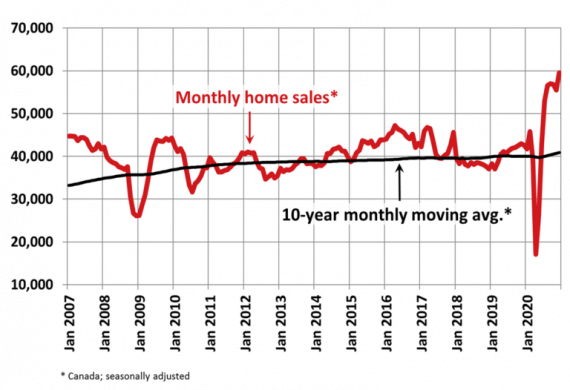 Source: Toronto Storeys
"Because people are working from home, they don't need to commute. Many people feel that even after the pandemic there is going to be more flexibility in many workplaces to work from home than there was in the past. So far we are not seeing the kind of excessiveness in the housing market that would really get us worried. This doesn't look like 2017."
No, governor. It's worse. And you know it. This is a frenzy.
Home prices have flown way past 2017 levels. Nationally the cost of a home is 22% higher, yet incomes have risen less than 5%. Yes, mortgage rates have declined slightly, but Covid has changed everything, including our insatiable appetite for debt. Now we're seeing speculative prices growing at twice the pace in quaint old '17. Worse, the FOMO disease has spread (thanks to the pathogen) from the Big Smoke to the burbs and beyond to those hinterland cities where average folks could once afford average houses. This time we've managed to poison, gentrify and infect markets hundreds of miles out from the core. Hell, people from the GTA are moving to Nova Scotia buying houses over FaceTime in bidding wars. Is this normal, Tiffer?
Nope. In fact another government agency – CMHC – is warning darkly if the virus roars back and we see a new recession form, unemployment could spike to 25% and real estate crash by 47.9%. Without government intervention, it adds, a few big CUs would fail along with CMHC itself – which insures over $600 billion in mortgages.
Says the agency: "As we continue to deal with the impacts of the COVID-19 pandemic, it is important to monitor the evolving financial risks facing Canadian housing markets including an uneven economic recovery impacting most vulnerable populations. Stress testing exercises like this are an essential part of effective risk management and vitally important to the long-term health and stability of Canada's housing finance system."
Well, who knows what lies ahead? But we do know what's happening now.
Mortgage borrowing goes bananas on big houses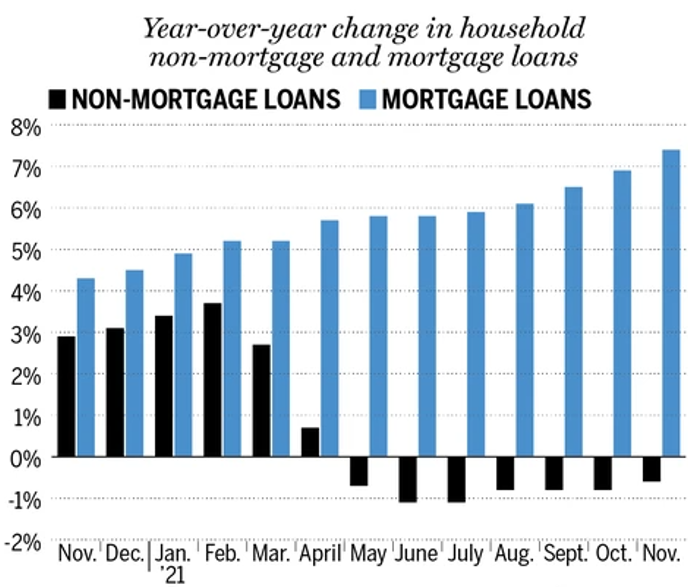 Source: Financial Post
In the last six months, Covid-fueled mortgage borrowing has been frenetic. As in the States, the greatest new debt is coming from the purchase of ever-larger, ever-more-expensive digs. Cheap mortgages, WFH, nesting and a delusional population have created a market of historic peculiarity. In the last 90 days Canadians snorfled another $29 billion. Mortgages now top $1.6 trillion. And you know what a trillion is, right?
Over 60% of Canadians, says MNP in a consumer-debt survey, "feel now is a good time to buy things they otherwise might not be able to afford."
This doesn't end well.
STAY INFORMED! Receive our Weekly Recap of thought provoking articles, podcasts, and radio delivered to your inbox for FREE! Sign up here for the HoweStreet.com Weekly Recap.