January 6, 2021 | Grantham: One of the Great Bubbles of History Will Reveal Few Financial Managers Worth Their Mettle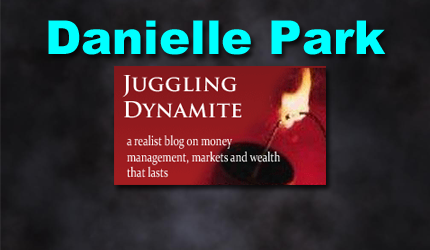 Portfolio Manager and President of Venable Park Investment Counsel (www.venablepark.com) Ms Park is a financial analyst, attorney, finance author and regular guest on North American media. She is also the author of the best-selling myth-busting book "Juggling Dynamite: An insider's wisdom on money management, markets and wealth that lasts," and a popular daily financial blog: www.jugglingdynamite.com
Market cycle veteran and GMO co-founder Jeremy Grantham's latest letter is a must-read in full. See Waiting for the Last Dance.  The Hazards of Asset Allocation in a Late-stage Major Bubble.  Here's the executive summary:
The long, long bull market since 2009 has finally matured into a fully-fledged epic bubble. Featuring extreme overvaluation, explosive price increases, frenzied issuance, and hysterically speculative investor behavior, I believe this event will be recorded as one of the great bubbles of financial history, right along with the South Sea bubble, 1929, and 2000.

These great bubbles are where fortunes are made and lost – and where investors truly prove their mettle. For positioning a portfolio to avoid the worst pain of a major bubble breaking is likely the most difficult part. Every career incentive in the industry and every fault of individual human psychology will work toward sucking investors in.

But this bubble will burst in due time, no matter how hard the Fed tries to support it, with consequent damaging effects on the economy and on portfolios. Make no mistake – for the majority of investors today, this could very well be the most important event of your investing lives. Speaking as an old student and historian of markets, it is intellectually exciting and terrifying at the same time. It is a privilege to ride through a market like this one more time.
In the inevitable implosion, Grantham explains that few professional or individual investors will manage to duck the carnage and capitalize on clearance sales because doing so requires 'missing out' before the crash:
The combination of timing uncertainty and rapidly accelerating regret on the part of clients means that the career and business risk of fighting the bubble is too great for large commercial enterprises. They can never put their full weight behind bearish advice even if the P/E goes to 65x as it did in Japan… So, don't wait for the Goldmans and Morgan Stanleys to become bearish: it can never happen. For them it is a horribly non-commercial bet. Perhaps it is for anyone. Profitable and risk-reducing for the clients, yes, but commercially impractical for advisors. Their best policy is clear and simple: always be extremely bullish. It is good for business and intellectually undemanding. It is appealing to most investors who much prefer optimism to realistic appraisal, as witnessed so vividly with COVID. And when it all ends, you will as a persistent bull have overwhelming company. This is why you have always had bullish advice in a bubble and always will.
STAY INFORMED! Receive our Weekly Recap of thought provoking articles, podcasts, and radio delivered to your inbox for FREE! Sign up here for the HoweStreet.com Weekly Recap.