January 6, 2021 | Deal with It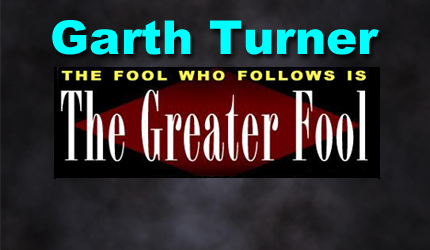 A best-selling Canadian author of 14 books on economic trends, real estate, the financial crisis, personal finance strategies, taxation and politics. Nationally-known speaker and lecturer on macroeconomics, the housing market and investment techniques. He is a licensed Investment Advisor with a fee-based, no-commission Toronto-based practice serving clients across Canada.
Remember how a certain pathetic blog told you a month or two ago that big-city condos, germy, unloved and forlorn, were maybe a deal?
Well, guess what?
In the autumn there were 14 units available in a prime low-rise building in the very heart of Toronto's financial district. Most were one-bedders listed by owners/landlords who were whacked as the rental market sagged under the weight of Coividmania. Prices dipped from $1,200 a foot down to a grand, then to $900 and finally into the eight-range.
And that, it now appears, may have been the bottom. Fourteen has dropped to two. Over the usually-moribund year-end holidays a half dozen changed hands. It's a trend local agents watched gather steam in December, as scores of urban units across the city were quietly snapped up after months of neglect and price erosion.
During this time, rents cascaded lower by 20%, the inevitable result of an Airbnb crash, no university classes, lockdowns crushing the hospitality sector, office closures birthing a WFH phenom and an abrupt end to the flow of new Canadians. The perfect storm. Plus there are thousands of newly-built condos coming to market, leading to supply overwhelming demand.
But, could it be over already? Even in the middle of a Second Wave province-wide shutdown and with the vax rollout hideously bungled by our inept political class?
Well, look at the numbers. That dumpster fire of a year ended on a roiling crest of house-horniness. And it's no longer just the suburbs stirring loins and arousing the masses. Some people who know where this world of ours is headed have smelled a potential opportunity. They know. The pandemic will end. Like all health emergencies, it's temporary. Three efficient vaccines now exist and despite the idiocy of government, they will work. The herd will get dosed. Normal will be here next year. The downtown will be alive again.
Meanwhile the virus created ideal conditions for every Audi-driving real estate agent. The quarantine-induced WFH reality spurred a rush for more space and suddenly justified renovations. Fear of infections had people desperate for houses with street doors, back yards and private garages. The myth of no-more-commute seduced many into buying Hicksville houses they could never afford in the city. And the cheapest mortgage rates in history – brought in as a way to stave off economic disaster – meant lower payments on greater debt.
So here's the scorecard in the nation's largest real estate market during a year when we had (a) a global pandemic, (b) the worst recession in 80 years, (c) unemployment which soared to 14%, (d) millions on government pogey, (e) hundreds of thousands unable to make credit card or mortgage payments and (f) the virtual destruction of a bunch of sectors. Plus, of course, (g) almost 16,000 dead people.
Amazing. But during 2020 over 95,000 properties sold in the GTA, up 8.4% over 2019 – when none of the above crap happened. Sales in December were (wait for it…) up 64.5%. The average sale price of $930,000 grew 13.5% year/year with detached houses leading the way. Last month detacheds climbed in value over 17% to an average of $1.24 million with a sales increase of 56%.
And condos? Well, there was a jump in sales of 75.4%, if you can believe it, with the average price change in 416 crawling almost back to zero by year's end. And look at what's just happened in the burbs: condos there increased over 6% even as their urban brethren languished. And a detached house in the boonies sits in record territory with an average price of $1.175 million.
What next?
More of the same. This spring market will be greased by vax hopes, economic re-opening, FOMO and cheap rates. A lot of people will get themselves seriously deep in debt, some foolishly and many by buying in the wrong location. A relative few will have secured properties when they dropped, while the majority pay record amounts.
And now we have the spectre of higher mortgage rates in 2021, thanks in part to what happened Tuesday night in Georgia.
It's the end of Trump and the dawn of a Democratically-controlled Congress, despite the disgraceful storming of Capital Hill on Wednesday. That guarantees a new Covid aid package, tons of government spending, an easier monetary policy, higher deficits, increased stimulus and, yes, a pop in bond yields.
The US 10-year surged past 1% because the blue guys defeated the red guys, as predicted here.  Meanwhile the Dow romped hundreds of points to a new record high, as did the S&P 500. There is finally certainty in American politics. The Tweetster is gone. Disgraced completely after the Washington riot. The electoral nightmare is over. And Biden will do what Trump could not – focus squarely on attacking the pandemic that has crippled the economy.
"We expect more upside," says analyst Ed Pennock. "The stimulus will overcome the tax rate fears for now. Infrastructure is back on the table. And rising rates are good for bank stocks. Think early cycle. And longer term, maybe it's time to invest in Canada again?"
You betcha. Meanwhile Mr. Bond Market will soon goose mortgage rates in this country – making real estate less affordable, while the Year of the Vax makes your boss dream of seeing you back in the ant farm. You might need to move back downtown. Sorry.
STAY INFORMED! Receive our Weekly Recap of thought provoking articles, podcasts, and radio delivered to your inbox for FREE! Sign up here for the HoweStreet.com Weekly Recap.