December 11, 2020 | Why Trump Will Win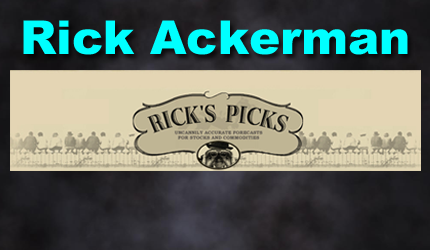 Rick Ackerman is the editor of Rick's Picks, an online service geared to traders of stocks, options, index futures and commodities. His detailed trading strategies have appeared since the early 1990s in Black Box Forecasts, a newsletter he founded that originally was geared to professional option traders. Barron's once labeled him an "intrepid trader" in a headline that alluded to his key role in solving a notorious pill-tampering case. He received a $200,000 reward when a conviction resulted, and the story was retold on TV's FBI: The Untold Story. His professional background includes 12 years as a market maker in the pits of the Pacific Coast Exchange, three as an investigator with renowned San Francisco private eye Hal Lipset, seven as a reporter and newspaper editor, three as a columnist for the Sunday San Francisco Examiner, and two decades as a contributor to publications ranging from Barron's to The Antiquarian Bookman to Fleet Street Letter and Utne Reader.
After watching 50 hours of Giuliani hearings, here is my connect-the-dots summary:
The plot to steal the election was brilliant, elegant and well-financed, probably by Soros.
It required only a relative handful of precincts and mid-to-high-level planners to succeed – as few as 30 people in all, including foot soldiers.
The fixers trained their efforts on just a half-dozen counties – all the precincts needed  to swing a close election or solidify a Biden win.
Parallel, massive fraud took place in most states as well, but it was not centrally planned or directed. Think 'jihadi cells' acting on their own.
Evidence of the latter is overwhelming, blatant and largely provable, but it is just a smokescreen.
So far, the smokescreen has worked in both a legal and PR sense: It provided instances of fraudl so numerous that it made legal charges of overarching scandal difficult to prove, hard to encapsulate in court filings and easy to ridicule.
Dominion (i.e., Soros) played a key role they will not be able to deny. Their reps were on hand 24/7 in the key precincts, and they were observed and photographed by workers whose suspicions had been aroused. (Very solid evidence has left Dominion dead-to-rights regardless of what the New York Piece of Shit Times says.)
The plan would have succeeded but for one factor that was wholly unanticipated: a Trump landslide. This forced late-hour vote-dumps so large that they were bound to be detected.
The smoking-gun video produced in yesterday's GA hearing is sufficient alone to push legislators in the contested states to do the right thing. Although decertifying elections in their respective states will be the most difficult choice they have ever faced, few of them will want to be held responsible for putting their stamp of approval on an election that stinks to high heaven.
Their decision, which effectively will settle the election in accordance with the 12th Amendment, will trigger riots across America. By then, fortunately, Trump will have the moral authority to use the Army to put it down.
From a Constitutional standpoint, even if zero fraudulent votes are proven, there is legal precedent for tossing out the state elections anyway; for if a state has merely failed to follow the election statutes on its own books, that is sufficient to void the election.  In plain fact, virtually all of the contested states went statutorily bonkers, bending or ignoring rules governing signature-match requirements, poll-watching restrictions, chain-of-custody, ballot-counting supervision and much more.
The evidence keeps growing more powerful. In Georgia, improperly sealed boxes came in with supposed mailed-in ballots, all printed on paper different from the ballots that had been sent out to voters. The thing is, they were UNFOLDED.  A Georgia supervisor hired to test the ability of optical scanners used to digitize real ballots routinely destroyed the duplicates according to established protocols. After she was pulled off the job, she noticed that all duplicate ballots processed thereafter, instead of being marked or torn to 'spoil' them, accumulated in a corner of the room and later vanished. Rinse and repeat.
STAY INFORMED! Receive our Weekly Recap of thought provoking articles, podcasts, and radio delivered to your inbox for FREE! Sign up here for the HoweStreet.com Weekly Recap.