December 5, 2020 | The Big 8 Shorts et al. Dig Themselves in Deeper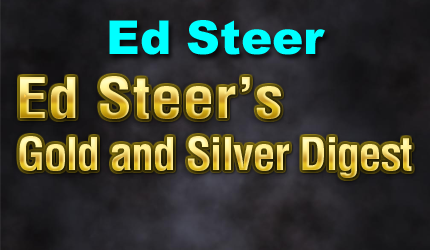 "Ed wrote the daily precious metal commentary for Casey Research starting in 2008. His stand-alone column became their most highly-rated blog [either free or paid] almost from the outset—and remained that way until he started his own subscription-based website in June of 2015."
 05 December 2020 — Saturday
YESTERDAY in GOLD, SILVER, PLATINUM and PALLADIUM
The gold price certainly didn't do much yesterday in Far East and London trading, but its rally into the 10 a.m. EST afternoon gold fix in London was dealt with in short order — and it was sold lower until a few minutes before the 11 a.m. EST London close.  It crawled quietly higher from that point until trading ended at 5:00 p.m. in New York.
The high and low ticks were reported as $1,852.70 and $1,832.00 in the February contract.  The February/April price spread differential in gold at the close yesterday was $4.00…April/June was $2.70 — and June/August was only $2.30.
Gold was closed in New York on Friday afternoon at $1,838.10 spot, down $3.20 on the day.  Net volume was very light at a hair under 159,000 contracts — and there was a tiny bit under 13,000 contracts worth of roll-over/switch volume on top of that.
The silver price chopped mostly sideways in Far East trading on their Friday, but that all ended when it took off higher starting shortly before 2 p.m. China Standard Time on their Friday afternoon.  That rally was capped and turned sideways minutes after 3 p.m. CST — and it then went back to chop nervously sideways until the jobs numbers hit the tape at 8:30 a.m. in New York.  There was a flurry of price activity at that juncture but, like gold, its price was handled in a similar fashion for the remainder of the Friday session.
The low and high ticks in silver were recorded by the CME Group as $24.065 and $24.585 in the March contract.  The March/May price spread differential at the close yesterday was 6.3 cents…May/July was also 6.3 cents — and July/September was 5.5 cents.
Silver was closed on Friday afternoon in New York at $24.16 spot, up 11 cents from Thursday — and 33 cents off its Kitco-recorded high tick of the day.  Net volume was slightly elevated at around 65,500 contracts — and there was about 3,400 contracts worth of roll-over/switch volume in this precious metal.
The platinum price rallied a bit in morning trading in the Far East — and from 11:30 a.m. CST, until 2 p.m. CST, it traded pretty flat.  A quiet rally commenced at that point, but really began to sail at 9 a.m. in New York.  Someone put a fork in that, like they did in silver and gold, at or minutes before the afternoon gold fix in London.  It was sold lower until minutes after the 11 a.m. EST Zurich close — and then crept a bit higher for the next hour, before trading flat until trading ended at 5:00 p.m. EST.  Platinum was closed at $1,051 spot, up 26 bucks on the day…but 33 dollars off its Kitco-recorded high tick.
Palladium crawled higher until around noon in Shanghai on their Friday — and then didn't do much of anything until 9 a.m. in New York.  From that juncture its price was managed in the same manner as platinum's.  Palladium was closed at $2,213 spot, up 27 dollars on the day — and miles off its Kitco recorded high tick.
The dollar index closed very late on Thursday afternoon in New York at 90.714 — and opened down 7 basis points and a bit once trading commenced around 7:45 p.m. EST on Thursday evening, which was 8:45 a.m. China Standard Time on their Friday morning.  It crawled back to unchanged within the next ninety minutes or so — and then traded flat until it started to head south about fifteen minutes before London opened.  It was a very choppy downhill ride until the 90.48 low tick was set around 9:42 a.m. in New York.  The ensuing very uneven 'rally' from that point continued for the remainder of the day.
You'll excuse me for thinking this, but that 'rally' in the dollar index that started just before the afternoon gold fix in London, looked just as manufactured as the price declines in all four precious metals that began at the same instant.
---
Computed manually, the above index closed higher by 0.24 percent.
---
Here are two of the usual three charts that show up in every Saturday missive.  The first one shows the changes in gold, silver, platinum and palladium for this past week, in both percent and dollar and cents terms, as of their Friday closes in New York – along with the changes in the HUI and the Silver 7 Index.
And as Ted Butler has pointed out on many occasions, the ability or refusal of the Big shorts to cover their short positions is the sole reason that prices aren't at the moon already, as just about every other group of traders in the COMEX futures market is net long against them in all four precious metals.
And even though you haven't reached my COT commentary yet, the headline to today's column tells you all you need to know, as the Big 8 shorts increased their short positions in gold and silver during the reporting week — and in gold it was by a rather startling amount.
---
So far in December, there have been 18,565 gold contracts issued/reissued and stopped — and that number in silver is 7,889 contracts.
---
---
The largest 'in' amount was 96,356.547 troy ounces/2,997 kilobars [SGE kilobar weight] that ended up at Brink's, Inc.  The remaining 5,658.400 troy ounces/176 kilobars [U.K./U.S. kilobar weight] was dropped off at Loomis International.  The lone kilobar that was shipped out, departed Delaware.
---
And you can rest assured that all the above gold that was removed during the prior week is not laying in the street somewhere…either unloved, or unowned.
---
They arrived at that number by decreasing their long position by 4,010 COMEX contracts — and they also decreased their short position by 2,285 contracts.  It's the difference between those two numbers that represents their change for the reporting week.
Under the hood in the Disaggregated COT Report, the Managed Money traders increased their net long position by 1,049 contracts — and the Other Reportables also increased their net long position, them by 1,163 contracts.  The Other Reportables are now net long 5,186 COMEX contracts, which is pretty close to a high-water mark for them.  The Nonreportable/small traders decreased their net long position by 487 contracts.
Doing the math: 1,049 plus 1,163 minus 487 equals 1,725 COMEX contracts…the change in the Commercial net short position.
The Commercial net short position in silver now stands at 61,885 contracts, or 309.4 million troy ounces, compared to the 300.8 million troy ounces they were short in Monday's COT Report.
The short position of the Big 8 traders in this COT Report worked out to 380.9 million troy ounces, compared to 371.2 million troy ounces that they were short in Monday's COT Report…an increase of 9.7 million troy ounces — and 123 percent of the Commercial net short position.  So they accounted for all of the increase in the Commercial net short position in silver this week…3.56 million troy ounces…plus a whole bunch more.
I must admit that I was more than surprised that the Big 8 shorts added as many short contracts as they did during the reporting week.  They've made absolutely no attempt to reduce their short positions over the last many months, despite the engineered price decline that began in early August and, according to Ted, have increased their short position by 5,000 contracts during that time period.  What the hell is that all about???
But one thing is for sure, they are the only traders…all of them banks and investment houses…that stand in the way of far higher silver prices, as every other group of traders is mega net long against them.  So it remains to be seen if this situation resolves itself in a short covering rally or not — and so far there have been no signs of that.
---
They arrived at that number by increasing their long position by 1,483 contracts, but they also increased their short position by 9,917 contracts — and it's the difference between those two numbers that represents their change for the reporting week.
Under the hood in the Disaggregated COT Report, the Managed Money traders did virtually nothing, increasing their net long position by a scant 195 contracts.  But it was the Other Reportables that were the eye-opener, as they increased their net long position by a very chunky 16,217 COMEX contracts.  The Nonreportable/small traders had to be the ones that decreased their net long position — and they did so to the tune of 7,978 contracts.
Doing the math: 195 plus 16,217 minus 7,978 equals 8,434 COMEX contracts…the change in the commercial net short position, which it must do.
The commercial net short position in gold is now up to 29.33 million troy ounces, compared to the 28.48 million troy ounces that they were short in Monday's COT Report.
Ted figures that JPMorgan is flat in gold in the COMEX futures market.  He indicated that they were long a couple of thousand contracts in Monday's COT Report.
The Big 8 shorts are now deeper in the hole than they were in Monday's COT Report.  Ted said that the Big 8 shorts were short 20-something million troy ounces at the top in the gold price during the first week in August.  And now that the gold price has been engineered lower by several hundred dollars, the Big are short 26.31 million troy ounces.  Like in silver, not only haven't they covered any of their short position during that time period, they've increased it by around 6 million troy ounces!  Why isn't this the 'talk of the town' in the precious metals world?…Ted asked on the phone yesterday.  It should be, but it's not.
To give you some idea of how obscene and grotesque the current situation is…in Friday's COT Report, the Big 8 traders were short 50.0 percent of the entire open interest in silver — and 48.9 percent of the entire open interest in gold in the COMEX futures market.  That's against thousands of other traders that are net long.
They are actually short more than 50 percent of both markets, as they hold an unknown number of spread trades in both — and that fact has the effect of showing a reduced net short position.
They could theoretically be short 60 percent of the COMEX futures market.
As to how this is going to resolve itself, remains to be seen.
---
---
The reason for the difference in those numbers…as it always is…is that Ted's raptors, the 24-odd small commercial traders other than the Big 8…which includes JPMorgan…are net long that amount.  In Monday's report, there were 30-odd traders, so the number of traders on the long side in silver dropped by 6…which is a huge number — and I'm wondering if Ted will comment on that in his weekly review today.
As per the first paragraph above, the Big 4 traders in silver are short around 123 days of world silver production in total. That's just under 31 days of world silver production each, on average…up more than 2 days from last Monday's report.  The four big traders in the '5 through 8' category are short 40 days of world silver production in total, which is 10 days of world silver production each, on average…down a tiny bit from Monday's report.
According to Ted — JPMorgan is most likely short a couple of thousand contracts in the COMEX futures market in silver now — and most likely market neutral in gold, compared to the 2,000 COMEX contracts or so that they were net long in Monday's COT Report.
The Big 8 shorts are still hugely exposed in all four precious metal in the COMEX futures market — and they increased their short position in both gold and silver by eye-opening amounts during this last reporting week, especially in gold.
And as I stated in my COT discussion further up, this current situation is now beyond obscene and grotesque.
---
[The December Bank Participation Report covers the time period from November 4 to December 1 inclusive.]
Citigroup, HSBC USA, Goldman Sachs and possibly Morgan Stanley would most likely be the U.S. banks that are short this amount of gold…however, one should presume that it's their clients that are short.  I'm also starting to harbour some suspicions about the Exchange Stabilization Fund as well.
Also in gold, 30 non-U.S. banks are net short 61,943 COMEX gold contracts.  In November's BPR, 29 non-U.S. banks were net short 65,080 COMEX contracts…so the month-over-month change shows a decrease of 3,137 COMEX contracts…which pretty much cancels out the increase in the U.S. banks.  So net-net, there was only a slight increase in the short position held by the world's banks in gold during November.
At the low back in the August 2018 BPR…these non-U.S. banks held a net short position in gold of only 1,960 contacts — and they've been back on the short side in a big way ever since.
However, as I always say at this point, I suspect that there's at least two large non-U.S. bank in this group, one of which would be Scotiabank/Scotia Capital…plus HSBC most likely.  And I have my suspicions about Barclays, Dutch Bank ABN Amro, plus Australia's Macquarie as well.  Other than that small handful, the short positions in gold held by the vast majority of non-U.S. banks are mostly immaterial.
As in gold, the three biggest short holders in silver of the four U.S. banks in total, would be Citigroup, HSBC USA — and Goldman or maybe Morgan Stanley in No. 3 and 4 spots. And, like in gold, I'm starting to have my suspicions about the Exchange Stabilization Fund.
So net-net, like in gold, the overall short position of the world's banks in silver changed very little month-over-month.
Also in platinum, 16 non-U.S. banks are net short 2,769 COMEX contracts in the December BPR, which is up a very decent amount from the 1,017 COMEX contracts that 17 non-U.S. banks were net short in the November BPR.
[Note: Back at the July 2018 low, these same non-U.S. banks were net short 1,192 COMEX contracts.]
They were short only 1,194 COMEX contract in the July BPR.
And as I've been commenting for almost forever now, the COMEX futures market in palladium is a market in name only, because it so illiquid and thinly-traded.  Total open interest at Tuesday's cut-off was only 9,867 contracts.
Except for palladium, only a small handful of the world's banks still have meaningful short positions in the other three precious metals — and in most cases, it's their clients that are on the short hook, not the banks themselves.
I don't know if it means anything, but the one stand-out feature in this latest Bank Participation Report was the fact that the U.S. banks increased their short positions in all four precious metals.
The short or long positions in silver and gold that JPMorgan may or may not hold, are immaterial — and have been since March.  It's the remaining Big 8 shorts that are on the hook in everything precious metals-related — and they've been sticking their respective heads further into the lion's mouth since the price tops of early August.
I have a decent number of stories, articles and videos for you today, including several that I've been saving for my Saturday column for either length or content reasons…or both.
CRITICAL READS
Confirming the labor picture is getting uglier,  the household survey actually declined showing the number of employed people falling in November, by 74,000.
---
As 'soft' survey data rolls over, and 'hard' data continues to slide, analysts expect Factory Orders growth in October to slow modestly from its surprise pop in September, and it did but slightly better than expected.
This is the 6th monthly rise in factory orders are March and April's collapse, but Factory Orders remain down 2.8% YoY.
The final print for durable goods orders came in line with the preliminary data at +1.3% MoM.
---
Preliminary Class 8 truck orders posted their third-highest number in history in November, continuing a stunning comeback from pandemic-depressed bookings earlier in the year.
Class 8 orders on a running basis for the past 12 months stand at 250,000 units, FTR said. Predictions as recently as April called for less than half that number.
---
We went to the OCC's Consent Order connected to the fine to see if there were the typical smoking gun internal emails or at least some clue as to what the actual illegal activity was. There were zero clues, just more obfuscation. What we did see, however, was a dollar figure that popped our eyes wide open. The OCC Consent Order said this:
To put that $29.1 trillion into the proper perspective, the Federal Deposit Insurance Corporation (FDIC) is reporting that as of November 30 of this year, there were a total of 5,031 federally-insured banks and savings associations in the United States. The amount of assets held by all 5,031 of these financial institutions was $21 trillion – $8 trillion less than JPMorgan Chase has in custody assets.
JPMorgan Chase is the largest bank in the United States. To put the $29.1 trillion into even sharper focus, JPMorgan Chase Bank N.A., according to the FDIC, has a total of just $2.87 trillion of its own assets. But, somehow, it has managed to attract more than 10 times its own assets on a custodian basis.
---
---
Let's begin with the easy stuff. There was fraud in this election. The Trump team has hundreds of sworn affidavits by a variety of poll workers, poll watchers and Postal Service employees, among others, attesting to fraud.
An affidavit is not a casual claim. It's a sworn statement under oath. Anyone who lies on an affidavit can be charged with fraud or other crimes. So, let's give credence where it's due and assume that at least most of these claims are true.
The claims themselves relate to acts such as banning poll watchers from the counting rooms, obstructing them when they were allowed inside, failure to verify signatures where required, receiving mail-in ballots past deadlines, backdating postmarks on mail-in ballots to make it appear they were received timely when they were not, trashing Trump ballots, running Biden ballots through scanners multiple times and more.
Other allegations involve more serious efforts such as a busload of Biden campaign workers in Nevada who received blank ballots after the polls had closed, quickly marked them for Biden, and then dumped them in boxes at polling stations where they were quickly added to the count to put Biden ahead.
Workers on the bus formed a human wall to obstruct Republican poll watchers and the media from observing the act of bringing the ballots off the bus before stuffing the ballot box.
Recounts don't solve problems like this. If the ballots were fraudulently obtained, they will still be fraudulent no matter how many times you recount them. The root problem is still not addressed.
The only way the election will be reversed is if the Trump campaign and their lawyers have clear evidence of a vote-rigging effort that was so large and pervasive that it not only changed the outcome of the election, but it constitutes an ongoing threat to the rule of law and the Constitution. They might…
The allegation (and, so far, it's only an allegation with no clear proof) involves a company called Dominion Voting Systems that manufactures voting machines that use software from another company named Smartmatic.
These voting machines are not the simple scanner-tabulator type used in many jurisdictions. The Dominion machines look more like ATMs with touch screen features. They include computer chips and are networked to servers, some of which are located overseas. Behind the computer chips and server processors is source code written by Smartmatic engineers and developers who are so far unknown to the public.
Dominion's ownership is opaque, but several reports indicate that it is owned by a trio of Venezuelan oligarchs. Early in its existence, Dominion machines were used to conduct rigged elections for Hugo Chavez to ensure that the dictator never lost an "election."
In short, Dominion's expertise in voting machines consists of election rigging. Through lobbyists and others, they have secured contracts to provide voting systems in 28 states and countries abroad.
---
The U.S. Bubble Economy structure has evolved into a voracious Credit glutton. There's a strong case for significant additional fiscal stimulus. The case for boosting monetary stimulus is not compelling. Financial conditions have remained ultra-loose. Credit stays readily available for even the riskiest corporate borrowers, as bond issuance surges to new heights. While formidable, the remarkable speculative Bubble throughout corporate Credit is dwarfed by what has regressed to a raging stock market mania.
Fed policy is single-handedly the greatest force in propagating inequality, with the past nine months the greatest episode of inequitable wealth distribution imaginable. Gross monetary mismanagement and financial excess are a principle cause of capitalism running amok. And how might egregious Fed stimulus measures now be expected to promote a more equitable and moral allocation of our national wealth across society?
Lost in the discussion is the fact that we're in the throes of a historic experiment in central bank monetary management. The Fed some years ago abandoned the traditional mechanism of operating chiefly through the banking system with subtle adjustments to reserves and interbank lending rates – a process arguably superior at disbursing resources more proportionately throughout the economy.
Having evolved over the past couple decades, the Fed now executes policy directly through the securities markets. Policy stimulus enters the system chiefly through massive purchases of Treasury and agency securities, creating liquidity excess for financial markets generally. Moreover, low (now zero) rates foster stimulus effects through both the promotion of leveraged speculation and by spurring speculative flows into higher-yielding (riskier) securities and other assets.
It's become an only greater challenge to convince readers that what passes these days as normal is anything but. We reached a number of precarious junctures over recent years – that came and went like the passing of the seasons. But let's not lose sight of historic crazy: speculative excess is by far the most egregious I've witnessed in my over three decades of obsessive market analysis. Not only will it renounce "leaning against the wind" (let alone tighten policy), the Fed is poised to continue injecting $120 billion monthly into Bubble markets as far as the eye can see. In the face of raging asset inflation (i.e. securities and home prices), the Federal Reserve is apparently more likely to boost QE than to tapper. Crazy.
---
Get ready for a weekend of leaked status reports as both sides continue bashing their skulls against a wall, appearing to have made practically no progress on the deal's main sticking points, since the transition period began.
Assuming we don't get a deal this weekend, Brussels' new strategy is pretty clear: Hold out on a deal, wait for Britain to suffer the severe economic disruptions and financial hardships that economists have been doom-saying on for a few years now. Once the Tories have been suitably chastised, a chastened Lord Frost will perhaps return to the bargaining table.
Of course, the U.K. crashing out of the E.U. without a deal would be a double-edged sword for the bloc.
Plus, there's reason to suspect that Boris Johnson, who has carefully cultivated his reputation for hard-nosed deal-making, won't ever cave.
Whatever happens, this is shaping up to be one epic game of geopolitical 'chicken'.
---
Having gone on record regarding its belief that Iran continued to maintain covert nuclear weapons ambitions, the Trump administration was confronted with the reality that it had, according to its own beliefs, empowered Iran to produce a nuclear weapon in a time frame that posed a direct threat to the US and its regional allies, in particular Israel and Saudi Arabia. This concern was behind recent press reports that President Trump was considering military options against Iran's nuclear program.
For Israel, the issues are even more acute; whereas Iran's potential acquisition of a nuclear weapons capability would pose a policy conundrum for the U.S., for Israel an Iranian nuclear weapon would represent an existential threat. For this reason, Israel has historically pulled few punches when it comes to confronting even the possibility of an Iranian nuclear weapons capability.
While much of the intelligence underpinning the U.S. and Israeli assessments regarding the existence of a nuclear weapons program are derived from sources of questionable provenance and are not conclusive, Israel has taken an absolutist posture; it's given credence to sources that otherwise might be consigned to the bottom drawer.
In its effort to win support for this position, Israel has exaggerated – even fabricated – intelligence on Iran, undermining its credibility to such an extent that, when Israel reported that its intelligence stole a nuclear archive from Iran in early 2018, the veracity of this claim was called into question after documents previously held to have been forged were claimed to be part of the document trove.
Israel's actions against Iran's nuclear program have been anything but passive; in 2009-2010, Israel worked with US intelligence to launch a cyber attack using the Stuxnet virus to infect Iranian centrifuge operations at Natanz. This was followed by a program of targeted assassinations which killed four Iranian nuclear scientists between 2010-2012 (a fifth attack narrowly missed killing the head of the Iranian Atomic Energy Organization).
Israeli intelligence is also said to be behind a series of mysterious explosions at Iranian nuclear-related facilities earlier this year which caused significant damage and disruption to Iran's centrifuge program. While Israel has not taken responsibility for the assassination of Mohsen Fakhrizadeh, his murder can logically be viewed as a continuation of Israel's efforts to degrade Iran's nuclear capabilities.
---
Following two consecutive months of net sales, central banks resumed buying in October: global official gold reserves rose by 22.8t on a net basis. Levels of buying remained consistent with the previous two months, but selling activity was far reduced. As we noted in our Q3 Gold Demand Trends report, Q3 2020 was the first quarter of net sales since Q4 2010, largely due to hefty sales from Uzbekistan and Turkey. This prompted a renewed focus on central bank gold demand and whether it signalled a change in mindset towards gold accumulation.
Gold (+18.6% y-t-d1) has continued to outperform many other traditional reserve assets this year, providing central banks with the added firepower needed to stabilise markets and currencies amid unprecedented levels of uncertainty. While it is unsurprising to see some selling, given gold's role as a safe, liquid reserve asset, the continued accumulation by central banks underscores its importance to central bank portfolios.
Familiar banks continue to drive demand.  At a country-level, activity in October was concentrated among a familiar roster of emerging market central banks, a trend which has been in place for some time. Gross purchases totalled 25t in October, with five central banks almost entirely responsible for this growth: Uzbekistan (8t), Turkey (7t), UAE (6t), Qatar (2t), and India (2t). In contrast, gross sales were just under 3t during the month, with Mongolia for accounting for the majority of this.
Y-t-d, central bank net purchases continue to sit between 200-300t. Buyers have outnumbered sellers so far in 2020 (9 vs 8), with buying coming from several countries that mostly have relatively low ratios of gold-to-total reserves, demonstrating a continued appetite to grow gold holdings at a strategic level.
---
Gold imports by India tumbled last month as the festival of lights failed to revive demand in the world's second-biggest consumer.
Overseas purchases fell 41% in November from a year earlier to 33.1 tons, according to a person familiar with the data, who asked not to be identified as the information isn't public. Still, imports showed an improvement from the 29 tons in October. Finance Ministry spokesman Rajesh Malhotra didn't immediately respond to a call to his mobile phone.
Jewelers in India may be staring at one of their worst years for sales in 2020 as the coronavirus pandemic, high prices and a weak economy slam the ability of buyers to purchase gold. Demand during Diwali, the biggest occasion for the country's more than 900 million Hindus to purchase jewelry, was only about 70% of last year's levels, according to the the All India Gem and Jewellery Domestic Council.
The PHOTOS and the FUNNIES
STAY INFORMED! Receive our Weekly Recap of thought provoking articles, podcasts, and radio delivered to your inbox for FREE! Sign up here for the HoweStreet.com Weekly Recap.