December 14, 2020 | Stress Buster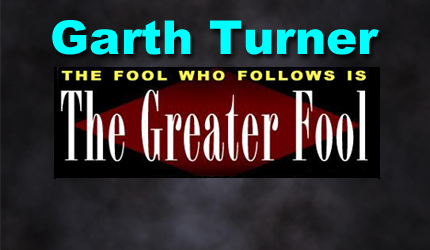 A best-selling Canadian author of 14 books on economic trends, real estate, the financial crisis, personal finance strategies, taxation and politics. Nationally-known speaker and lecturer on macroeconomics, the housing market and investment techniques. He is a licensed Investment Advisor with a fee-based, no-commission Toronto-based practice serving clients across Canada.
More hunks of the 905 went into lockdown this week. Windsor, too. Plus Calgary, Edmonton, most of Quebec. Germany on Wednesday. LA a few days ago. Westjet and Air Canada have chopped flights. Commuter rail traffic in Toronto is down over 90%. No Christmas this year. "Blame me," said Manitoba premier Brian Pallister in a gritty address. But it's not him. It's everywhere.
Did we think in March this would be here in December? Or the second wave would be deeper than the first? Three million people in the nation are still without work. Small business is on life support. I hear school grades are falling most everywhere. Online learning doesn't work. Kids need kids.
Hope may be in the window. The first vaccine arrived yesterday. But it will be the summer, at best, before enough have been inoculated to bring change. Experts says we'll still be masked a year from now.
So the pandemic is endless. It has brought not only heartbreak and loss to twelve thousand families in Canada, but isolation and stress to us all.  Do you feel it? A third of people now report enough extra tension to impact their daily lives. No wonder. Working from home may have seemed cool, affordable and flexible for a few months. But it also brings gnawing loneliness. Zoom doesn't cut it.
Masks are essential. But they remind us constantly of the state of emergency enveloping society, and render it impossible to see a smile, a cocked lip or those little wrinkles of welcome in a familiar face. The virus makes us fear everyone, everything. Physical distancing. People leaping off a sidewalk to avoid you. Signs saying don't pet someone else's dog or to sanitize your hands when entering any door. There's panic hearing a random cough or sneeze. Temperature checks are forced on you. Capacity limits and plastic barriers everywhere. There's no escape.
Experts say this triggers the body into a fear mode, as being in a constant state of danger. Over time – and it's been months now – it can accelerate aging and the risk of diseases accompanying that process. Because there's no normal anymore – no work for many, no certainty of school, seeing friends, travel, church, routine – we're constantly a little disoriented. Just enough to impact confidence or trigger a sense of rejection. No sitting in Timmies with friends. No people-watching in the mall. No shared lunches at work. No praying, drinking, skating or playing together.
Not getting dressed for work is no longer a relief. It's a trap. PJs, sweats and pants you wear for eight days because, well, why not… they become the clothing of an inmate. Cut off from society, we feel less professional, less engaged, even less judged. Online conferencing can't show your shoes or share your fragrance. We're less human without the nuances of our physical beings.
Now it's December and it's easy to regret this world. Empty downtown streets, closed stores, no clogged roads or busy subways and airports plus UPS/FedEx guys who ring the doorbell and run. And layer on this the personal setbacks we all face. An ill child. Getting old. A beloved animal companion who sickens and dies. No wonder we feel this way. Covid may not sicken many, but it has stricken us all.
What to do?
Stop being angry about it. Raging against masks or immunization, politicians who order lockdowns or shopkeepers imposing rules is pointless, fruitless and just isolates you further. This is not anybody's fault – not the prime minister, not China or globalists. The virus is a virus. It has no politics, religion, agenda or purpose other than to spread and infect as widely as possible. Stop weaponizing it.
Look for some of the good coming out of the mess. It's there if you're an investor, for example. Financial markets have romped higher. Plus your house is probably worth a lot more as mortgage rates went down and property lust went up. It's a big irony most people emerge from the pandemic better off, even as others suffer so much. It's a good reason not only to be grateful, but to be charitable. If you help someone else you will feel so much better.
Think ahead. Pandemics are temporary. They always end. Modern pharma cut the development time for effective vaccines from ten years to nine months. That was a miracle. So is the new messenger technology, which could save many lives from many threats. Billions of people will be dosed in the next year. The pathogen will end up sulking in dark corners, gone from your life, defeated by science.
Finally, reflect on what we lost to Covid – what you miss. Shopping freely. Visiting family. Shaking hands. Riding the crowded streetcar. Going to a concert, a play, a club or a hockey game. Travelling for business or a vacay. Seeing faces. Going to work. Sending your child to school with no mask or anxiety. Restaurants without plexiglass walls. Making friends. Sharing your dog.
All that is coming. The patina of life. Hold on.
STAY INFORMED! Receive our Weekly Recap of thought provoking articles, podcasts, and radio delivered to your inbox for FREE! Sign up here for the HoweStreet.com Weekly Recap.